How do we ensure that our sustainability efforts lead to long-lasting, positive change? We do so, in large part, by using data to promote continuous improvement. The Rainforest Alliance Supply Chain Monitoring and Evaluation (M&E) team works with companies to measure and assess their impact in a holistic way. Our work spans from establishing a Theory of Change to data collection, evaluation, and then communication. Together, we can explore opportunities for improvement across the regions in which your company sources.

Since 2014, we have worked with Nescafé to assess improvements and optimization of coffee farming as part of the Nescafé Plan. Today, the Rainforest Alliance and Nescafé M&E system tracks progress in 12 origins (and growing), helping the company to monitor key field interventions and improve its long-term sustainability strategy. We measure results of the Nescafé Plan globally, providing Nescafé with a clear view of their activities' impacts. Following data analysis and insight, Nescafé can adapt their strategy to continuously increase value for farmers in their supply chain.
Over 10 years of M&E with Nescafé
The Rainforest Alliance's partnership with Nescafé started as farmer training in 2010 before it evolved into the current M&E program; data collection began in 2014 in Mexico, Côte d'Ivoire, and Indonesia. In 2017, after years of experience working together, the Rainforest Alliance and Nescafé developed a new and standardized M&E toolbox to expand the impact assessments further, which are now implemented in more than 12 coffee origins around the world.

There are deep sustainability issues facing coffee farmers today. Nescafé, as a world-leading coffee brand, embraces its role in addressing and mitigating these issues. In our joint M&E system, key impact areas fall into three main buckets: economic, social, and environmental.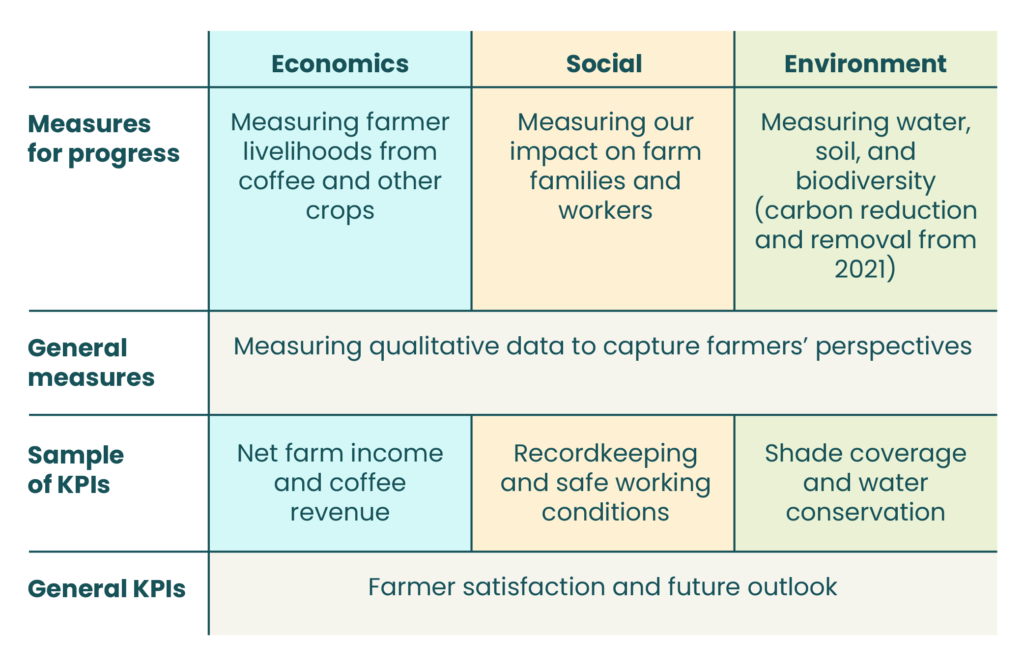 Achievements of the partnership
M&E data is instrumental for examining the impacts of both long-term and short-term interventions. The following examples of M&E with Nescafé in Mexico and Vietnam best illustrate how data has been used to achieve positive impact.
"If you don't have visibility of results, you can do the same thing for ten years and never know if it's working."

Marcelo Burity, Head of Green Coffee Development, Nestlé
I. Mexico
Problem: From 2013 to 2014, Mexican coffee farmers faced a leaf rust crisis that then drastically reduced their crop yields.
Intervention: Nescafé then provided 37 million new disease-resistant coffee plantlets to over 33,000 farmers. Collected data told us what plantlet varieties were working.
Results: 2019 data showed a 93 percent survival rate of coffee plants from Nescafé's yield recovery efforts. Since then, the productivity of Nescafé farms has increased by 50 percent, driven partly by the improved plant varieties.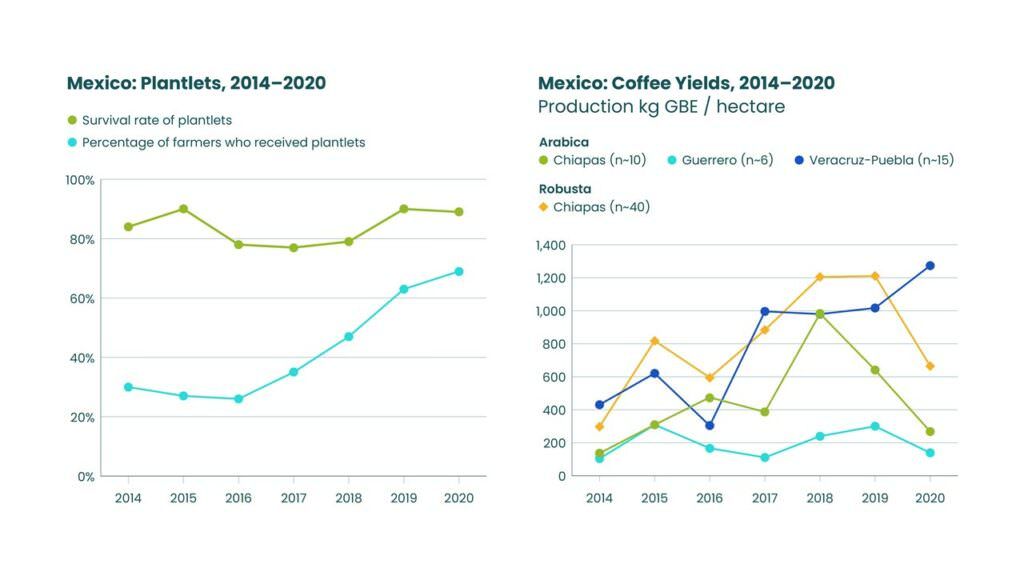 The data isn't just quantitative: M&E can also help country team managers to assess farmer satisfaction and areas for support. A 2019–2020 sample from Mexico shows that participating farmers were more satisfied with coffee (an increase from ~42 percent to 58 percent satisfaction) after Nescafé's intervention. When asked about their challenges, farmers responded with specific needs (e.g. practical field training and more investment in farm labor). As a result, their answers helped Nescafé tailor their efforts and trainings going forward.
II. Vietnam
Problem: High costs of production, inefficient irrigation, and dependency on a single crop left Vietnamese coffee farmers economically vulnerable.
Intervention: The resulting Nescafé intervention was three-fold:
Recordkeeping and financial literacy training
Distribution of 9 million plantlets to 14.5 thousand households and intercropping support
Training and coaching of good agricultural practices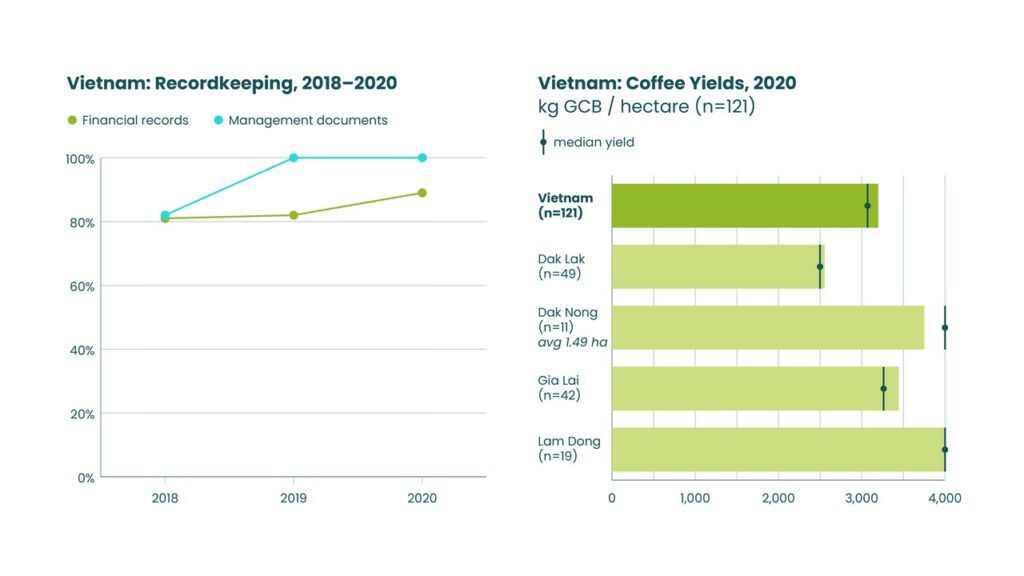 Results: M&E data showed that in 2020, 89 percent of Vietnamese farmers kept financial records, which was a 7 percent increase from 2019. With good records and plantlets, farmers were able to invest in their fields and thus experienced higher productivity in 2020. Now, higher productivity, good irrigation management, and crop diversification all contribute to higher coffee incomes on Vietnamese farms.
Translating the data into compelling stories…
Once analyzed, a supply chain M&E process can bring your company's data to life. You can use the findings in impact stories for stakeholder reporting (e.g. the Nescafé Plan 10 Year Report) or in consumer communications (e.g. the stories shared on the Nestlé Grown Respectfully website). M&E connects stakeholders and consumers to what's going on in the field. It demonstrates accountability, transparency, and responsibility.
…And meaningful action
Working on M&E with Nescafé and other companies is a crucial part of the Rainforest Alliance's mission to make responsible business the new normal. It helps us see trends—whether positive or negative—that can lead to progress and improvement on a farm level. From these insights, companies can successfully scale up or adapt their interventions for better results. That's why data is at the heart of all we do.
Get in touch with Rainforest Alliance Tailored Services for more information or to discuss opportunities at tailoredservices@ra.org.
Support Our Work
Create a world where people and the planet prosper together.
DONATE TODAY