If you're like us, perhaps you made a New Year's resolution to start eating better—but between the usual post-holiday malaise and the deepening cold (at least in the northern hemisphere), you're now feeling a little less, well, resolute.
We have just the thing to re-inspire you. It just so happens that eating healthy is generally good for people and the planet—and now, with this handy climate change food calculator, that's not just an abstract platitude. You can see the climate footprint of everything from beer and beef to peas and pasta—all in terms even the most science-phobic can understand. Here's an example: Eating beef 3-5 times a week for a year is the equivalent of driving a car 4,112 miles (6,618km), whereas eating nuts 3-5 times a week for a year is the equivalent of driving 7 miles (12km). That means that by choosing to get your protein from nuts instead of beef, you're not just doing your arteries a favor, you're helping to slow climate change.
Motivated yet?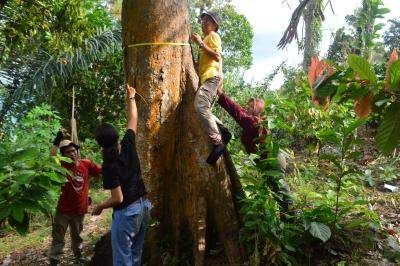 We weren't surprised last fall when the normally cautious UN Intergovernmental Panel on Climate Change (UN IPCC) sounded an alarm bell, saying that climate impacts were going to be far worse—and occur sooner—than previously thought. Climate change is already ravaging some of the world's most vulnerable communities, including the farmers who grow many of the foods we love most. When droughts dry up crops, or torrential storms wash away seedlings, farmers are left with few, if any economic resources. Many of those who trekked north on foot from Central America last fall, for example, were coffee workers fleeing near-lethal levels of poverty caused by failed coffee crops, decimated by the climate-related roya fungus.
That's why we work with farmers all over the world to help them adapt to climate change impacts—and bolster their incomes—through sustainable, climate-smart farming methods (such as planting shade trees to stabilize the microclimate and hold water in the soil). We also work hard to slow climate change by protecting forests (which suck up those vile emissions), reforesting, and promoting livelihoods that help keep forests standing.
We know you are as concerned about climate change as we are. And while of course we wouldn't mind if you supported our work to promote climate-smart farming, sustainable livelihoods, and natural climate solutions, we also understand that you want to do even more—to take tangible action in your daily life. This food footprint tool can help you make diet choices that make a real difference in the climate equation. And who knows? You might extend your life by a few years in the process.
2022 Was One Of The Hottest Years On Record. Will 2023 Be Worse?
DONATE