The people of the Monkoto Corridor know all about bridging gaps, quite literally: Their region connects two large sections of the Congo rainforest within Salonga National Park—one of the most biodiverse places in the world and home to iconic wildlife like the bonobo, forest elephant, and pangolin. Facing high poverty rates, local communities rely heavily on natural resources, which account for 95 percent of their food, medicine, and livelihoods. But deforestation, overfishing, and hunting pose a triple threat to their way of life. Together we have begun exploring how more sustainable solutions, like community forestry and fish farming, can help protect the rainforest of the Congo Basin and strengthen livelihoods. 
Fresh approaches to community forestry
To keep the Congo rainforest intact, the Democratic Republic of Congo has been implementing a community forestry strategy since 2018. This initiative, which is currently in its five-year pilot phase, aims to set up sustainable forest management concessions for the Monkoto Corridor people (using a similar model to the world-renowned concessions of the Maya Biosphere Reserve in Guatemala). The Rainforest Alliance has been involved since day one, working with the government and other partners to test different approaches to community forestry through several pilot projects.
These community forestry projects will help local communities develop ways to generate better incomes, while reducing pressure on the wildlife and forests of the Monkoto Corridor. This includes the development of training schools for sustainable agriculture, livestock farming, and fish farming—also known as aquaculture—to meet local demand for fish and provide alternatives to illegal bush meat hunting in Salonga National Park.
When women thrive, so do their communities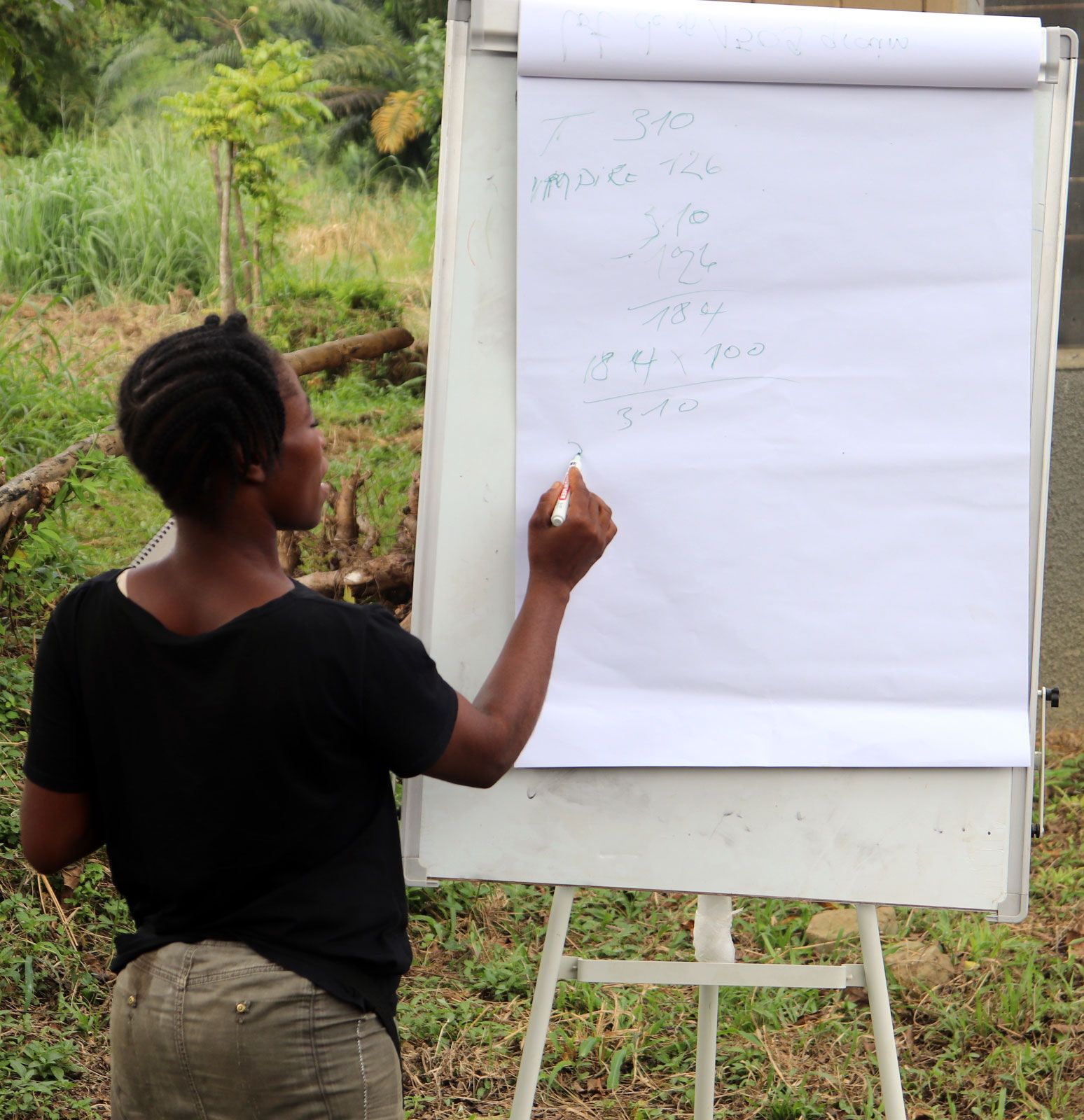 As a key part of this work, the Rainforest Alliance promotes women's associations as community leaders in natural resource management. At least 30 percent of our project participants will be women, some of whom will also take literacy or sewing training to help them develop alternative livelihoods. After training, participants will also receive the equipment needed to start their own businesses.
Ruth Bohemba, an Indigenous woman who joined a training on best farming practices, said, "I'm happy that we learned about notions like the climate, the soil, and what we can grow on this type of soil, as well as how to protect this soil." She says the training will not only benefit the women, but also their families and communities.
An integrative model of farming
With financial support from Global Environment Facility (GEF) and the United Nations Environment Program (UNEP), this initiative integrates large-scale aquaculture with pigsties and poultry. The beauty of this circular system is that the animal manure serves as a valuable fertilizer for the fish, while the fish provide income and sustenance for the community. To make the model even more self-sufficient, our teams will help establish a feed mill in the area and train farmers on rice, soybean, and maize cultivation to produce animal feed locally.
The project also helps participants establish and develop micro-enterprises. This includes ones that handle the processing of agricultural and non-timber forest products, as well as other business opportunities for women and young people. There are already 22 micro-enterprises in process (e.g., fish processing and conservation, palm oil processing, food flour manufacturing (maize), sewing, and more).
Overall, we aim to support a total of 300 farmers to integrate fish farming in 12 rural associations within the Monkoto Corridor. After receiving comprehensive training at the training school, farmers will then have the tools to establish this model in their own communities—causing a cascade of positive change toward more sustainable livelihoods.
Aquaculture's ripple effect in the Congo Basin
At this point in the pilot phase, approximately 50 households in the community have undergone training and started practicing more sustainable agriculture. They report that they are now able to diversify their crops and cultivate their fields in a more satisfying and sustainable way. The long-term objective is to have these community leaders train their counterparts, with a goal of reaching 3,600 farming households in the Congo Basin.
With any new ventures, training and ongoing support are crucial. That's why the training school for fish farming and breeding will continue to provide food for the community and to supply farmers' ponds. After training, the Rainforest Alliance will provide participants with seeds, the tools needed to work their own fields, and technical supervision from the project staff experts.
Before joining this project, Benzi Ekuma was a small-scale farmer producing crops and livestock in the Monkoto Corridor. After completing training, he devoted his farm to the development of new activities, like more sustainable pig and fish farming. "I am very happy about what we are learning and how we are developing our work through this initiative," he said. "We will make sure to put this into practice to use our land in a way that doesn't destroy the forest."
Support Our Work
Create a world where people and the planet prosper together.
DONATE TODAY