Like most of the world's most vulnerable workers, people from forest and farming communities do not have the financial resources or the government support to weather an even minor loss of income, let alone a prolonged one. Yet they play an essential role in forest conservation—which is a critical aspect of the global climate solution and future pandemic prevention.
The forest and farming communities we work with are facing a humanitarian crisis due to COVID 19's disruptions to global markets. In addition to the local measures our field teams are taking to address challenges in their regions, we launched an emergency fundraising campaign in April 2020 to support our partner communities. See below to learn more about how the pandemic is affecting our partner communities around the world.
June 16, 2020
In Ghana, about 800,000 farmers depend on cocoa for their livelihoods. Alarmingly, the COVID-19 crisis has coincided with the start of the rainy season—a time of year when farmers often struggle with outbreaks of crop diseases, such as Black pod.
As we are currently unable to hold face-to-face sustainable agriculture trainings due to social distancing measures, we have recorded a series of audio trainings that can be broadcast over local public address systems.
Many of our community partners do not have internet access, so these local broadcasts are an essential way to share important health-and-safety information and provide detailed advice about climate-smart farming techniques—weed management, pest control, pruning, and more—to boost farmers' resilience to climate change and other unexpected challenges.
This audio broadcast is part of our ongoing project work with Olam to promote better livelihoods and forest landscape management in Western Ghana, with UK Aid support from the British government.
June 12, 2020
In northern Uganda, the Rainforest Alliance is working with the Uganda National Teachers Union to train teachers in identifying students who may be involved in child labor and providing the extra-curricular support needed to get kids in the classroom full-time. Since the program started in 2018, we've seen increased enrollment, lower drop-out rates, and much higher support for education among parents at the Oboth Primary School, one of 27 schools in the country.
But the COVID-19 pandemic has brought new challenges. Schools have been closed since March due to social distancing restrictions and the livelihoods of local smallholders have been upended by global supply chain disruptions. "When children are out of school, they are more likely to be engaged in harmful work," explains the Rainforest Alliance's Kunera Moore, "and when incomes unexpectedly drop, child labor tends to increase."
Our Uganda team, led by Rashida Nakabuga, is urgently mobilizing with local NGO, Somero, to ensure that each district has a child protection officer on its COVID taskforce. The team is also working hard to engage national policy-makers and encourage the Ugandan government to develop concrete strategies to tackle child labor in the coffee sector during this crisis and beyond.
May 27, 2020
Kenya: Deforestation risk spikes as COVID-19 restrictions challenge renewable energy project
In the tea landscapes of Kenya, the Rainforest Alliance partners with local renewable-energy entrepreneurs working to stop deforestation, fight climate change, and improve public health by promoting more sustainable alternatives to firewood.
These everyday climate heroes run Household Energy Centers (HECs) that make and sell a range of renewable-energy products—including smoke-free briquettes, made from waste materials like saw dust and corn husks.
With access cut off to these HECs, our Kenya team is worried that we will now see a spike in deforestation. "Unable to buy biomass briquettes, farmers will revert to using firewood from nearby forests and on-farm trees" explains Kiprono. Our team is now negotiating with the Kenyan Government to have renewable energy products listed officially as an essential commodity, which would allow our local partners to continue their vital work.
In this video, the Rainforest Alliance's Shadrack Kirprono explains the challenges these essential workers are facing due to movement restrictions and a shortage of face masks and hand sanitizers.
May 19, 2020
Mexico: Náhuatl hibiscus growers adapt to social distancing orders
In the tropical savanna of Chacala, a remote town in Jalisco, Mexico, a group of 25 Náhuatl women and men grow jamaica (hibiscus) to sell for use in traditional Mexican dishes and beverages. The group receives support from an initiative for which the Rainforest Alliance oversees the dispersal of $3 million dollars in small grants. As part of the same initiative, 20 young people from Oaxaca, Jalisco, Quintana Roo, Campeche, and Yucatan received training to support agriculture and ecotourism projects in their communities, which include Purépecha, Náhuatl, Wixárica, Mixe, Zapoteca, Triqui, and Maya ethnic groups.
For both the jamaica growers and the community youth leaders, social distancing orders have put severe constraints on their work. "We are staying apart for our own safety, but not being able to meet in person to discuss how are we going to strengthen our project has been hard," jamaica grower Julia Cruz says. "Not all of us have access to the web, as the internet coverage in our community is crummy. We hope to be able to carry on with our project when this is over."
May 14, 2020
Colombia & Costa Rica: Despite crushing losses, flower industry shares joy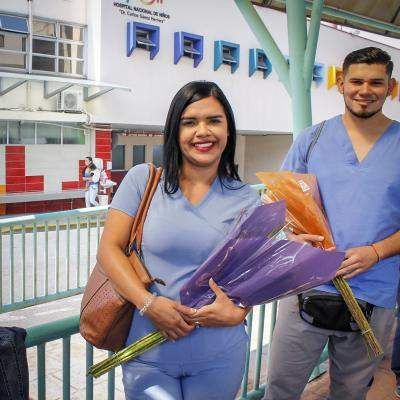 This spring, flower farms all over the world were forced to toss countless lilies, roses, and chrysanthemums into trash heaps as the COVID-19 pandemic wreaked havoc on markets. Though losses in the floral industry have been crushing, moments of beauty have also bloomed.
In Costa Rica, where the floral and foliage industry has been hit hard, the Dutch embassy recently delivered to health workers 2,000 bouquets from ExpoFlora, a Rainforest Alliance Certified producer in Costa Rica. "During the pandemic, during this health crisis, it's gestures like these between friends that really matter," said Dr. Roman Macaya Hayes, executive president of Costa Rica's national healthcare system.
Colombia, the world's second largest exporter of cut flowers, quickly instituted measures to protect workers so that flower farms could safely continue doing business. But social distancing orders put a stop to weddings, Easter celebrations, and quinceañeras, and other occasions for which flowers would ordinarily be bought. Consumer concerns about an economic downturn, as well as restrictions on exports, caused a 15 percent decrease in demand.
Despite these difficult circumstance, Sunshine Bouquet, a Rainforest Alliance Certified company with 22 farms in Colombia, resolved to offer both cheer and charity this past Mother's Day. The company donated 25,000 bouquets to be sold and delivered within Colombia, with the proceeds going to help families struggling financially due to the pandemic. For every three dozen roses purchased (at just US$10 per dozen) a Colombian family will eat for a month. The effort was a resounding success, raising a total of US$190,000.
May 13, 2020
India: An employee-owned plantation struggles
Preetha Selvi is a tea worker at the Kanan Devan Hills Plantation (KDHP) in Kerala, south India. Nestled in the biodiversity-rich Western Ghats mountain range, KDHP's tea estates are noted for their ambitious sustainability commitments—from soil conservation to environmentally-friendly waste management. But the COVID-19 crisis has hit the employee-owned plantation hard. "Shipping logistics have been suspended since the lockdown," explains manager, Sanjith Raju, "and we are facing severe hardship due to sales disruptions in export markets."
Rwanda: Mobile banking leaves smallholders unable to do business
Niyifasha Dative is a coffee farmer in Gakenke, Northern Rwanda. To reduce the coronavirus risks associated with exchanging cash, the Rwandan government has introduced mandatory mobile banking measures. As many smallholders do not own mobile phones, they are now effectively unable to sell their coffee to the local cooperative—leading to troubling reports of unauthorized middlemen stepping in.
Ethiopia: Coffee-growing families can't go to market
In Ethiopia, coffee producers have been physically cut off from the main global shipping port in neighboring Djibouti (a key trade route linking Africa, Asia, and Europe) due to international border closures. In this video dispatch from Addis Ababa, the Rainforest Alliance's Denu Lemma details the severe challenges these supply chain disruptions have brought upon the communities we work with.
North Sumatra, Indonesia: Falling coffee prices and lack of tourism hurt farmers
In Maju Tani, North Sumatra, the combination of falling of coffee prices and the sudden suspension of international tourism, has dealt a crushing double blow to farmers like Sartika Pandiangar. A widow and mother of four, Sartika has a small 0.7 ha coffee farm near Lake Toba—a popular holiday destination, which provided much-needed additional income for many smallholders in her community.
May 11, 2020
Peru: Indigenous leader explains the threat the pandemic poses to native communities
In the abundantly lush region of San Martín, Peru, scores of Indigenous communities have been living in harmony with the forest for centuries. The Rainforest Alliance works with six of these communities. One of them, Yurilamas, sets aside 26,000 ha (64,200 acres) of its lands for conservation and uses another 7,000 hectares to cultivate cocoa, beans, bananas, yucca, peanuts, and more—all with the sustainable methods.
But COVID-19-related restrictions on transport and other logistics—not to mention the urgent need to protect the communities from infection—have resulted in a severe drop in income for many of the native communities here in San Martín, which is the third-largest coffee-producing area of Peru.
Walter Sangama Sangama, the president of the Federation of Indigenous Kechwa Communities, (FEPIKRESAM)—a powerful Indigenous organization whose founding led the formation of other federations—explains that the communities have received no government aid to help them weather their unexpected loss of income. The locals have also been forced to form their own patrols to keep outsiders from entering and potentially infecting residents with COVID-19.
Here Sangama explains how San Martín's Kechwa communities are responding to the pandemic.
May 8, 2020
Malawi: A farmer can't sell his produce
"Hope should be the last thing to die," says tea farmer Elias Thomas, pictured here with Lucy Mpando on the family smallholding in Thyolo, Malawi.
Like many of the smallholders we work with, Elias supplements his small income from tea with other crops, such as cabbage, beans, potatoes, and fruit. But he can no longer sell his fresh produce due to the closure of the local food market.
Still, he explains, what keeps him and his family going is the hope that this crisis will come to an end.
May 4, 2020
Bali, Indonesia: A cocoa coop pivots operations in the face of falling sales
In Bali, the livelihoods of cocoa farmers like Ni Made Budi Ayu Anggreini (pictured) have been upended by the COVID-19 pandemic. Budi, who has a small farm in the west of the island, is one of many local farmers using sustainable growing practices—such as planting her cocoa in the shade of mangosteen and banana trees.
But due to global market disruptions, the local cooperative that sells her beans, Kerta Samaya Samaniya (KSS), has seen sales fall overnight by as much as 88 percent.
The Rainforest Alliance has worked closely with KSS for many years—helping to amplify the voices of women farmers across the region through our Sector Partnerships Program. KSS immediately responded to the crisis by processing their raw pods into cocoa nibs, which have a longer shelf life. Our local NGO partner, the Kalimajari Foundation, is now working hard to secure guarantees from international buyers to purchase these nibs.
May 1, 2020
India: A drop in demand and travel restrictions challenge a family-run coffee estate devoted to sustainability
Jaya Chitra Devi (pictured) works for the Loyola Estate and Joseph Coffee Curing Works in Tamil Nadu, South India. Nestled in the Pulney Hills, bordered by thick tropical rainforest, the estate grows 50 percent of its arabica coffee under the shade of native tree species such as pink cedar, jackfruit, and malabar plum.
Our India team has worked closely with this family-run coffee estate for the past seven years—training staff in more sustainable growing techniques, such as the making and use of organic fertilizers.
But global market disruptions due to the COVID-19 pandemic have led to a huge drop in demand for coffee. "Buyers are canceling their orders…and we're unable to move our goods across state borders" explains Peter Naresh, who runs the estate founded by his great-grandfather.
Before the crisis hit, Naresh had ambitious plans to plant more shade trees on his land, increasing coverage to 60 percent. But now, the future looks much more uncertain. Forced to sell his beans at a much lower price, he is extremely worried about how he will keep up with expenses and pay his workers.
April 29, 2020
Zimbabwe: With schools closed and incomes slashed, farmers struggle to feed their children at home
In the Eastern Highlands of Zimbabwe, tea farmers are struggling to meet their basic needs due to the COVID-19 pandemic. Ruben Maambira (pictured), a smallholder in Honde Valley, reports that a shortage of protective equipment (hand sanitizers and face masks) have made it difficult to safely keep up with daily harvests.
Like most farmers in his community, Ruben supplements his small income from tea with other crops, such as avocados and bananas. But he can't sell at the market now due to new travel restrictions.
This sudden and severe loss of income is especially hard for farmers with young children. Schools in Zimbabwe have been closed for over a month now—causing unexpected additional household food expenses for parents who depend on the state's school feeding program.
These new challenges are a heavy burden for communities that are already facing acute climate stress. The Rainforest Alliance has worked closely with more than a thousand farmers in the Honde Valley Tea Growers Association for several years to build climate resilience through more sustainable growing practices.
April 27, 2020
Kenya: Plummeting demand for tea hurts smallholders and plantations
Reporting from Nairobi, the Rainforest Alliance's Michael Orang'i Onchabo details the daunting challenges the COVID-19 pandemic has brought upon the tea-farming communities we work with to the east and west of the Rift Valley in Kenya.
The Kenyan economy is powered by tea. Among the top three producers of black tea in the world, the sector provides nearly 23 percent of Kenya's national GDP—supporting the livelihoods of more than five million people.
But global market volatility due to the COVID-19 pandemic has seen export prices fall sharply at the weekly tea auctions in Mombasa—along with a 20 percent drop in international demand. Smallholder farmers are especially hard hit by the loss of income, while bigger plantations have had to cut their workforce by half, in line with strict social distancing measures.
Our Kenya team is urgently mobilizing to support our partner tea communities on the ground—helping to provide tea workers with face masks and hand sanitizers, which are in desperately short supply.
April 23, 2020
Indonesia: Prices for cocoa and coffee plummet, while farmers' basic living costs rise
Across Indonesia, the farming communities we work with are seeing a shocking drop in market demand for their crops due to the COVID-19 crisis. "Without buyers, the farmers will suffer a huge loss of income" explains the Rainforest Alliance's Nurul Wara Firda in this video update from Jakarta. Local coffee farmer Asdin Turnip, who has a smallholding (0.5 hectares) in Siarung-arung, North Sumatra, tells us that the price he gets for his beans has fallen by 50 percent.
Across the Java Sea, on the island of Bali, the Kerta Samaya Samaniya (KSS) cocoa cooperative has seen sales plummet—from 1-2 tons per month to only 250 kilos.
At the same time, the cost of basic food is also rising—forcing many farmers to use their limited savings to buy essentials like rice to feed their families.
Through their commitment to more sustainable growing practices, many of our partner communities play a vital role in protecting Indonesia's tropical forests—including some of the world's last remaining primary rainforests. They are now undertaking this essential work in the face of great economic precarity.
April 21, 2020
Indonesia: Border closures cut off cocoa farmers from buyers
In Indonesia, cocoa farmers in Poso, Central Sulawesi, are physically cut off from their buyers in the south due to regional border closures. "There is no clear end to this crisis" says Ridwan, a smallholder who heads the Karya Bersama cocoa cooperative in Poso. Unable to process, transport, or sell his cocoa, he is anxious about next month's harvest and how he will cover costs on his farm. Yet he draws strength from the resilience he sees in his community. Violent clashes between ethnic groups ravaged his homeland between 1998 and 2007. But a decade later, former enemies united for the common cause of sustainability and attained Rainforest Alliance certification last year.
Sustainable growing methods he and his fellow cooperative members learned in Rainforest Alliance trainings, such as crop diversification, have strengthened his community's traditional "forest gardens," where staple food crops grow alongside cocoa. He has been heartened to see his neighbors sharing their food harvests with each other. "We need to unite our hearts and souls more than ever. It's a collective effort to stay 'together apart.' It's not easy, but I believe we can thrive together."
April 17, 2020
Mexico: International markets for sustainable timber closed
The Rainforest Alliance has long worked with ejidos (communally owned lands) in the ecologically precious forests of Mexico's Yucatan peninsula, helping to improve the communities' sustainability and market competitiveness. In this video, the Rainforest Alliance's Rodolfo Juárez explains the challenges these forest communities are facing now that the coronavirus has effectively shut down the international market for their products.
April 16, 2020
Mexico: Forest communities close entrances to protect residents from COVID-19
These three communities, Noh-Bec, Petcacab, and ChacChoben, in Quintana Roo, Mexico, have made the heart-breaking decision to close the entrances to their communities—and to ask their own relatives to stay away—to better protect themselves from coronavirus.
The Rainforest Alliance has long worked with these three ejidos (communally owned lands) on sustainable practices and market linkages, but trade restrictions caused by the COVID-19 crisis have brought the ejidos' business to a halt.
These ejidos successfully protect some of the most ecologically precious forests in the world, and their livelihoods are critical to their continued conservation work. The Rainforest Alliance's Mexico team is working hard to find local markets where the ejidos can sell their products to ease the financial hardship caused by broken supply chains.
In the meantime, these ejidos (two of which are indigenous) are taking measures to protect themselves from the coronavirus, even though it means that their own family members, many of whom work in tourism centers like Cancun and Playa del Carmen, can't return home to shelter in place.
April 15, 2020
Mexico: Mango farmers in Oaxaca continue working
"We are all working together to secure the food for everyone's tables. People around the world depend on farmers to eat, and we also depend on people buying our products to feed our families. The livelihood of a great part of the community depends on mango production. The life of a farmer cannot stop. People eat every day and we must continue working, because we also rely on that to sustain our families," says Lilia Ofelia Hernández Chávez, one of 351 mango farmers we work with in Santo Domingo Zanatepec, Mexico. The farmers have implemented sustainable farming methods that maximize yields on existing land and build resilience to climate change.
Farmers like Lilia are working to restore the balance between people and nature. Supporting them from afar is an important way for us to contribute to shaping a better future.
April 14, 2020
Indonesia: A lack of clean water for hand-washing
"In our country we don't have good water; most rivers are contaminated by industry and household waste. COVID came, but many people in Indonesia don't even have clean water to wash their hands," says Eko Purnomowidi, a founding member of Klasik Beans, a Rainforest Alliance Certified™ coffee cooperative in West Java, Indonesia. For Klasik Beans, which won the 2019 Rainforest Alliance Community Honoree Award for their outstanding successes in community-centered agroforestry and reforestation, Eko says "it is hard but we are OK so far. We tighten our belts and survive. We know that our steps on reforestation, past and future, are right. We believe that to build future pandemic resilience, we must protect the forest, plant more trees, and create new forest."
April 10, 2020
Guatemala: A Global Model for Forest Conservation Under Threat
In Guatemala, the rainforest communities we've worked with for more than 20 years are facing a crushing loss of income due to the coronavirus pandemic. Due to a breakdown in global supply chains, these communities are facing an estimated $1.5 million loss in sustainable timber revenue and an additional $36,000 per week in the sale of palm fronds.
Their sustainable, forest-based businesses are the foundation of what has become a global model of people-centered forest conservation — an approach built on community land rights, responsible forest management, small business development, and diversified revenue streams. Unfortunately, these frontline communities do not have a financial safety net to sustain them throughout the crisis.
April 8, 2020
Mexico: Climate-smart, organic farmers near the Volcán Tacaná Biosphere Reserve
Global supply-chain disruptions have led to a sudden disappearance of income for many of the rural communities we work with — who simply don't have the resources to make it through this crisis without support. These are farmers and Indigenous communities who work hard to conserve forests that are vital to a stable climate future.
They include people like Elvira Miguel Roblero and Wilfrido Velazquez López, coffee farmers in Chiapas, Mexico. Their cooperative, the Organic Farmers of Tacaná, includes 150 smallholders from 21 communities who have implemented climate-smart methods they learned through our training program. As part of their journey to Rainforest Alliance certification, they have cultivated native plant and tree species, turning their farms into an important ecosystem buffer for the nearby Volcán Tacaná Biosphere Reserve.
April 6, 2020
Peru: Bartering Coffee for Food
Many of the farming and forest communities we work with are facing major hardship due to supply-chain disruptions caused by the coronavirus pandemic. Those who produce specialty crops are more likely to be impacted by these supply chain disruptions than industrial farms that grow staple crops, according to the Food and Agriculture Organization. In Peru's San Martín region, most of which sits in the Amazon, some coffee farmers have begun to trade their harvest for food out of sheer desperation, as our colleague Gerardo Medina reports.
April 2, 2020
Rainforest Alliance team leaders gather to make a plan to support communities
Our regional team leaders from 18 countries gathered yesterday via Zoom to discuss the urgent challenges the #COVID19 pandemic poses to farming and forest communities around the world — and to express concerns, solidarity, and ideas for potential solutions.
According to field reports from our regional teams, these challenges include supply chain disruptions that threaten rural livelihoods and prohibitions on domestic travel that make in-person trainings and certification audits extremely difficult. Our colleagues noted that the forest communities and farmers we work with are at greatest risk of new and emerging epidemics, given the biodiversity of these regions (see previous post on deforestation and pandemics for more on this topic) and the lack of preparedness of the healthcare systems in their countries.
They also indicated a strong potential for a prolonged humanitarian crisis among rural communities who have neither the financial resources nor the government support to weather a sustained economic downturn. Simply put, all of the members of our alliance must act quickly to support our partner communities — so that this special group of producers can avoid devastating consequences.
We're working as fast as we can to prioritize specific, urgent needs and address them effectively and pragmatically. We'll keep you posted on our progress and hope you'll join us in supporting farmers and forest producers — who are essential workers too.
Support Our Work
Create a world where people and the planet prosper together.
DONATE TODAY