When ten indigenous Maya women came together in 2018 to form Lol Koópte Muebles, a furniture business in Quintana Roo, Mexico, they knew they had a great idea: They would use cut-offs (leftover timber) from the local FSC-Certified sawmill to make home décor items and furniture.
Not only could they help support their families, they could do so in a way that protected their area's magnificent forests, since the communally owned land and sawmill they would be working with, Petcacab, harvests and processes all its wood responsibly.
But as any business owner can tell you, consumers can only buy your products if they know they exist. So when the women saw an opportunity to apply for a grant that would help Lol Koópte market its wares to retailers on the Riviera Maya, a popular tourist destination, they jumped at the chance. At the end of 2018, Lol Koópte learned that it won one of 42 market-oriented grants from the World Bank Strategic Climate Fund's innovative financing program, the Dedicated Grant Mechanism (DGM), for which the Rainforest Alliance is the executing agency in Mexico.
Indigenous Maya women entrepreneurs in charge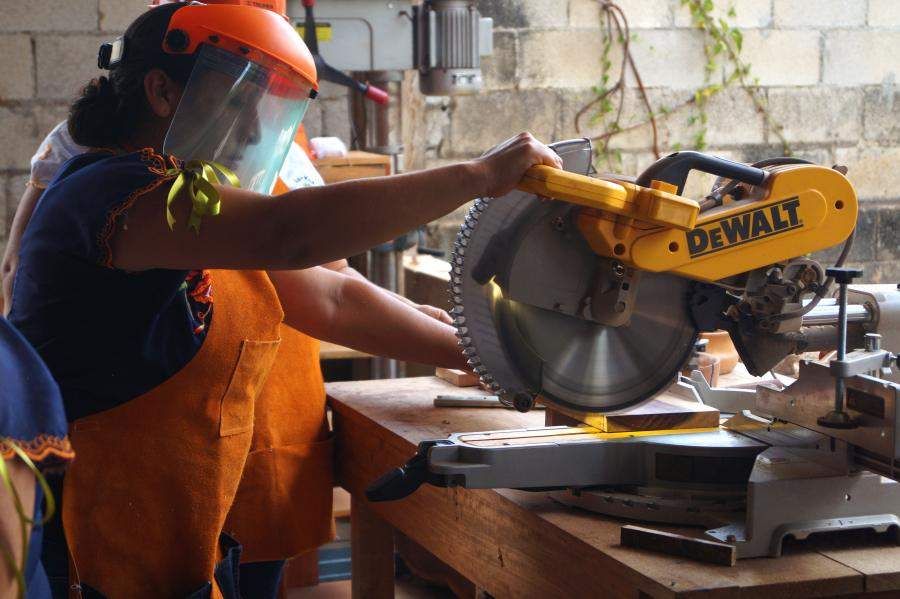 As part of the grant, Lol Koópte is now working hand-in-hand with the Rainforest Alliance to develop a marketing plan that includes a website, professional photography, a catalogue, and a product line. But perhaps more importantly, a tool developed by the Rainforest Alliance allows Lol Koópte to identify potential risks—both social and environmental—and to come up with ways to address those risks before they become a problem. For instance, the women agreed that in order for their business to succeed—and in accordance with their cultural values—they needed work hours that coincided with their children's school schedules. Safety around heavy machinery was also a high priority, so the group recently took a safety workshop. Considering the environmental risks that a business such as theirs might pose, Lol Koópte decided to use water-based varnishes and recyclable materials. The group then named a point person to be in charge of monitoring the implementation of these commitments.
Local and indigenous people setting priorities and making decisions
While the Rainforest Alliance is providing guidance to the DGM's many communities in Mexico—all of them in the states of Yucatán, Quintana Roo, Campeche, Jalisco, and Oaxaca, where deforestation rates are high—committees of local and indigenous people make all the funding decisions for this innovative financing program. During this five-year, $6-million initiative, the national steering committee and its regional subcommittees are dispersing more than $3 million to two kinds of grant applicants: underserved or vulnerable populations, and already established businesses, such as Lol Koópte. Other grant recipients in Lol Koópte's category include groups working in coffee and cocoa agroforestry, sustainable ranching, and responsible forestry. Soon recipients from the other category—women, youth, and those without land tenure—will be announced.
What's next for these indigenous businesswomen?
The women of Lol Koópte are now starting work on their marketing plan, with the aim of eventually selling their furniture in the high-end hotels and shops of the Riviera Maya. In addition, the website they build will allow for online sales and international shipping. Having used the Rainforest Alliance tool to create a plan that works for them and their families, and with financial support from the grant, the women of Lol Koópte are well-positioned to achieve their goals—all while working in harmony with the forests around them.
Support Our Work
Create a world where people and the planet prosper together.
DONATE TODAY