"For me, wood is the most noble material in all of nature," said Yuriria Hernández Velasco, the forewoman at K'áax Mayas, a woodworking shop in the southern Yucatán peninsula. "And we can transform it into anything we can imagine."
Creating furniture, doors, and home décor items—and whatever else Hernández and her team can imagine—is the heart of this remarkable enterprise, which is jointly owned by the Alianza Selva Maya, a consortium of five ejidos (communally owned lands) working sustainably. With support from the Tinker Foundation, the Rainforest Alliance is working with the consortium to increase the value of the timber these ejidos harvest, and K'áax Mayas launched in 2015 as part of that effort. This exciting collaboration reflects a growing local momentum to capitalize on the opportunities of sustainable community forest enterprise—to improve livelihoods in a way that keeps the Yucatán's ecologically precious forests standing.
"The fact that our wood comes from sustainable managed forests gives us a lot of pride," Hernández added.
Because of the ejidos' size and locations—they all lie far from any urban centers—a workshop like K'áax Mayas wouldn't have been possible without banding together. "After 40 years of ejido development, the best an ejido could do was to have a sawmill," said Alfonso Argüelles, executive director of the Alianza Selva Maya. (He's also the Mexican representative to the international Forest Stewardship Council (FSC®). "The Alianza Selva Maya was born to solve problems the ejidos couldn't solve alone."
After much searching and strategic analysis, the ejidos of the Alianza Selva Maya secured an abandoned building on the grounds of the Instituto Tecnológico de la Zona Maya, a free forestry and agricultural sciences college. Soon this space became the buzzing workshop Hernández manages. Forestry students from the school gain important hands-on experience here in the workshop, and make connections with the ejidos. For some, it's a pathway to a job in the nearby ejidos.
When Hernández was first hired to run the shop, K'áax Mayas was only making floorboards. But partly because of Hernández's interest in design, and partly because the real money comes from value-add products like doors and home décor, the shop expanded into making furniture and other finely produced wood items. "When I first learned to make furniture, it was magical," she said. The products that come out of K'áax Mayas workshop are destined for the high-end hotels in Cancún, Riviera Maya, and Tulum. But the member ejidos of the Alianza are looking to sell directly to consumers as well. To that end, the Alianza Selva Maya opened a showroom in the tourist town of Chetumal in April 2018.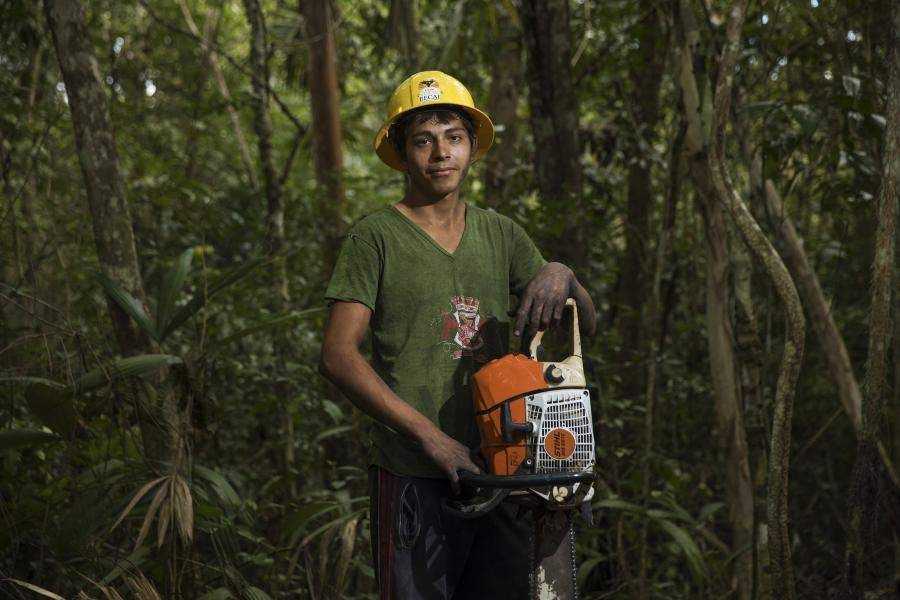 "Community forest management linked to responsible markets is key to conserving forests, biodiversity, and environmental services," Edgar González Godoy, Rainforest Alliance director for Mexico, said. "You can see that in action here at K'áax Mayas. The ejidos benefit, the forest benefits." ejidos were first established in the wake of the Mexican Revolution (1910-1921), when agrarian reforms redistributed land to rural communities, giving them the right to manage their forests as they saw fit. All five of the ejidos forming Alianza Selva Maya are working sustainably, setting aside a portion of their forests for conservation, while following a sustainable management plan for the areas they harvest.
Two of the ejidos are Forest Stewardship Council certified. But for ejidos to continue to protect forests, they have to be able to make a robust living—and that means building competitive businesses and connecting directly to markets. One ejido, Ejido Caobas, for example, received technical assistance from the Rainforest Alliance that allowed it to cut out local middlemen and sell directly to an international buyer—who paid three times the price Ejido Caobas had been receiving for its wood locally. The sale is enabling the ejido to invest in new equipment, become a truly sustainable enterprise, and inspire other nearby ejidos to pursue certification.
The Alianza Selva Maya's woodworking shop is another way for communities to bolster local incomes, and the fact that it helps protect their natural patrimony is not lost on those working at K'áax Mayas. "It gives us pride to use the wood and know we are taking care of the forest." Hernández said.
Forests Are Falling At An Alarming Rate.
Each minute, 85 acres are destroyed.
Donate