Rural communities have a tangible stake in the health of their forests and play a crucial role in conserving them. While communities can earn valuable income from the harvest and sale of forest products—such as palm fronds, rattan, and nuts—their success often requires business training, technical assistance, and access to viable markets. To support the sustainable development of these enterprises, the Rainforest Alliance funds scientific research in Latin America that helps bridge the gaps.
Sign up for useful tips to green your life and protect our planet.
With the backing of longtime ally Elysabeth Kleinhans, the Rainforest Alliance established the Kleinhans Fellowship for Community Forestry Research in 1989, which provides two-year stipends to scientists who seek practical solutions to the real-world challenges of running community forestry enterprises. The fellowship is another example of our long-standing commitment to this proven approach to sustainable forest management, which puts local communities at the heart of forest protection and restoration—as in our work with community-run forestry concessions in Guatemala's Maya Biosphere Reserve.
Research Highlights from Three Decades of Kleinhans Fellows
Each Kleinhans Fellow conducts research in Latin America that examines one or more of the following topics: the creation of domestic markets for specific forest products; practices to conserve biodiversity; administrative training, gender equity, and other social aspects of running these businesses; and the management of enterprises that span multiple communities. When each fellow's two-year study period has been completed, their results are shared with the communities themselves. Here are just three of the scientists whose work we have supported.
Using Rural Radio Networks to Empower Forest Communities in Brazil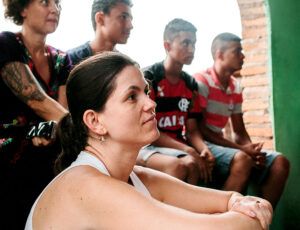 Through her research in the Brazilian Amazon, social scientist Mônica Barroso (2007-2009) demonstrated that information is power. She studied the use of rural radio networks to disseminate market-related data to remote communities in eastern Brazil that were selling non-timber forest products, such açai berries, manioc flour, and hearts of palm.
Many of these communities were more than five hours away by boat from the urban center of Gurupá, with limited access to transport fuel, phones, or electricity. (Any appliances they did have were powered by diesel generators.) Most villagers had little direct contact with buyers, depending instead on middlemen to sell their products. Without reliable up-to-date market information, these communities were at a distinct disadvantage when negotiating prices.
At the time of her research, radio was still the most important communication tool in this part of Amazonia, due to its relative ease, speed, and affordability. The challenge was acquiring and disseminating accurate and timely information. Dr. Barroso organized a three-day radio workshop in Gurupá to equip the team at the local community radio outlet with knowledge and techniques for capturing, systematizing, and transmitting important details related to the area's forest-based economy. She saw firsthand that radio could impact the "bargaining power and dignity of forest populations."
Helping Guatemalan Forest Communities Govern Their Enterprises Effectively
With near-zero deforestation rates, the community-run forestry concessions of Guatemala's Maya Biosphere Reserve are a powerful example of how local people can protect and profit from their natural resources. Megan Butler's research (2017-2019) demonstrated that good governance—everything from internal regulations and monitoring, to decision-making and community participation—is essential to their success.
Efficiency, transparency, and inclusiveness are necessary for a well-run community forestry enterprise, but there are many factors that can affect a community's ability to attain these goals. During her time in the reserve, Dr. Butler, who specializes in natural resource management, observed the daily operations of six forestry concessions, interviewed their boards of directors and community members, and worked with local partners and support organizations to better understand what helped or hurt their progress.
Among her findings, she determined that the challenges faced by these enterprises change with every stage of their development. To help the concessions assess where they stand, she created a self-evaluation tool that they can apply to each governance element—including questions like "Does the enterprise have a system for documenting and storing operational and financial Information?"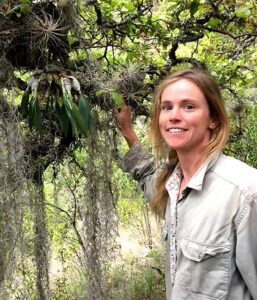 Scaling Trees to Protect Orchids in Mexico and Costa Rica
For one of the two current Kleinhans Fellows, research involves climbing trees. A Ph.D. student in ecology, botany, and community-centered conservation, Julia Douglas (2021-2023) is studying wild orchids that grow high in the canopy, on the bark of trees, in the Mexican state of Oaxaca and on Costa Rica's Osa Peninsula.
In Oaxaca, orchid flowers are used to adorn altars for religious celebrations, but their survival is threatened by habitat loss, climate change, and overharvesting. Collaborating with these forest communities, Douglas has been conducting interviews to understand traditional uses and harvest volumes. In Costa Rica, she has climbed the tall trees to monitor orchid abundance and species richness—information that is crucial to creating an effective plan for conserving this highly diverse and economically important plant family.
While the pandemic delayed some of the community interviews she had planned to conduct in Costa Rica, Douglas hopes to resume this part of her research in the near future. "Collaborating with communities with respect, humility, and curiosity is absolutely essential to conservation research," says Douglas. Ultimately, her work will be integrated into a sustainable management plan that is centered on the communities' biocultural traditions, and will be shared with federal environmental agencies in both countries.
Invest in the next critical decade
Help us scale, deepen, and accelerate our impact to protect the planet and our entire global family.
Donate now