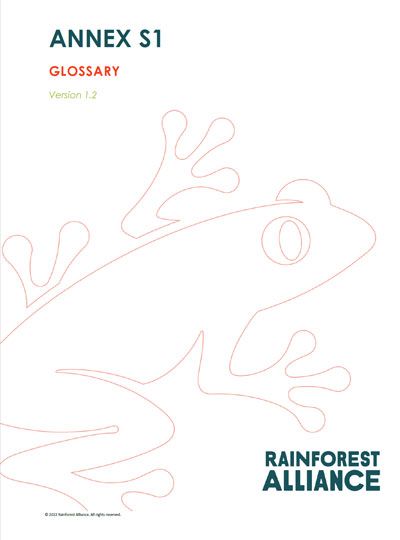 Annex
Annex S01: Glossary
SA-GL-SD-1
The glossary of the terms used in the documents of the Rainforest Alliance Certification Program.
The terms that are underlined in the Standard, are covered in the Glossary.
View our online version of the glossary by visiting  https://www.rainforest-alliance.org/glossary.
For Version 1.3, published on February 6th, 2023, please see the adapted terms below:
| | |
| --- | --- |
| TERM | WHAT CHANGED? |
| Average of ≥ 5 hired workers (Applicable for Small Farms only) | Removed, subset is not used anymore |
| Credit | Removed, term is not used anymore |
| Large Farm | Adapted definition: All farms with 10 or more permanent workers are Large farms |
| Regular working hours | Corrected, now reading: Regular working hours are the number of hours that are worked according to the contract of the worker, during the day, week, month and/or year, excluding overtime. Overtime work means hours worked in excess of regular working hours. |
| Small Farm | Adapted definition: All farms with fewer than 10 permanent workers are Small farms |
| Worker Representative | Addition to the definition: A person in a management role cannot serve as a worker representative |
Complete changes overview of the February 6th release:
What's New in version 1.3 of the Sustainable Agriculture Standard?
Choose a language & version to view this Annex: