The vibrant food we eat is all thanks to farmworkers and the land. And yet, conventional agriculture—with its dependence on toxic chemicals—often comes at the expense of both. That's why the Rainforest Alliance is campaigning to ban paraquat, one of the world's most dangerous weedkillers.
Paraquat kills. It kills weeds, it kills nature—and it kills people. In fact, paraquat is a leading cause of death among farmers and rural community members. Exposure causes chronic health issues (affecting lungs and kidneys) and studies have found an alarming link with Parkinson's Disease. So why is it still so widely used by farms around the world?
For one, there is a heartbreaking double standard. Although many countries, including all European Union members and the United Kingdom, have already banned paraquat use within their own borders, some still allow it to be exported for profit. As a result, those who face the greatest risk of exposure are vulnerable rural communities in tropical regions—farmworkers on large plantations and smallholder farmers who are already battling climate change to grow crops we love, like coffee, tea, and cocoa.
That's why the Rainforest Alliance is campaigning for a global paraquat ban. And at the same time, we're working side-by-side with farmers to promote healthier and more regenerative approaches to weed control.
Helping farmers phase out dangerous weedkillers with regenerative agriculture
Paraquat has been banned on Rainforest Alliance Certified farms since the very start of our program—and every day our field teams see our partner farming communities succeed without it. "It's a myth that farmers need to keep their farms squeaky-clean from weeds to flourish," says Mochammad Subkhi Hestiawan, the Rainforest Alliance's cocoa expert in Indonesia. "Not all weeds are bad for plants. In fact, soft weeds provide mulch and protection from soil degradation and a home for predators of many pests that afflict cocoa farms."
Learning to love "good weeds" and pulling out the "bad" ones by hand is a practice known as Integrated Weed Management (IWM). Bad weeds can also be used to make organic compost—a safer alternative to chemical fertilizers. Over time, farmers can progressively phase out chemicals altogether. This is what makes IWM a key facet of regenerative agriculture—an approach to farming that aims to heal the land.
Meet the cocoa farmers embracing nature-friendly weeding in Indonesia
Rustan Effendi—A friend to pollinators
43-year-old Rustan Effendi has a small farm in Central Sulawesi where he grows cocoa and durian to support his wife and daughter. Several years ago, Effendi discovered the dangers of paraquat. "The herbicide brought some negative impacts to my health, such as shortness of breath while spraying it." He also saw that weedkillers were killing off the bees and other important pollinators. This affected cocoa development cycles, leading to longer waits between harvests and unpredictable yield quality.
He knew he needed to make a change. Together with the Rainforest Alliance and local government teams, he switched to IWM—targeting noxious weeds and pest habitats while maintaining soft weeds that provide habitats for pollinators.
"[We work] to find ways to make the most of our farm," he said. "We're thinking of how to preserve the land so our descendants can inherit the fertile soil that brings benefits in the long term."
"We're thinking of how to preserve the land so our descendants can inherit the fertile soil that brings benefits in the long term."

Rustan Effendi, cocoa farmer
Mohammad Rizal Umami—Championing healthy soil
Since inheriting his family's half-hectare plot in 2015, Mohammad Rizal Umami has not only tripled the size of his farm, but also transformed it into a healthy, herbicide-free growing space. Pak Sabar, another local farmer, showed Umami that it is best to use a grass-cutting machine before resorting to chemicals. The grasscutter allowed him to target hardy weeds without disturbing the soft weeds.
"After I stopped using herbicide, the softer lawn weeds started to grow, and the soil was no longer dehydrated," he said. After seeing the improvement in soil fertility, Umami welcomed the cover crops—or, green vegetation that "covers" the soil, protecting it from heavy rains and improving the soil composition. Growing these wasn't possible when he was relying on non-selective herbicides. Now, his cover crops support soil health while providing organic matter for mulch that supports the future growth of cocoa.
Ketut Sudomo—Getting some help from the goats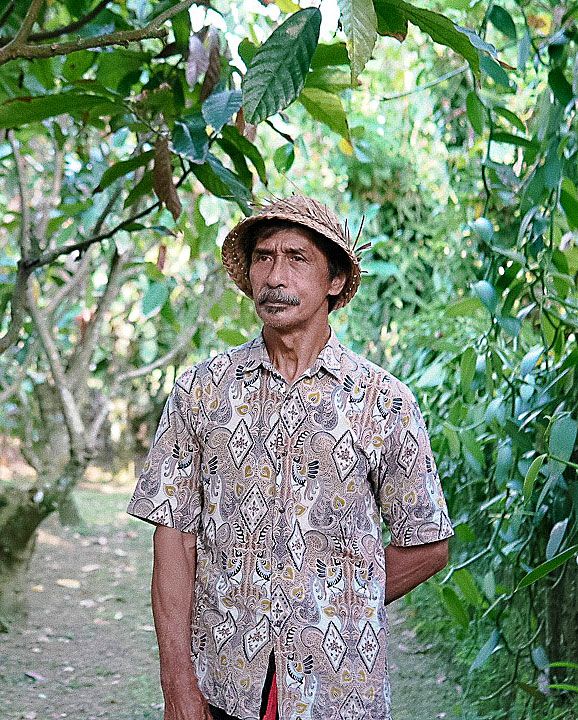 For Ketut Sudomo, farming is a family tradition. He inherited his three hectares of land in 1975 and has been growing cocoa for almost five decades in Jembrana, Bali. Sudomo said that he never used herbicides on his farm, instead continuing the way his family has always farmed to preserve the land for the next generation. His ancestral practice includes the use of shade trees, crop diversification, crop rotation cycles, and even livestock.
"He never used herbicides on his farm, instead continuing the way that has always been done by his family."
With the help of the Rainforest Alliance, Ketut saw that using IWM techniques, like raising livestock alongside crops, could greatly benefit his farm. His goats now provide manure that can be used as productivity-boosting fertilizer.
"The combination of raising a goat and cultivating cocoa trees perfectly complement each other," says Sudomo. "It's not hard to find the feed since we can get it from the cocoa tree, such as the cocoa pods or young leaves."
Join us in calling for a global paraquat ban
Alongside farmers like Effendi, Umami, and Sudomo, we're all in for a thriving future without paraquat. To demand safer practices, please sign our petition.
2022 Was One Of The Hottest Years On Record. Will 2023 Be Worse?
DONATE