Indonesia is home to some of the world's last remaining primary rainforests—and to many smallholder coffee farms. While coffee farming can certainly be sustainable, that isn't always the case. In Sumatra, for example, nearly 28 percent of Bukit Barisan Selatan National Park's forest cover was destroyed, mostly for coffee cultivation. The lowland forests of this magnificent Park and UNESCO World Heritage Site are home to three of the world's most endangered wildlife species: the Sumatran elephant, the Sumatran rhino, and the Sumatran tiger—making it all the more urgent that coffee farmers work in ways that protect this forest.
Coffee grows beautifully in forest ecosystems—in fact, high-quality arabica beans can only grow in the shade of trees. But how to get this information out to farmers, who may not know that they can grow their coffee in harmony with forests?
That's where people like Intan Fardinatri, the Rainforest Alliance's coffee and spices program manager in Indonesia, come in. She is training 600 farmers in the buffer zone of the Park. Intan is also part of the SCALA (Sustainable Coffee Action in the Landscape of Bukit Barisan Selatan), a consortium involving the government, local NGOs, the World Wildlife Fund, and the national university, to train and improve the livelihoods of more than 40,000 farmers in the Park's buffer zone.
We asked Fardinatri about her work to make coffee farming more sustainable in the Park's buffer-zone communities.
What is the most important thing that you tell coffee farmers to get them to farm more sustainably?
It's crucial that we help farmers understand that they can earn sustainable livelihoods only by protecting the forest and its biodiversity. And that farming in harmony with the forest is not only possible, but it can improve their incomes.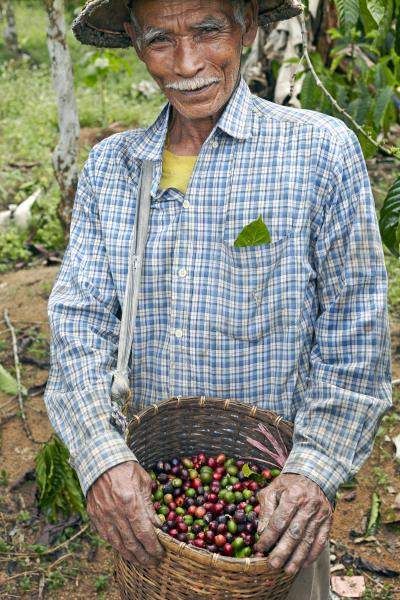 How do you show farmers that protecting this forest is good for their incomes?
We take them to see and learn from other farmers who are protecting the forest and reforesting while making a living. This inspires them by letting them see a real example in the field. We teach them that, for example, if they plant shade trees for their coffee, those trees can be vanilla or avocado—other sources of income.
We also encourage them to protect rivers and waterfalls by showing them that rivers can be an alternative source of income from tourism. Water can also bring economic value with micro-hydro [small installations that use the natural movement of water to power a rural homes or communities]. We focus on the economic benefits of sustainability, but we also take farmers to enjoy the waterfalls and rivers, so they better appreciate nature.
Sometimes illegal loggers come in from the outside and cut down trees, but it's the farmers' responsibility to protect the forest—they are truly the forest's guardians. We also introduce farmers to the local government authority, to show them that they are respected, and that along with responsibility, they have rights.
How do farmers put their newfound understanding of sustainable farming into action?
We brainstorm with farmers about what sustainability means to them and what it takes to be sustainable. Then we put their ideas and thoughts into a workplan, which they will implement and monitor, with our assistance.
Intan Fardinatri talks about the importance of protecting Indonesia's forests and how the landscapes, wildlife, and people of Indonesia motivate her work.
What inspires you to do this work?
I'm inspired when I see farmer groups establishing tree nurseries on their own, so that they can plant more trees on their farms—not just for better incomes but also for conservation. My hopes and dreams and why I'm working with the Rainforest Alliance is that I believe we have this gift—we have the forest. I'm hopeful that with the right approach and collaboration and innovations we can protect the remaining ecosystems, forest, and wildlife in Indonesia.
Forests Are Falling At An Alarming Rate.
Each minute, 85 acres are destroyed.
Donate