For the Rainforest Alliance's Sandeepan Bhattacharjee, working on tea estates in Assam, India, offers an opportunity to indulge his two great passions: helping make the tea sector more sustainable, and photographing wildlife.
Sign up for useful tips to green your life and protect our planet.
Upper Assam, where Sandeepan works and lives, is full of sprawling tea gardens, including some that are Rainforest Alliance Certified. Our certification requirements aim to improve livelihoods, promote human rights, and protect biodiversity—and it's people like Sandeepan who help make all that happen on the ground.
Happily for Sandeepan, this important work supports his other passion: wildlife. "The use of agrochemicals on tea farms is negatively affecting biodiversity here in Assam," he explains. "But on Rainforest Alliance Certified tea farms, pesticides and weedicides are no longer used indiscriminately. Certified tea gardens maintain green hedges and riparian buffers, and plant trees in marginal lands."
As a result, he said, "tea gardens are rich in biodiversity. A lot of endangered and vulnerable animal species, from tiny insects to mighty elephants, live in tea gardens."
That's why Sandeepan always carries a camera—or at least a cell phone with a good lens—when he goes into the field. Because tea estates are so vast, sustainability experts like Sandeepan live in bungalows on the estate, traveling by motorcycle each day to help farmers adopt more sustainable farming practices. That's often when he finds his subjects.
"My passion is to observe wildlife in its natural habitat; my camera just lets me enjoy that a bit more," Sandeepan said.
Below Sandeepan shares some of the beautiful images he has captured while working on tea estates.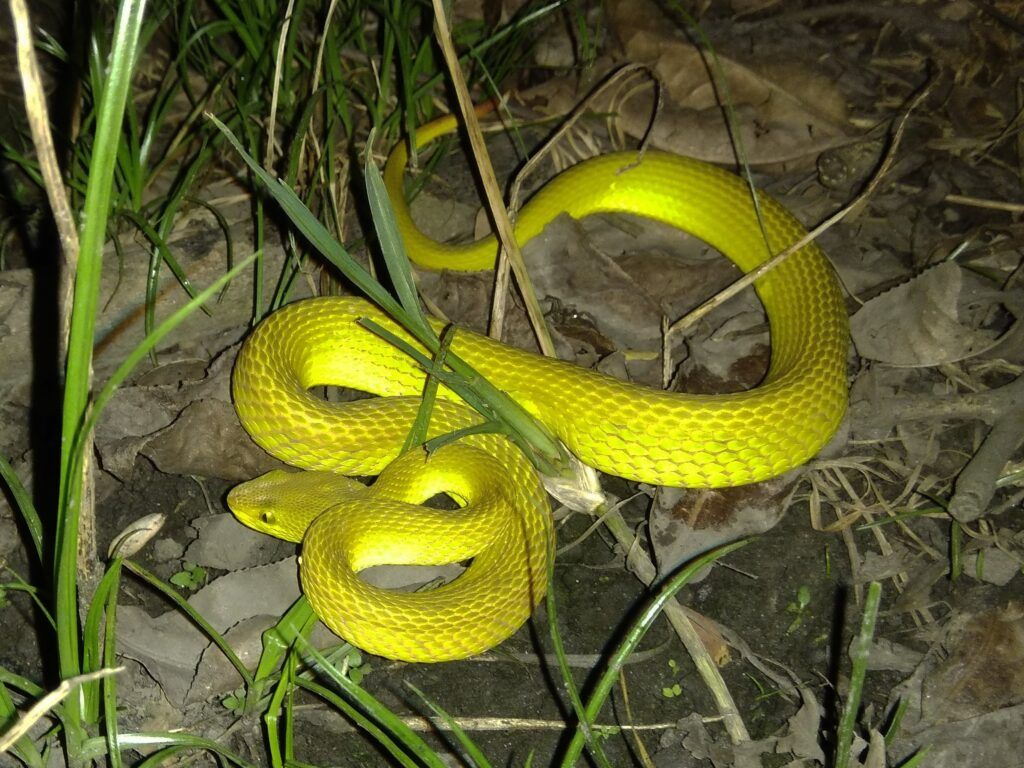 Bamboo pit viper (Craspedocephalus gramineus)
IUCN status: least concerned
One night, I was returning to my quarters from a remote tea-plantation division on my motorcycle. I suddenly saw this neon green thing glowing under my motorcycle headlights. I was delighted to find a bamboo pit viper enjoying the warmth of a few dried leaves. The bamboo pit viper is venomous, but since snakes are cold-blooded animals, they become sluggish at night. It was easier and safer for me to move closer and snap this with my mobile phone.
While this type of viper is not very common on tea estates, other venomous snakes are (e.g. banded kraits, cobras, rat snakes, and wolf snakes). Leopards, wild boars, and hippos can also be dangerous. Workers are always very cautious in the tea fields, especially during green-leaf plucking. The rule they follow is always to move from one side of the tea section to the other, rather than moving inward from four sides. That way, if any wild animal might be hiding or taking refuge in that particular tea section, it doesn't feel cornered and trapped and can easily escape.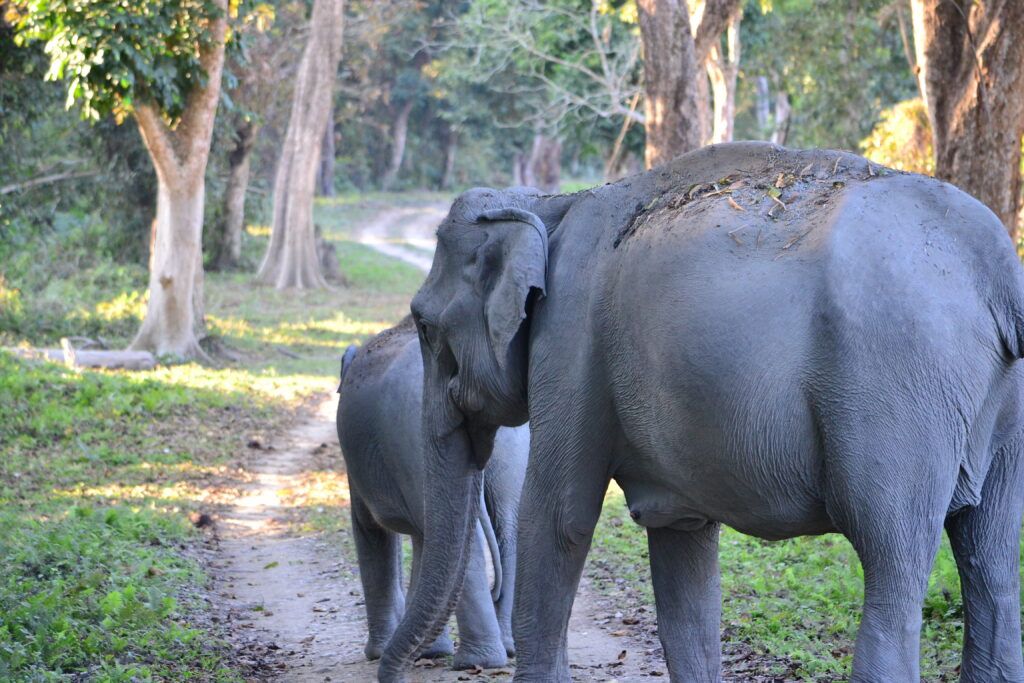 Asian elephant (Elephas maximus)
IUCN status: endangered
A calf came with its mother and group to raid the adjacent paddy fields (elephants love rice paddies). But when farmers chased them away, the calf was left behind in the confusion. The Assam Forest Department looked after the calf until its mother and the group came back for their little one.
Capped langur (Trachypithecus pileatus)
IUCN status: vulnerable and in decline
In a Rainforest Alliance Certified tea garden called Lamabari, located in the forest hills of Arunachal Pradesh, an isolated family of about 20 capped langurs reside. Because all the trees outside the estate have been cut down for farms and human settlements, this family is trapped in the tea garden. Our certification program requires workers to protect such creatures, and so the workers live in harmony with this family. The greatest threat to an isolated population like this one is genetic disorders from inbreeding.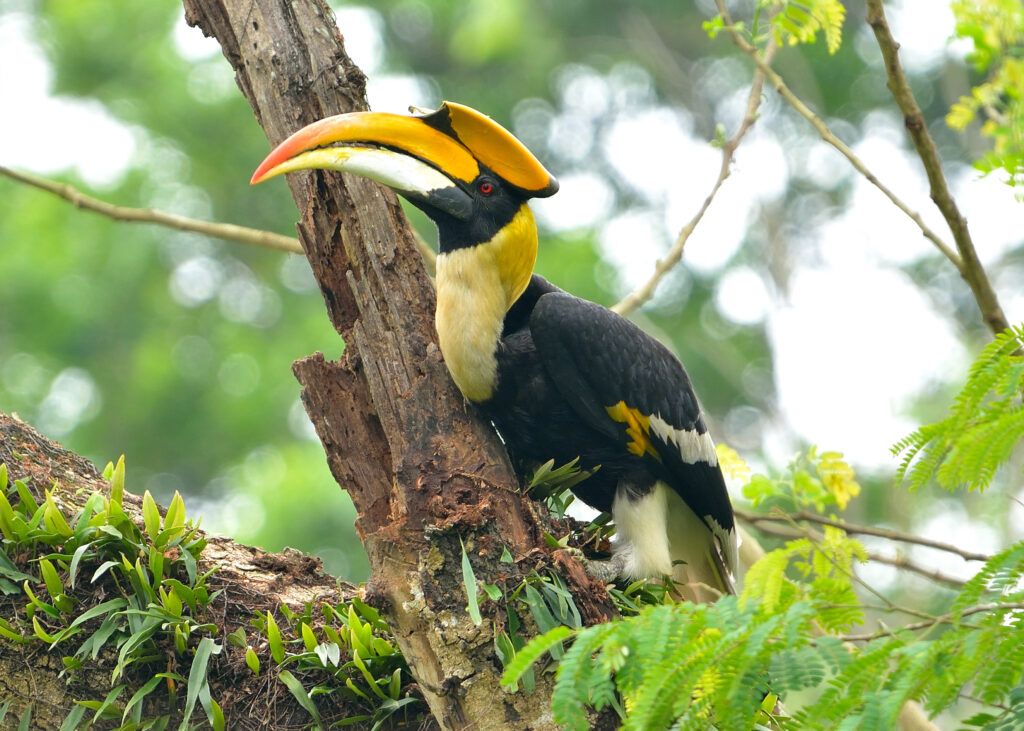 Great hornbill (Bucerosbicornis)
IUCN status: vulnerable
This is one of the most majestic birds in the world. I heard about it from workers at my first posting, so on Sundays I would hike up the Karbi Anglong hills in the hopes of photographing one. I managed to see and photograph a few, but from a great distance, and even my telephoto lens was not enough for me to get a decent shot. After two years I was transferred to a different garden called Hathikuli and here my dream came true: I could see hornbills regularly. I managed to photograph this one from the first-floor window of my quarters, when it was searching for food in one of the nearby shade trees.
Indian rhinoceros (Rhinoceros unicornis)
IUCN status: vulnerable
This amazing and beautiful tea garden, the Rainforest Alliance Certified Hathikuli Tea Estate, is located next to the Kaziranga National Park, which is a UN World Heritage Site—and also one of the last strongholds of the greater one-horned rhino. The park floods with water from the Brahmaputra River during the rainy season, forcing many wild animals to come and take refuge on the tea estate, which is located on higher ground. This old female rhino survived the floods by moving to the tea estate.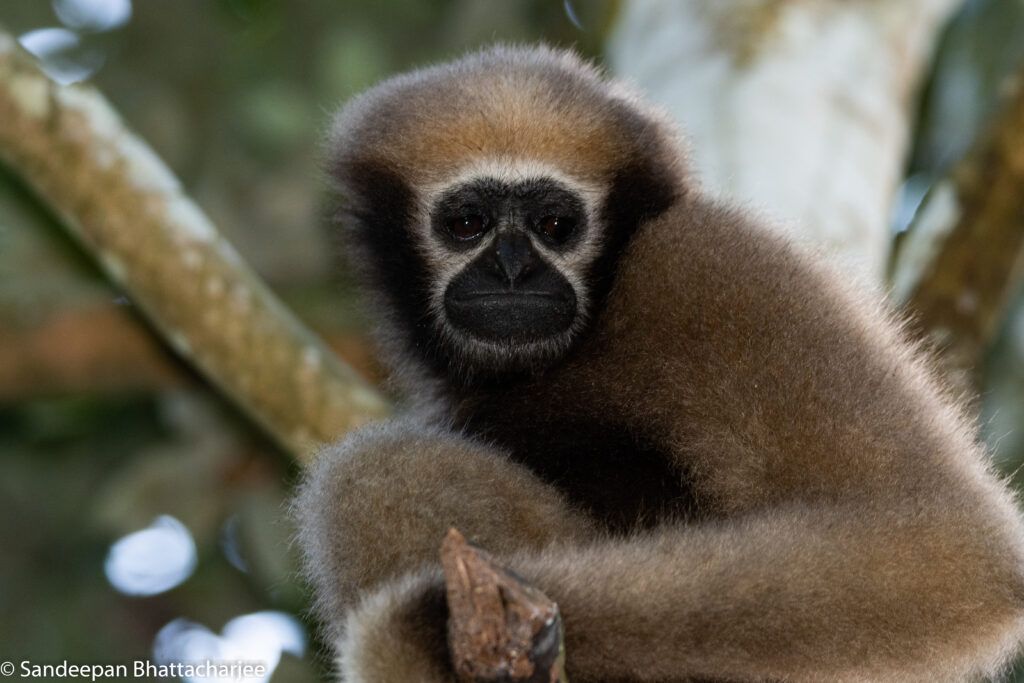 Western hoolock gibbon (Hoolock hoolock)
IUCN status: vulnerable
This type of gibbon is the only ape species in India. They're known for their loud hoots, which can be heard for miles, and their unique form of locomotion, which lets them leap great distances. Their natural habitat is the top canopy of the rainforest; they seldom come to the ground. Due to deforestation, various populations of gibbons are trapped and isolated from one another. But here in a village called Barekuri, in Tinsukia, Assam, a small family of these rare apes thrives in harmony with local farmers and small tea growers.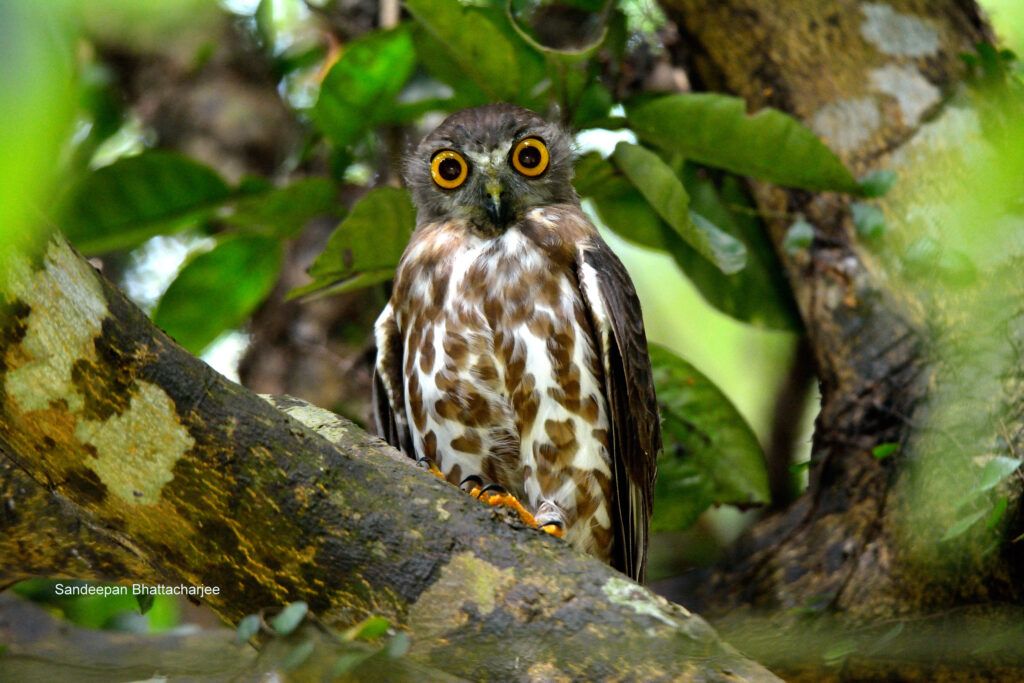 Brown hawk owl (Ninox scutulata)
IUCN status: least concerned
Known as a hawk owl because of its fast flying, this bird is also an efficient raptor. Another unique feature of the brown hawk owl is its camouflage pattern: It looks like small hearts.
One Sunday morning I was having my cup of tea in my garden and suddenly I saw a bird dash into the canopy of a pomelo tree next to the lawn gate. I rushed inside and got my camera in time and managed a few snaps of this beautiful owl.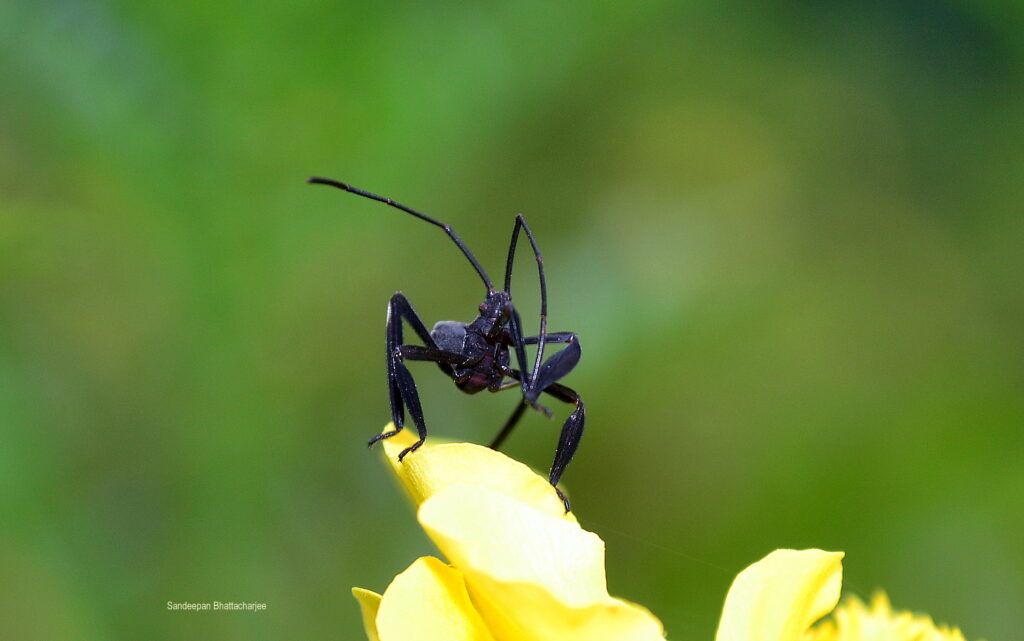 Asian ant mantis (Odontomantis Planiceps)
IUCN status: unknown
This is actually a praying mantis, disguised as an ant. Its camouflage helps it hunt.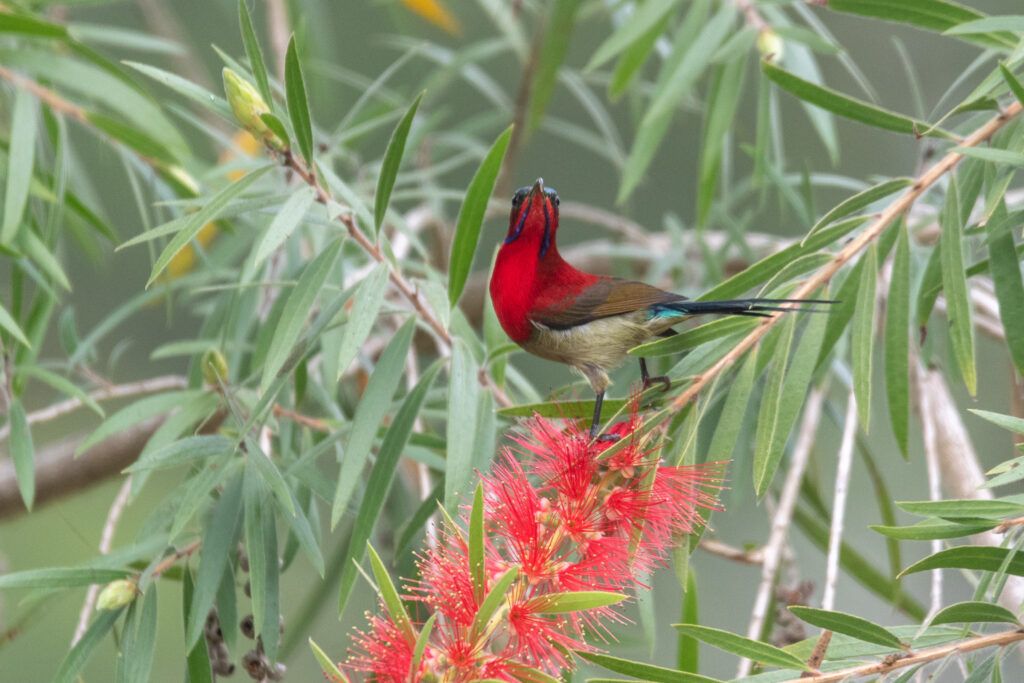 Crimson sunbird (Aethopyga siparaja)
IUCN status: least concerned
Also known as the hummingbirds of Asia, these small, colorful birds feed on nectar but relish small insects and spiders, too. In this photo a male sports its bright red breeding plumage.
Follow the frog for more inspiring stories from our global alliance
Explore