Earning a living wage is a human right. Yet more than 1.4 billion people around the world live in extreme poverty, and hired farm workers make up a large percentage of that number. Regarding this disparity, our Global Director of Sector Transformation Aparajita Bhalla put it best: "We cannot address global poverty without addressing farmers' incomes." And that applies to better wages for farm workers, too.
"We cannot address global poverty without addressing farmers' incomes."

Aparajita Bhalla
At the Rainforest Alliance, we're committed to fighting for a living wage for farmworkers. We approach this topic from many angles: through active participation in the Global Living Wage Coalition, plus our 2020 Certification Program, tailored programs, and advocacy activities. We also offer innovative projects with partner companies. For example, our recent project, Better Pay in Practice, which we will explain below.
We've found that many companies want to support a living wage, but don't know where to start. So, we have introduced several interventions for companies and farmers to assess the living wage gap and measure their progress. If your company is interested in contributing to achieving living wages in your supply chain, we will help you explore ways to do so.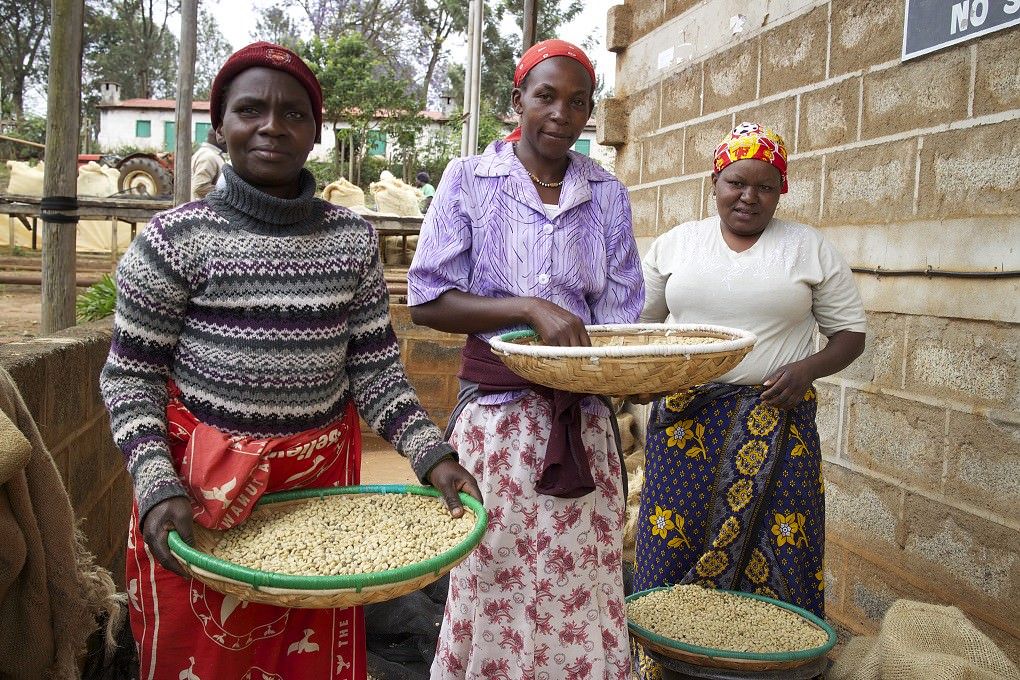 ALIGN: A tool for implementing a living wage strategy
We helped develop the online ALIGN tool in partnership with the Living Wage Lab. ALIGN leads companies through the step-by-step process of implementing a living wage (and a living income) strategy. You can trust this tool because it brings together the work of leading organizations and experts. It builds on the UN Guiding Principles on Business and Human Rights and the OECD Due Diligence Guidance for Responsible Business Conduct. Overall, ALIGN helps to reduce the complexity around living wage and living income. Plus, it's something you can start using right now to make a difference.
Better Pay in Practice
Companies often see living wage as too difficult a topic to tackle. This is because there are few examples of equitable and successful business models. For this reason, we partnered with Dutch supermarket chain Albert Heijn and other stakeholders to learn more about the impacts and cost of living wages throughout the supply chain.
The resulting project, called Better Pay in Practice, is a unique collaboration led by the Rainforest Alliance. It includes two coffee farms in Kenya and their exporter (Coffee Management Services Ltd.); a retailer that sought to sell coffee sourced from these two farms (Albert Heijn); a coffee roaster (Ahold Delhaize Coffee Company); and an impact research agency (AIDEnvironment). Together, we aim to develop practical solutions that address the challenges of paying a living wage.
A replicable example for the coffee sector and beyond
The goal of Better Pay in Practice is twofold. First, we want to discover the effects of paying a living wage on the two participating coffee farms, both of which operate with approximately 500 workers in the peak harvesting season. We will also study the effects this has on coffee price and the local communities. Second, we want to test a business model to pay living wage that involves producers and supply chain actors. If successful, this model could become a replicable example that is scaled up and shared throughout (and beyond) the coffee sector.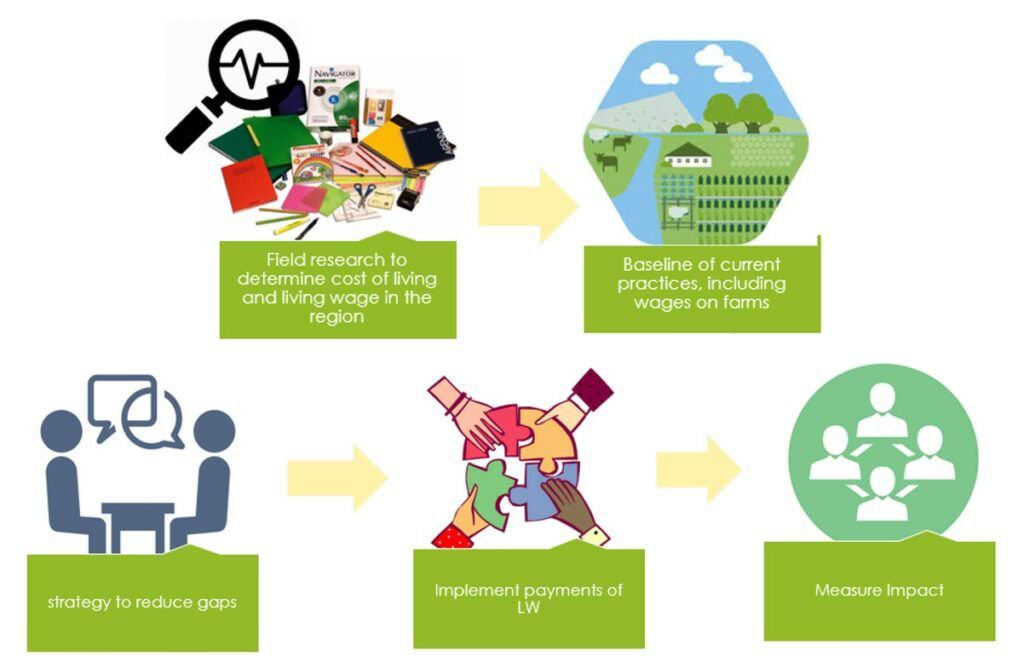 Better Pay in Practice began in 2017 as part of our  Sector Partnerships Program. We expect its final conclusions in spring 2021. Though it's not yet finished, valuable findings from this project have already influenced our approach to the living wage topic. It has also steered our new certification program toward more transparency and equity. For example, our Supply Chain Requirements now include living wage payment in the self-selected criteria for companies, along with the associated monitoring and traceability. Additionally, our Salary Matrix Tool is mandatory for farms to assess annual earnings against the Living Wage benchmark. The tool helps all actors understand the risks and how to design strategies to address the gaps.
Current key learnings of Better Pay in Practice
After the Rainforest Alliance measured the wage gap for the farms participating in the project, we weighed different options for a company to support the payment of living wage. The cost analysis showed that farms can absorb much of the additional costs involved in paying living wages by using better agricultural practices that increase efficiency, productivity, and quality. However, even with optimized conditions, companies will still need to pay an additional sum to close the living wage gap. In order to maintain their current margins, the farms will need to receive higher prices for their coffee (i.e., a Living Wage premium). The Living Wage premium is the payment made by buying companies—on top of the standard coffee price—to cover the gap.
So far, we have learned that it is possible to assess the living wage gap on a farm level. Furthermore, we developed a monitoring framework to measure the impact of paying a living wage on the farm workers, the surrounding communities, and other supply chain relationships.
One consideration is that abruptly bridging a wide wage gap could lead to problems like social unrest and friction with the neighboring farms. For this reason, the project partners decided to increase the farm workers' wages incrementally and closely monitor the impacts. In 2019, Albert Heijn committed to working with the two Kenyan farms for two years to support payment of higher wages for workers. In 2020, their payments helped bridge the gap by 38 percent. They will continue to pay the same living wage premium amount in 2021 to complete their commitment. Although the project is not yet complete, increasing farm workers' wages has already proven to positively impact their livelihoods.
Full findings from testing the business case for paying a living wage will soon be available in an impact report. The preliminary findings suggest that long-term trading relationships and transparency on cost and pricing help all supply chain actors achieve a living wage for their workers.
Work with us to support living wages in your supply chain
Ensuring more sustainable livelihoods starts with paying a living wage. And creating better livelihoods is key to our vision of a world where people and nature thrive in harmony. Many companies recognize their shared responsibility. Now, we're calling on all companies to proactively join the fight for higher wages.
The Rainforest Alliance can help you set up a successful plan for your company to contribute to a living wage for farm workers in your supply chain. Our 2020 Certification Program's new self-selected Supply Chain Requirements on living wage is one way forward.
Get started today by:
Using the ALIGN tool to begin the process of implementing a living wage;
Contacting our Living Wage lead Anny Stoikova (AStoikova@ra.org) to discuss how you can stand out on this topic.
Lead photo by Jorg N. Kemner
Support Our Work
Create a world where people and the planet prosper together.
DONATE TODAY