Despite having a huge role to play in cocoa production, women have little influence in the cocoa sector. However, as a woman that has been engaged in the cocoa industry for several years—and a member of the Rainforest Alliance gender taskforce—I feel overwhelmingly proud and privileged to be part of a growing network of women for women in the cocoa sector.
It was at last month's 3rd World Cocoa Conference in Dominican Republic that the role of women within the cocoa industry was highlighted even further with the official launch of the Women in Cocoa and Chocolate Network (WINCC). Led by Solidaridad, WINCC aims to engage professional women through the whole cocoa and chocolate supply chain—from companies, to governments, to other supply chain actors—to connect, fight to support women's rights in the cocoa sector, and become inspired to take on a leadership role.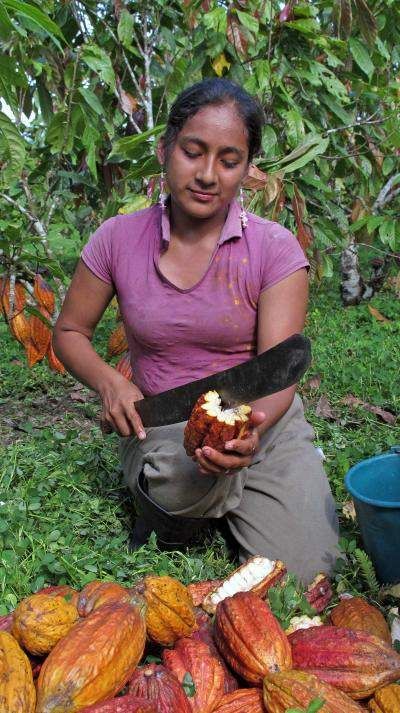 There is however, so much work still to do to mitigate gender inequalities. At the conference, cocoa experts confirmed that realistically the farm gate price of cocoa is not going to change tomorrow. Decisive actions are needed to achieve a more sustainable livelihood, which include productivity improvement practices. It is these practices where we see women having a key role. Women cocoa farmers are the forgotten, unpaid family labor who have an essential and active role in particular cocoa production practices such as pruning, fermentation, and drying. Within the chocolate industry, these activities are critical for enhancing yields and quality—thus showing the importance of women in the cocoa production process. And at the same time, households are relying on women for food security and well-being.
To be invited to be part of the WINCC Network at the conference was a real honor. All Network participants at the conference were invited to participate because they had shown a commitment to helping to improve the lives of women working in the cocoa sector and inspire them to become leaders in their own right.
Before this conference ended, all workshop delegates heard the emotional voices of women from all walks of life from around the world: farmers, chocolate makers, managers, entrepreneurs, and inventors. All showed that cocoa was a worthy and rewarding profession to be part of.
Sarah Sharp, executive secretariat officer of the International Cocoa Organization; Simran Sethi, food journalist; Mrs. Massandjé Touré-Litsé, Director General of the Cocoa & Coffee Council of Côte d'Ivoire; Mrs. Maricel Presilla, award-winning chef, culinary historian, and author; and Mrs. Cathy Pieters, Director Cocoa Life Program at Mondelez International were just some of the amazing voices of women engaged in the cocoa industry. They raised critical issues and called for stronger women to build stronger nations.
"One woman can change anything; many women can change everything."

Sarah Fadika, Rainforest Alliance
Solange, a cocoa farmer from Cote d'Ivoire, captured the situation of so many women perfectly when she said, "There is a huge difference of welfare and confidence between a woman owning her plot of land and a woman working on her husband's land." But this is a truth that can be changed—one woman can change anything; many women can change everything.
Support Our Work
Create a world where people and the planet prosper together.
DONATE TODAY