There's a reason that gender equality ranks high on the UN list of Sustainable Development Goals: Experts know that leveling the playing field for rural women is critical to both food security and the global climate solution.
Simply put, if we want a livable future, rural women must have access to the same resources, training, and opportunities as their male counterparts. (In some countries, women are not allowed to own land or access credit—even though they may be doing most or all the labor on a family farm). There's plenty of data to show that giving women equal resources would help save the planet, but there are countless individual women whose personal stories prove it too. Meet some incredible women we work with who have successfully transformed their communities and the landscapes around them.
Agung Widi: A sustainability super-shero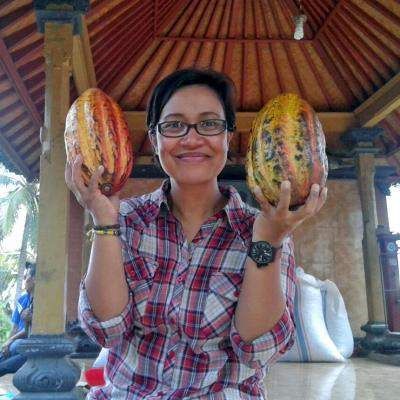 After corruption and bankruptcy all but destroyed the Kerta Samaya Samaniya (KSS), a cocoa coop in rural Jembrana, Bali, local farming families began spiraling deeper into poverty. That's when Agung Widi stepped in. in 2002 she launched the Kalimajari Foundation with the express purpose of revitalizing the cooperative. Today more than 600 farmer members belong to the cooperative, which is now Rainforest Alliance Certified—and all are enjoying better livelihoods while working the land in ways that can be sustained for years to come.
Widi also works on national policy reform aimed at transforming the cocoa sector into one that's sustainable and centers farmer livelihoods. But she's perhaps the fiercest advocate for women farmers: One woman cocoa farmer said she never dreamed she'd be able to send her children to college, but with Widi's personal guidance she did just that. Widi and her organization lead a formal gender equity advocacy program as well, at the district and national level. And when the COVID-19 crisis led to a drop in incomes at KSS, the cooperative quickly pivoted to processing their raw pods into cocoa nibs, which have a longer shelf life—and the Kalimajari Foundation got to work once again, this time to secure guarantees from international buyers to purchase the nibs.
Mary Waihigo Kamau: Renewable-energy rockstar
Just a few years ago, Mary Waihigo Kamau was a widowed mother of three struggling to make ends meet in a tea-producing landscape in central Kenya. To earn a living, she collected charcoal dust from the local market, packing it by hand into briquettes to sell. It was a laborious, painstaking process that yielded only 60kg of briquettes per month.
Then she signed on to participate in a Rainforest Alliance initiative to encourage local communities to switch from hazardous fuels (like charcoal and firewood) to renewable energy. Waihigo undertook training to learn how to make carbonized, smokeless briquettes. Soon, with equipment provided by the program, she was making as many briquettes in one hour as she used to make in a month. (The briquettes she now makes are better for people and prevent deforestation, too.) Waihigo quickly became a star entrepreneur in the program, selling to local households as well as hotels and other customers. Her income increased greatly, and she's now a passionate advocate for renewable energy.
Janet Bato: Calling the shots for a better future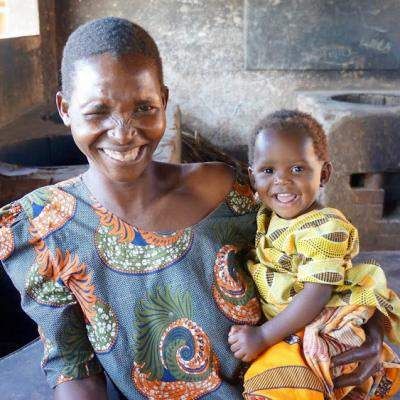 "Women in my community are such hard workers, and we produce all the cash crops––working long hours in the field while tending to our children," Janet Bato, a tea farmer in Thyolo, Malawi, said. "Women do all the work, yet it's the men who call the shots and control the resources."
But that was before Bato and her community began working with Greenpop, an organization dedicated to restoring forests. While working on the project, which was facilitated by the Rainforest Alliance Sector Partnership program, Bato became so enthusiastic about restoring the local landscape that her village could not help but recognize her passion and hard work: She was selected to be the village's manager of natural resources. "I have plans for tree nurseries so our children will find their forests restored. That's the future I envision. That's what I want for my children: a beautiful Thyolo rich in nature and natural assets."
Nadege Nzoyem: An expert in a male-dominated field
Growing up in western Cameroon, Nadège Nzoyem always knew she wanted to work in forestry—even though it was, and is still, a male-dominated field. Today, she's a nationally recognized expert in community forestry who oversees the Rainforest Alliance's work with rural com¬munities across Central Africa. She knows that in order to conserve the ecologically precious forests of the Congo Basin—a largely intact expanse of tropical rainforest second only to the Amazon in size—local communities must be able to earn a decent living through sustainable activities.
That's why Nzoyem works to share both farming and forestry strategies that boost the villagers' earning potential and climate resilience while protecting forests, wildlife, waterways, and soils. In Cameroon, she strengthened conservation efforts across 12 community forests that cover about 74,000 acres (30,000 ha) and are home to some 10,000 people. She's currently leading similar community-based work in three critical forest landscapes—Mount Bamboutos and Mount Bana in the Western Highlands and the southern periphery of the South Region's Dja Reserve. The project will serve around 1,800 men and 1,200 women.
Grecia Magdalena López: A woman in charge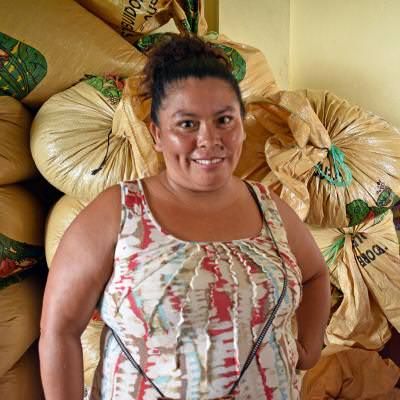 "Before, we didn't place any value on the ramón nut. It grew in the forest and that's where it stayed," says Grecia Magdalena López of Uaxactún, Guatemala.
But over the years, under López's leadership and the Rainforest Alliance's support, women from seven communities began not just gathering raw nuts from the forest floor but processing them into flour that they then used to make baked goods and beverages to sell. To negotiate better prices, they banded together, forming the Ramón Nut Value Chain Committee, with López at the helm as president. Now she is the non-timber forest products coordinator. She also conducts workshops on gender equality and women's rights. "As women, our participation in this process has been really important. With the income we get from selling these products we're able to help our children, especially with health and education." López also serves on the board of OMYC, an organization devoted to the responsible management of Uaxactún's 84,000 hectares.
Support Our Work
Create a world where people and the planet prosper together.
DONATE TODAY