A sustainable future is only possible if women and girls can thrive. Back in 2015, the United Nations recognized the urgency of advancing gender equality—and its importance to sustainability—by including it as a goal in the 2030 Agenda for Sustainable Development. But a 2022 report on SDG 5 (Achieve gender equality and empower all women and girls) showed a backslide instead of progress: The fallout of the COVID-19 pandemic had especially affected women and girls, leaving the world further behind on reaching this goal.
As with the climate crisis, solving gender inequality isn't a simple fix. It will take steady collective action to transform oppressive systems and advance the rights of women. 
Sign up for useful tips to green your life and protect our planet.
Women's rights and sustainable agriculture
Through our decades of experience, the Rainforest Alliance has seen that the contributions of women have countless positive effects locally, nationally, and globally. Our food system is no exception. Amid a worsening climate crisis and looming food shortage, the role of women in agriculture is more critical than ever. According to the UN Food and Agriculture Organization, if women farmers were to have equal access to resources, education, financing, and land rights, they could increase the yields on their farms by 20 to 30 percent. The FAO also found that this could lead national agricultural production to rise by 2.5 to 4 percent. The number of malnourished people globally could decrease by 12 to 17 percent.1
Despite the power and potential that women hold, matters of bodily autonomy, land rights, fair division of labor, safety, equal opportunities and income, and decision-making power leave them routinely disadvantaged. We need to address these factors if we hope to make a lasting impact on gender equality and the multiple issues it affects.
Our approach to advancing gender equality
Supporting the advancement of women is one of our main focuses because women represent the largest marginalized gender identity. We firmly believe all genders deserve equality and inclusion, including the many non-binary farmers and workers involved in agriculture, or those whose gender does not fall strictly within the conventional categories of man or woman, be they cisgender or transgender. We aim to help make farms and companies more gender-inclusive so that all people in agricultural supply chains have equal rights and opportunities.
Our approach moves beyond the empowerment of women to actively examine and address the root causes that lead to gender inequality. We help women and girls forge their own paths through improved access to education, leadership training, increased representation in local decision-making bodies, and by supporting families and community leaders to create awareness and shared visions. This doesn't just benefit women; it affects everyone, regardless of their gender. That's why we work with women, men, girls, and boys to change dynamics and behaviors that reinforce inequality.
Here are five unique ways that we're currently working with our allies to champion women's rights in sustainable agriculture and land management around the world.
Climate resilience for Indonesian women farmers
Despite a booming national and global market, Indonesian cocoa production has declined in recent years due to economic hardship, aging trees, climate change, and more frequent outbreaks of pests and diseases. In 2017, the Rainforest Alliance and local NGO Kalimajari ran a successful pilot program in Jembrana, Bali to help smallholder farmers improve their incomes through the production of high-value fermented cocoa and better access to specialty markets. Within a few years, it doubled the income of more than 600 smallholders and reduced rural unemployment rates. Now, we're scaling up the program to six other farmer cooperatives across the provinces of Bali, Sulawesi, and East Nusa Tenggara—with a special emphasis on women and youth.
Productivity is further stunted in these provinces because women are often left out of decision-making processes. In Sulawesi, women are hindered by cultural beliefs that restrict the amount of time they can spend outside of their homes. By providing ongoing training support for women and men in the cooperatives, we hope to challenge harmful societal norms, as well as get more women involved in decision-making roles and increase their job skills. Training in climate smart agriculture, farm management, and financial literacy, along with new community-led nurseries, will help these farms develop more climate resilience. The project will also support better livelihoods for 700 women farmers and 350 young farmers by creating community-based enterprises that sell cocoa, fruit, and flower products.
Women as landscape co-managers in Cameroon
In Cameroon, women are the backbone of the natural resource-based economy—playing a critical role in both crop and livestock farming and the processing of forest products. Despite this, they're routinely excluded from decision-making processes that directly affect their livelihoods and the forests in which they live. We have forged two exciting landscape partnerships with rural women in Cameroon to promote them as community leaders and champions of sustainability.
In the Western Highlands and South Region's Dja Reserve, our goal is to improve the socio-economic position of rural women by facilitating their participation in the newly-created Landscape Management Board and strengthening them as co-managers of their natural environment. In addition, the Rainforest Alliance offers training in farming and business practices, leadership, and access to markets. We'll also spread awareness of gender issues so men and other community members can support women in their new roles. These efforts will lead to higher yields and better incomes for both women and the wider community.
Improving incomes to promote human rights in Côte d'Ivoire
Studies show that women typically put a higher proportion of their earnings towards their families than men. This helps protect children in many ways—from better healthcare to higher rates of school attendance for both girls and boys. For rural women to increase their earnings, they must first have access to the same resources, training, and opportunities as men.
In Côte d'Ivoire, together with a local NGO, Orassur, we set up Village Savings and Loan Associations (VSLAs) in 22 cocoa-growing communities across the east and southwest. These associations promote income-generating activities among their members—including Rainforest Alliance Certified farmers and their communities—with a strong focus on women, who are often cut off from independent access to finance. The VSLAs also help members manage an education fund to cover the cost of school fees for their children.
Entrepreneurship and career development for Mesoamerican women
In Mesoamerica, local economies are largely dependent on natural resource-based value chains. Although Indigenous and rural women play an important role in the farming activities, they have limited access to training opportunities, do not receive adequate pay for their labor, and lack representation in farmer and workers' cooperatives. As a result, women are unable to access business loans and other helpful resources.
The Rainforest Alliance has partnered with nine local and regional organizations throughout Mexico, Guatemala, and Honduras to address these systemic inequalities and help women thrive economically. We work with farmers and entrepreneurs of all genders to challenge existing norms and biases through training and coaching. Since our work began in 2020, we've raised over US$24 thousand in seed capital for a women's entrepreneurship fund. What's more, 111 women and men have received diplomas in cocoa and coffee business management, with six scholarships awarded to local young women in Honduras to strengthen their knowledge and skills in the coffee industry. By 2025, we aim to train more than 3,700 women to excel in the workforce and increase their incomes, establish at least 30 new business agreements, and distribute more than US$1,000,000 in seed capital financing to women for their business plans.
Shifting mindsets through responsible business practices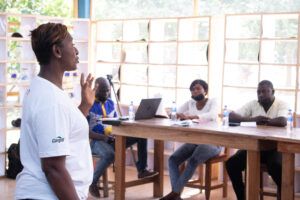 Companies are uniquely positioned to ensure that women's equality is a pillar of responsible business. Take, for example, our work with Unilever and Cargill to strengthen trainers and farmer cooperatives in their awareness of women's rights. We provided Cargill trainers with a gender toolkit—and trained them on its use—so they could better support the cooperatives to address gender issues in the context of our certification program. As a result, the trainers were much more aware of the issues themselves and able to better support farmers and farm workers in understanding the importance of more equitable practices at their cooperatives. As part of the requirements in our standard, the trainers then guided the cooperatives to set up gender committees or appoint a responsible representative to raise awareness and address any gender-related issues related to the cooperative members and their families.
While the training is still ongoing, early results were undeniably successful in changing the hearts and minds of men and women at the cooperative. Kouadio Akissi Agnes, a potter and the wife of one of the cooperative members, shared one outcome: "I noticed that my husband has changed because in the past when I spoke to him, he did not listen to me. But now he helps me to do all the household activities."
Gender equality affects everyone
We believe that through persistent and increased collective effort, we can get back on track toward a more equal and sustainable world. All actors can play an important role by reimagining or strengthening their policies, ways of working, and purchasing practices to become more inclusive. When we work together to help women and girls gain more agency and better opportunities, we thrive together.
1 Food and Agriculture Organization of the United Nations (FAO), The State of Food and Agriculture: Closing the Gender Gap for Development (Rome: FAO, 2011a).

Invest in the next critical decade
Help us scale, deepen, and accelerate our impact to protect the planet and our entire global family.
Donate now