While environmental and social sustainability have long been key strategic priorities for some companies, emerging due diligence and disclosure laws have prompted a major shift in how companies manage Environmental Social, and Governance (ESG) issues. For many companies, sustainability is no longer a voluntary differentiator but a critical legal compliance issue.
Human rights and environmental due diligence legislation — like the European Union's proposed Corporate Sustainability Due Diligence Directive—impacts all sectors, including food and beverage companies. Within a few years, most companies operating in the EU market will be required to conduct due diligence throughout their value chains. Many German companies are already required to under the Supply Chain Due Diligence Act, which went into effect in January 2023, and since July 2022, the Norwegian Transparency Act compels large companies selling products and services in Norway to do the same.  
In addition, new disclosure laws, such as the EU Corporate Sustainability Reporting Directive, will require companies to disclose key data points regarding their ESG activities. These laws aren't just limited to the EU either—the US is poised to enact new climate disclosure requirements and Canada is also imposing new forced labor due diligence and disclosure requirements, among others.
The Rainforest Alliance supports companies in their due diligence efforts through our certification program as well as our tailored supply chain services. While no certification program can offer an end-to-end solution for due diligence, we meet our partner companies where they are and help them build their due diligence capabilities.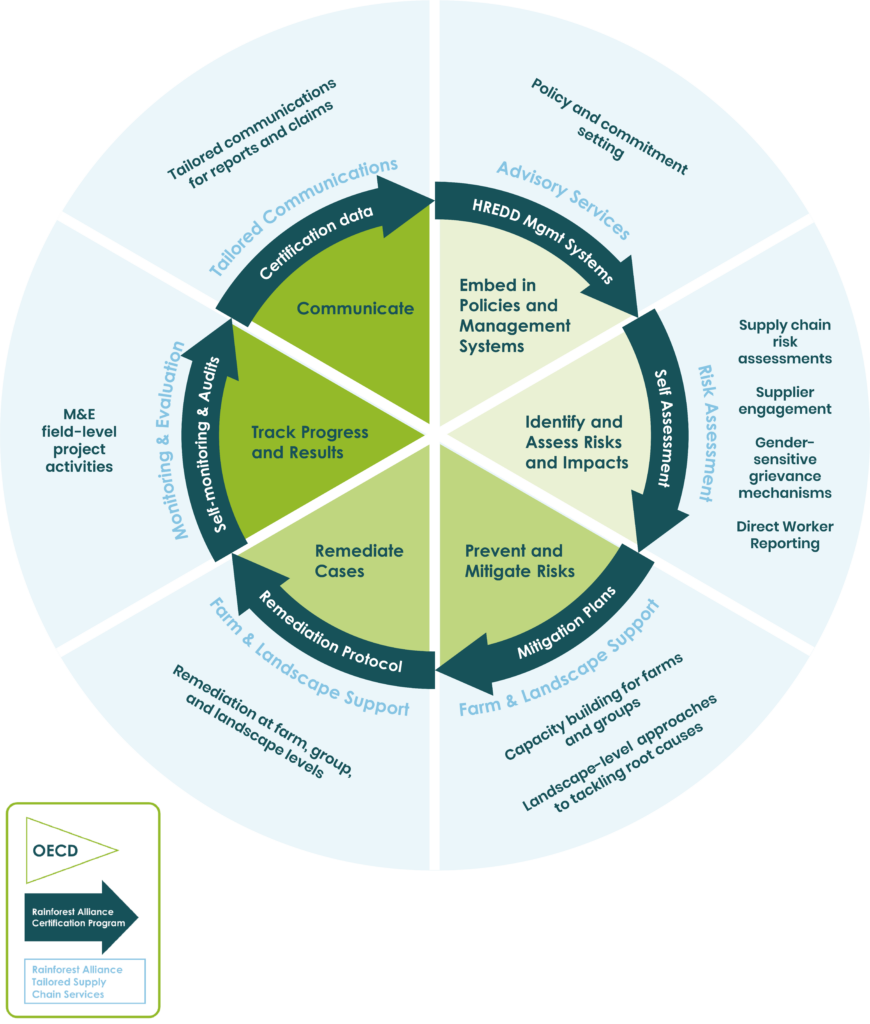 How the Rainforest Alliance Certification Program addresses company due diligence
The Rainforest Alliance Certification Program's 2020 Sustainable Agricultural Standard sets rigorous human rights and environmental requirements. We use a risk-based approach to implement and monitor these requirements, which aligns with international frameworks, including the ILO conventions, the UN's Guiding Principles on Business and Human Rights, and the OECD Guidelines for Multinational Enterprises.

Most of our standard's due diligence requirements relate to farm level activities that drive real change on-the-ground and up the supply chain. According to our Farm Requirements, farmers must implement and report on farm-level due diligence "assess-and-address" systems. These systems focus on prevention, engagement, and improvement of human rights risks and impacts, incentivizing farmers and companies to tackle issues rather than hide them.
We also use farm and landscape-level strategies to safeguard the world's remaining forests and other natural ecosystems. Specific standard requirements prohibit deforestation while data-driven risk maps increase the quality of detection between natural forest and agricultural land use in key production regions.
In addition, our Supply Chain Requirements stipulate that all companies must have a Responsible Business Conduct policy—and higher-risk supply chain actors (such as some agricultural processors) must also have operational-level assess-and-address systems in place.
Zooming in closer, our certification program integrates six key elements of robust due diligence systems:
1. Embed respect for human rights and the environment into policies and management systems
Sourcing Rainforest Alliance Certified ingredients demonstrates a company's commitment to sustainability in their supply chains. Our standard includes requirements on child labor, forced labor, working conditions, living wages, deforestation, hazardous pesticides, water pollution, and other issues that are not only critical to improving agricultural operations but also are key focus areas for government regulators. These requirements align with—and often exceed—international standards and emerging legislation.
But it is how these requirements are implemented at the farm and farm group level that matters. This is why our Farm Requirements include assess-and-address systems that build the capacity of farm and farm group managers to assess, mitigate, monitor, and remediate human rights risks and impacts. Farms and groups must also have internal inspection systems and grievance mechanisms in place to monitor all the requirements of the Rainforest Alliance standard.
2. Identify and assess risks and impacts
One of the key components of effective due diligence is the ability to adequately prioritize risks. Our Risk Assessment Tool, which is mandatory for all certificate holders, helps identify possible adverse impacts for a wide variety of environmental and social issues covered in the standard. We also have custom risk maps for key issues, including our child labor and forced labor risk maps and deforestation risk maps which help target audits and ensure deforestation-free supply chains. In addition, our Salary Matrix Tool assesses the gap between current worker wages and the applicable living wage benchmark. We encourage companies to use these risk maps and tools in their own risk assessment processes while also requiring all farms and farm groups to assess their own risks.
Grievance mechanisms are another important way certification supports farmers in identifying risks and impacts. The Rainforest Alliance Certification Program requires all farms and supply chain actors to have a grievance mechanism in place, with third-party auditors evaluating their effectiveness. In the instances when farmers or farm workers feel that their grievances have not been appropriately resolved, they can escalate them to the relevant certification body's grievance mechanism and then to the Rainforest Alliance's own grievance procedure if necessary. Certification bodies are the third-party auditing firms that check if farms and farm groups meet the requirements of certification.
3. Cease, prevent, or mitigate risks and impacts
The results of a farm or farm group's assessment directly leads to mitigation measures for each of the identified risks. For example, if a Rainforest Alliance Certified farm or group is operating in a country and sector that scores high or medium risk on our child labor or forced labor risk maps, we require the farm or farm group to take stronger mitigation steps. All mitigation steps—either recommended by the Rainforest Alliance or chosen by certificate holders—must be included in the farm's management plan, with implementation verified by auditors.
Training and capacity building are also key elements of our approach. Farmers and farm groups who achieve certification go through tailored training and capacity-building programs so that they have the knowledge and skills needed to implement our standard.
4. Enable remediation of cases
For any human rights or environmental violation identified through self-monitoring or third-party auditing, certified farmers must follow our Remediation Protocol. The protocol details mandatory steps as well as good practices. Examples of remediation can include ensuring a child returns to school, repayment of unpaid wages, or the dismissal (and/or disciplining) of a perpetrator of workplace harassment. For environmental risks, remediation efforts can include taking steps to increase the number and diversity of native shade trees.
5. Track progress and results
Certificate holders must carry out various forms of self-assessment to track their progress and results. This includes monitoring for cases of child labor, forced labor, discrimination, and workplace violence and harassment as part of our assess-and-address approach. In the case of group certification, each group must also have an internal inspection system in place. This means that all farms belonging to the group are inspected yearly and non-compliance is reported to group management for correction.
In addition to the self-assessments, Rainforest Alliance-authorized certification bodies audit farms and require corrective actions if they find any non-compliance with our standard requirements. They then follow up to confirm that corrective actions are implemented before issuing certifications. The Rainforest Alliance's rules for certification bodies maintain and ensure integrity, consistency, and transparency on the part of our authorized certification bodies.
6. Communicate due diligence performance
Our certification program generates key data relevant to due diligence that companies can use to communicate to customers, consumers, and regulators. For example, companies sourcing Rainforest Alliance Certified products can track data in our certification platform about remediated non-compliances found through audits in their supply chains. Companies will also be able to access indicator data directly gathered and reported by certified farmers and groups to the platform, such as the number of child labor cases found through internal monitoring and the number remediated. For more information, please refer to our full listing of these indicators and our estimated timelines for data reporting.
Supply Chain Services: Due diligence support beyond certification
While Rainforest Alliance Certification goes a long way in helping companies meet due diligence requirements at the farm level, company due diligence obligations also extend well beyond the farm gate. That's where our tailored supply chain services come in.
Our teams can help companies embrace and implement the six elements of due diligence across all of their operations:
1. Embed respect for human rights and the environment into policies and management systems
Using tools like the Accountability Framework, co-developed by the Rainforest Alliance, we provide a roadmap for companies looking to develop more responsible supply chains. The Rainforest Alliance Corporate Advisory team uses the Accountability Framework assessment to help companies evaluate the quality of their policies and commitments in place and their ability to reach these commitments to address deforestation, land conversion, and human rights. The outcome of this assessment is an action plan with clear recommendations to develop more responsible supply chains. As a part of this action plan, we often support companies in mapping their supply chains, running risk assessments, and supporting them to work together with their suppliers to prevent and mitigate any risks found.
2. Identify and assess risks and impacts
The Rainforest Alliance combines certification data with project data, research studies, and insights from the field to help companies identify and assess risks across their supply chain. Company risk assessments happen at the supply chain, field, and supplier level.
At the supply chain level, we use desk research to identify the most pressing sustainability issues in the sectors and geographies where a company is active. We then analyze their supplier data to run a tailored risk assessment. At the field and landscape level, we go deeper into risks, drawing on field-based studies and using additional services such as "worker voice" assessments that capture feedback directly from workers on the conditions they're experiencing. Finally, we work with companies to conduct supplier engagement, providing questionnaires to a company's suppliers and examining their policies to pinpoint additional risk areas.
3. Cease, prevent, or mitigate risks and impacts
Once risks are identified, we help companies build the capacity in their supply chains to address them. The Rainforest Alliance provides training and coaching for farms on topics like responsible recruitment, grievance mechanisms, and regenerative agriculture practices as well as outreach to workers on how to spot and correct issues when they arise.
In addition, we partner with other NGOs and organizations at a local and global level. For example, working with the international non-profit Stronger Together, we delivered training to farmers and labor recruiters in Mexico and Costa Rica on mitigating risks for migrant workers. Worker voice tools, like our partnership with Direct Worker Reporting provider &Wider, can also play an important role by allowing workers to direct the conversation and make their voices heard. At the landscape level, we tackle root causes to issues like child labor or gender equality that affect a whole community, collaborating with local organizations and partners to design interventions.
4. Enable remediation of cases
The Rainforest Alliance can help companies develop clear policies and processes to remediate human rights or environmental issues found in their supply chain. For example, by linking farms to social services, providing supportive services to victims of labor abuse, or supporting the restoration of deforested land. At the community level, the Rainforest Alliance brings together local government and other stakeholders to prevent any social or environmental harms from reoccurring, while our sector-level support fosters collaboration between companies, industry groups, and NGO partners on sector-wide remediation initiatives.
5. Track progress and results
Understanding how to evaluate progress and results not only helps companies meet reporting requirements, but also directs any further actions needed to address due diligence issues. The Rainforest Alliance supports companies by tracking baseline, monitoring, and endline data to measure the progress of their field-based investments. We also analyze certification data and key ESG indicators to support companies' ESG reporting and disclosure needs. Embedding a Monitoring and Evaluation component into all of our work ensures that progress is tracked, corrective measures taken, and outcomes delivered.
6. Communicate due diligence performance
The hard work of due diligence doesn't end once the results are in. Next comes the job of weaving those results into a compelling sustainability story. The Rainforest Alliance has an array of resources and support available to help your company report to stakeholders on ESG metrics and create impactful stories and content for your media channels.
Join the alliance and become an advocate
We call on companies to work with us on due diligence, both within our certification program and through our additional programs and services. As we continue to advocate for ambitious due diligence legislation, we invite companies to join us in these efforts as well. Not only will these laws create a level playing field for companies that already have due diligence practices, but they will also create new opportunities for companies ready to lead the way to a world where people and nature thrive in harmony.
Support Our Work
Create a world where people and the planet prosper together.
DONATE TODAY