Once you've seen the verdant landscape of Finca Esmeralda—Spanish for "emerald farm"—it's no surprise how this Costa Rican banana plantation got its name. But it's not just the lush farmland that makes Esmeralda so green: it's also in the way they put sustainability transformation at the heart of their work. After teaming up for an early implementation pilot of our strengthened certification program, both Finca Esmeralda and the Rainforest Alliance took away learnings that will contribute to a more sustainable banana sector.
Sign up for useful tips to green your life and protect our planet.
The troubled history of bananas
When the Rainforest Alliance started its work in bananas in the early nineties, the sector struggled with poor labor and environmental practices spanning from worker abuse to rampant deforestation.
"Solid waste and plastic being thrown into rivers, planes spraying pesticides right in the middle of town—we rarely, if ever, see things like that anymore," said Oscar Maroto, the Rainforest Alliance's team manager of fruits in Latin America. "I think the Rainforest Alliance, through our certification program, has been a driving force behind these changes in Costa Rica and in many other countries."
"Solid waste and plastic being thrown into rivers, planes spraying pesticides right in the middle of town—we rarely see things like that anymore."

Oscar Maroto
Even so, the sector still faces many challenges. These span from climate change, the misuse of pesticides, and lack of protections for workers' rights, to the shocks of COVID-19, the spread of TR4 disease to Latin America, and several severe climate disasters in Guatemala and Honduras. On top of all that, Maroto added that the price of bananas has hardly changed in the last 30 years.
Piloting our new certification program at Finca Esmeralda
We've been hard at work strengthening our certification program to tackle the current and ongoing issues. Now, Finca Esmeralda, managed by Finca Frutas de Escocia of Fyffes, is the first banana farm in the world to achieve Rainforest Alliance certification against our 2020 Sustainable Agriculture Standard. This milestone is the latest development in our decades-long effort to transform the banana sector.
During the transition between the previous Rainforest Alliance Certification Program and the 2020 Standard, we designed an early implementation pilot for select farms to learn and refine the details ahead of the new program's roll-out. We chose Fyffes, an international fruit and fresh produce company, because of our history of working collaboratively. Our prior work includes a 2018 living wage project, in which we calculated living wage estimates to better understand the wage gaps on farms in Costa Rica and Belize. From there, the project partners worked with participating farms to develop monitoring tools and strategies to improve worker compensation.
Moving toward a more sustainable banana sector
Our program's key principles include continuous improvement (instead of a one-size-fits-all approach), data-powered insights, risk-based assurance, climate-smart agriculture, and shared responsibility. Collaboration helped us get to the best possible standard, and we continue to converse with farmers in Latin America to identify areas of improvement.

"Whether they're a smallholder or a larger operation, when you ask a farmer what's the main change they see after getting certified, the most common answer is that they now have more control in steering their operations and solving the everyday problems," said Maroto.
Learnings from Finca Esmeralda
For Fyffes, one of the advantages of this pilot was the help and feedback received from the Rainforest Alliance staff in interpreting the requirements, setting them up for compliance with the standard. Since Finca Esmeralda is one of many Fyffes-operated farms around the world, their learnings from the pilot could likely be scaled up to impact farms throughout the banana industry. Simultaneously, their feedback helped the Rainforest Alliance understand the farm's specific challenges. This helps ensure our certification program is context-adaptable, and thus, more efficient and effective.
Below are some of the benefits and lessons learned from the pilot.
Risk management
One of the pilot's main tasks was a risk analysis, in which Fyffes reviewed national legislation and international agreements and compared them with the farm requirements.
According to Hugo Hays, global head of safety and compliance at Fyffes, this was an extremely valuable yet time-consuming process. It would be helpful for the Rainforest Alliance to help ease the transition by providing a comparison between our requirements and country-specific legislation.
Fyffes also used our new Risk Assessment Tool to identify many risks, specifically those related to non-compliance with the standard requirements. The company suggested that the tool would be more useful if it included all potential risks, helping farms avoid any undiscovered issues later.
Because we developed it to be practical and user-friendly, the Risk Assessment Tool does indeed focus on the risks of non-compliance. But taking this feedback on board, the Rainforest Alliance intends to regularly adapt the tool based on additional risks that the Certificate Holders identify, and the mitigation measures they propose.
Climate-smart agriculture
One of the specific risks afflicting banana farms in Latin America is TR4, a fungus that spreads easily through soil and seriously endangers banana crops. As an alternative to pesticides—which are bad for both workers' health and waterways—our standard promotes long-term and preventative solutions, like incorporating more biodiversity on farms. Biodiverse landscapes create healthy soil with conditions that make it hard for diseases to spread and thrive, leading to healthier crops. This is why we've included the reduction of agrochemicals, use of Integrated Pest Management (IPM), and other climate-smart agriculture tactics as requirements in our certification program.
Once farmers have seen the positive changes that result from climate-smart agriculture, "they see it as an advantage and organically become part of the movement," said Maroto.
Hays reported that the new requirements demanded more training on IPM and natural enemies monitoring, topics that are still new for Fyffes.
Gender Equality
The pilot also expanded on the farm's current efforts toward gender equality. In addition to their already well-established gender program, Fyffes helped farm workers understand their breastfeeding and pregnancy rights; made sure that the farm's facilities offered privacy, sanitation, and refrigeration for breast milk; and encouraged their employees to use these spaces as needed. There was still a lack of knowledge around gender issues at the time of the audit, showing that more training may be necessary for both auditors and companies.
Shared responsibility and continuous improvement
To make all sectors more sustainable, farmers and companies must share both the value and the cost of sustainability. Our shared responsibility approach aims to balance the distribution by introducing two financial requirements for companies: a Sustainability Differential (SD) and Sustainability Investments (SI). Hays noted that the Sustainability Investment Template was a useful tool for identifying how Fyffes should invest SI funds.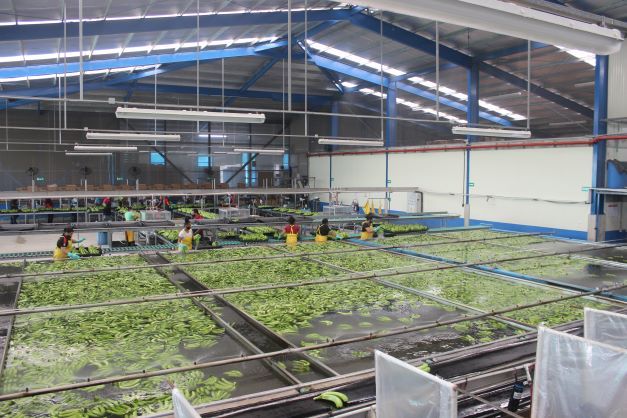 Final thoughts
"In the end, it's all about working together."

Oscar Maroto
Within the certification landscape, Finca Esmeralda has become a beacon of hope for sustainability in the banana sector. But the changes necessary go beyond one organization—we'll need all supply chain actors working together for a sustainable banana sector.
"Better and longer-term contracts for farmers, better prices, living wage commitments, and sustainable production as envisioned by our new standard: these changes are as paramount as the initial changes we made back in the nineties with the introduction of our certification program," said Oscar.
"It's encouraging to see signs of change from big corporations and governments that will help create a push towards adopting these approaches. We're at a crossroads, and we'll need all actors to make the change—consumers, retailers, farmers, and civil society. In the end, it's about working together."
Follow the frog for more inspiring stories from our global alliance
Explore