As part of our longstanding commitment to improving rural livelihoods in ecologically critical landscapes, the Rainforest Alliance recently launched a three-year plan to work with vulnerable communities in some of Honduras's most threatened forests. This vital work, to be carried out in alliance with Inter-American Development Bank (IDB), Honduran micro-finance institution FAMA, and Honduran conservation organization ICADE, aims not only to make smallholder businesses more competitive and self-sustaining, but to boost the communities' resilience to the impacts of climate change.
The communities we're working with reside on the Atlantic coast, in the central eastern and Corredor Seco regions, as well as in the remote, northeastern Moskitia area, where about a quarter of Honduras's remaining forests still stands; the commodities they produce include timber, cocoa, coffee, and rambutan (a fruit similar to lychee). Together with our partners, the Rainforest Alliance will provide access to credit, market linkages, trainings in climate-smart farming methods—all with an eye to making these sustainable businesses more profitable.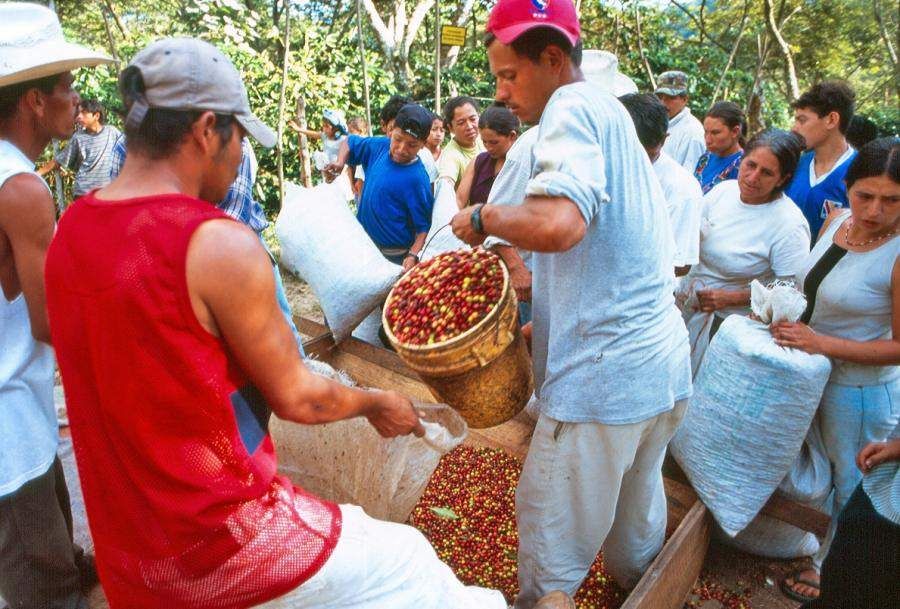 "This strategic alliance between IDB, FAMA, ICADE, and the Rainforest Alliance will work all along the value chain—from creating demand to organizing producer groups so that together, they can improve the quality and volume of their product. The work will focus on implementing climate-smart practices and building competitive, profitable businesses," Rainforest Alliance Latin America strategic partnerships director José Román Carrera explained. "This project was co-designed with the communities themselves, who identified their most pressing business needs. The collective expertise of the organizations involved, along with the Honduran government's commitment to improving rural livelihoods, bode well for the success of this vital work."
Boosting rural prosperity and resilient production landscapes is an urgent priority in Honduras. Not only did Honduras suffer the highest deforestation rate in the Western hemisphere from 2005 to 2010, it has the worst income disparity in all of Latin America, with one in five rural people living in extreme poverty. For those who live from the land, climate change has made climbing out of poverty even more difficult: changing rainfall patterns, extreme weather events, drought, and plant diseases and pests can decimate crops and livelihoods. For this reason the Rainforest Alliance's work plan includes trainings to help farmers learn climate-smart growing methods.
But while the challenges posed to rural communities in Honduras are great, so are the opportunities: in the last decade, the government has begun handing over land rights to some local and indigenous people, providing an excellent basis for efforts to create sustainable forest economies. Furthermore, the potential for growth in the forestry sector—and therefore for local employment—is significant, since currently forestry only accounts for 0.8% of Honduras's GDP. Honduras is the largest coffee producer in Central America, making work to increase smallholder competitiveness and resilience to climate and market shocks all the more vital—and promising.
This exciting, long-term, multi-faceted plan builds on another successful IDB-supported project that the Rainforest Alliance executed in Honduras from 2005 to 2010, which concluded with 129,715 hectares (320,396 acres) of land either Forest Stewardship Council and Rainforest Alliance Certified or in the process of achieving certification, and with US $1 million in sales of forest products achieved. The goals for our current work plan are even more ambitious: our alliance expects to have increased the capacity of 30 small- and medium-sized enterprises, thereby improving the incomes of more than 2,700 families and creating more than 300 new jobs. Sales of forest products are expected to increase by $800,000, and sales of coffee, cocoa, and rambutan are expected to increase by $1.5 million. Furthermore, the work aims to bring up to 100,000 hectares (247,000 acres) of tropical forest under improved management and conservation. The plan includes strategies for boosting women's participation in business, natural resource management, and decision-making as well.
"This project is part of the IDB Multilateral Investment Fund's larger strategy to help agroforestry businesses maximize the value of their natural resources by improving sustainable forest management, strengthening business skills, and creating links to markets," said Gregory Watson, Lead Specialist, Multilateral Investment Fund, Inter-American Development Bank. "In addition, through project partner FAMA, specialized credit lines will be set up for these enterprises—a first in Honduras. We hope this project will serve as a model for future national initiatives that can be scaled with funds from programs such as the Green Climate Fund."
The Rainforest Alliance has long been committed to working to improve livelihoods in vulnerable landscapes—always prioritizing community leadership, self-determination, and local values and decision-making. Throughout our 30-year history, the Rainforest Alliance has been a leader in harnessing market forces to improve rural prosperity in ways that protect the land. This work in Honduras reflects our collaborative, tailored approach to developing responsible value chains that result in thriving communities and strong forests.
Forests Are Falling At An Alarming Rate.
Each minute, 85 acres are destroyed.
Donate