In Ethiopia, coffee is much more than a caffeine hit; it's history, culture, environment, and people's livelihoods poured into one perfect cup. The country's wild "coffee forests" are the keepers of the crop's genetic diversity and the birthplace of the arabica variety, which produces the world's best beans. Today, most coffee is cultivated by smallholder farmers, and unlike the large-scale plantations you see elsewhere, Ethiopian coffee is typically grown under the shade cover of taller trees and without the use of harmful agrochemicals. Despite this more sustainable approach, however, the sector faces an uncertain future. The main culprit? Climate change.
Sign up for useful tips to green your life and protect our planet.
Any threats to the crop are a big deal in Ethiopia, the largest producer in all of Africa and the fifth largest in the world. Coffee generates 30 percent of the country's export earnings, and it is the source of livelihood for 15 million people. That's why the Rainforest Alliance collaborates with farmers across the country, to help them protect their forests, biodiversity, and economic futures.
Climate change threatens the livelihoods of Ethiopia's coffee farmers
Known as "garden producers," the farmers who cultivate the crop have lived in the same forested landscapes for a long time. They have extensive intergenerational knowledge and experience producing coffee.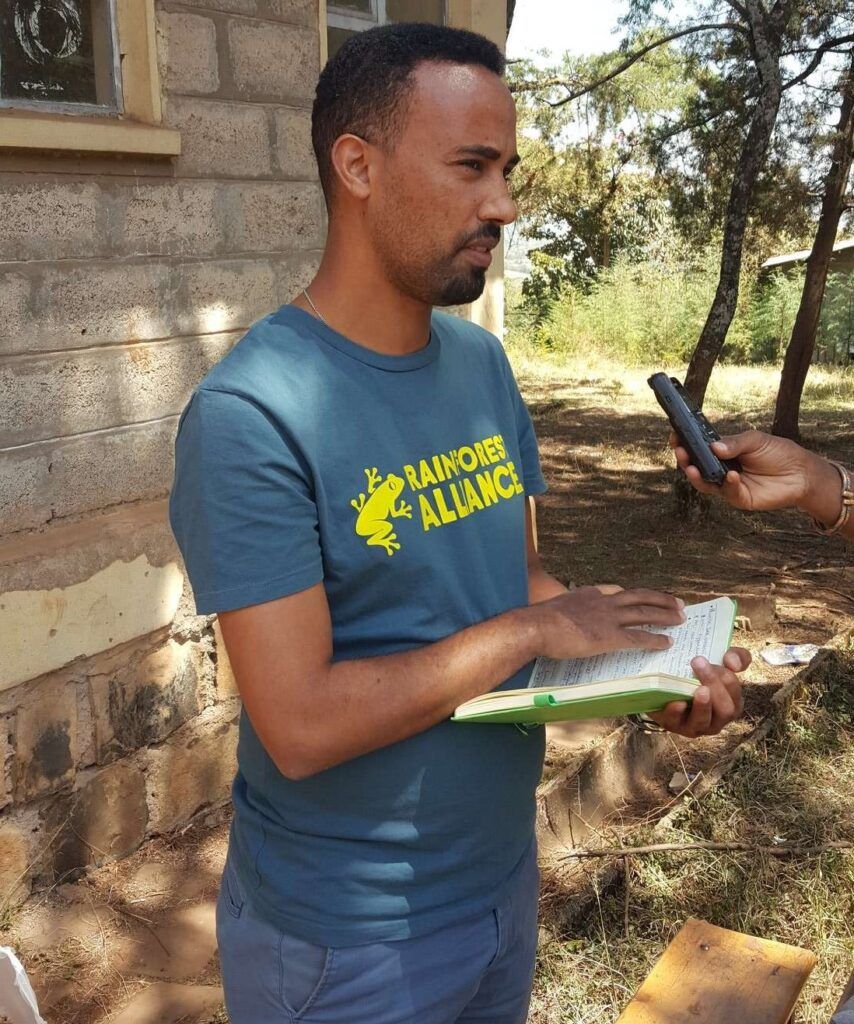 While the combination of altitude, temperature, rainfall, and soil pH has made Ethiopia an ideal environment for coffee production, the excellence of the country's beans is also due to the lack of agrochemical use and the protection of its forests. "Coffee is a tree that loves other trees, and you need to have a certain level of tree cover in order to have good-quality coffee," says Denu Lemma Tsegaye, the Rainforest Alliance's country director for Ethiopia.
But coffee can be a delicate commodity, and it is particularly vulnerable to the impacts of climate change. Temperatures have increased while rainfall has become more erratic. "When you need it now, the rain doesn't come in," says Tsegaye. "Maybe it will come after a few weeks, but if [farmers] don't get it at the time, it might not be of any use for the coffee."
Advancing age, both of the coffee trees and the farmers, poses additional challenges. Older trees produce less, and the sector needs to begin attracting more young people if it hopes to remain viable over the long term. "They see their parents doing coffee production for years, and they might not be seeing the benefits coming to their families."
Modernizing coffee production to boost productivity
To help Ethiopian farmers increase yields, the Rainforest Alliance promotes more sustainable growing techniques, such as agroforestry and the use of organic fertilizers to boost soil nutrients. Tsegaye, a passionate champion of innovation, also thinks that the coffee sector needs to be modernized, without losing what is unique about it. He is hopeful about practices such as cluster farming (where several growers combine their land to produce jointly, benefiting from economies of scale), and stumping (an intensive form of pruning that helps rejuvenate older trees), even though some resist these changes because they can lead to short-term losses. "They have inherited the land and their methods of coffee production from their ancestors," says Tsegaye, but climate change is making it clear that different approaches are sorely needed.
Data collection and analysis are additional tools for supporting today's farmers and keeping young people engaged in this work. By implementing the Rainforest Alliance's Sustainable Agricultural Standard and monitoring their farm data, certified farmers can better assess their output. "If you ask a farmer, 'How much was your coffee production last year?'" says Tsegaye, "they might not tell you from their mind." Tracking this information helps them improve traceability and assess their production, avoiding significant deviations in quality and yield. "Knowing the data definitely translates into improving their techniques and correcting things that went wrong,"
Protecting Ethiopia's coffee ceremonies by conserving its landscapes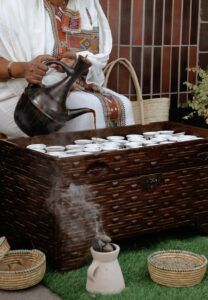 Ethiopians consume more than half of their domestic production, often in coffee-drinking ceremonies. "The whole process starts at the moment you decide that you are going to have coffee," says Tsegaye. "Even the children who are playing outside will know what is going on, from the aroma of roasted coffee and the smell of the incense, which signals that it's time for the family to gather." The beans are roasted and brewed in a clay pot, sometimes with butter and spices, such as cinnamon and clove, or an herb called rue, which imparts its citrus notes.
These ceremonies provide yet another reminder of what's at stake with the crop's future. "Some regions in Ethiopia were very well known for coffee production in the past," says Tsegaye. "That's history now, because of the destruction of the forest and the biodiversity, but we still have an opportunity to preserve those that remain.
Invest in the next critical decade
Help us scale, deepen, and accelerate our impact to protect the planet and our entire global family.
Donate now