While coffee helps many of us get moving in the morning, the crop's cultivation presents a host of environmental and social challenges, including deforestation and child labor. A recent study showed that rising temperatures and other climate-change impacts will make it that much harder to grow coffee in the years to come.
But farmers are a resourceful bunch, and with the support of the Rainforest Alliance, many are rising to meet the challenges in creative and inspiring ways. From the Americas to Africa to Asia, coffee farmers are protecting forests and biodiversity, building their farms' climate resilience, promoting human rights, and improving livelihoods. Here are five remarkable individuals who motivate us even more than the coffee they grow.
Sign up for useful tips to green your life and protect our planet.
Evelyn Nyawira: A Kenyan Champion for Climate-Smart Agriculture
Based in the Mount Kenya region of East Africa, coffee farmer Evelyn Nyawira and her neighbors used to clear trees and rely heavily on agrochemicals to grow their coffee. The result? Depleted soils and poor-quality beans. "We could see our coffee was not doing well," she says, and the environment was suffering.
After participating in Rainforest Alliance training sessions, however, she began to apply climate-smart practices—farming techniques that are tailored to the changing climatic needs of each growing region. By planting shade trees and learning to use mulch to enrich the soil and prevent weeds, she keeps her coffee plants from drying out during the hot season and protects them from erosion when it rains. For these and other improvements, her farm has been Rainforest Alliance Certified, and she now produces quality beans that earn her a good income.
Nyawira also pays her prosperity forward by sharing her knowledge with the community, helping farmers improve their livelihoods while protecting the land. "[It] makes me happy, because I am impacting other lives positively."
Eko Purnomowidi – Listening to Nature in Indonesia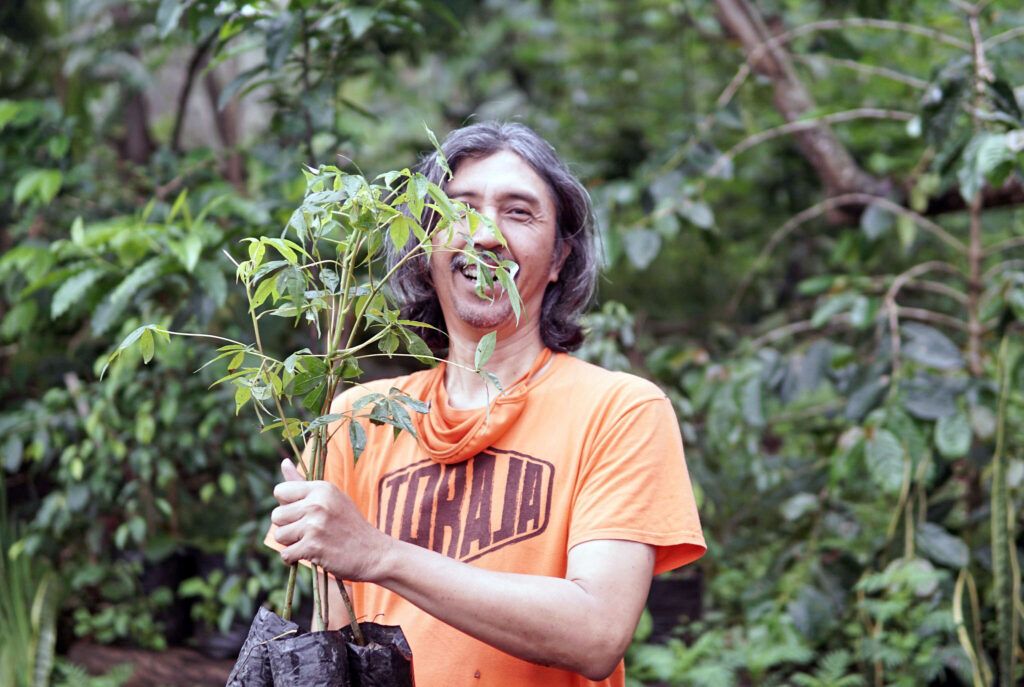 For Eko Purnomowidi, farming is a conversation. At Klasik Beans, the Rainforest Alliance Certified coffee cooperative he co-founded in West Java, Indonesia, he collects traditional knowledge from local people and listens carefully to the soil itself. When he walks into nature, he goes barefoot, so that he can "feel the rich of the soil or the poor of the soil." It's his attentiveness to detail that has made him a leading expert in regenerative agriculture.
He was driven to this work nearly 20 years ago, after heavy rains caused a deadly mudslide that raced down the slopes of a deforested mountain in his community, taking with it the lives of family and friends. Since then, he has made it his mission to restore forests by planting trees and establishing shaded coffee farms—a technique with ancient roots, known as agroforestry. In this way, Purnomowidi and his neighbors protect biodiversity while earning a good livelihood in return. If you want to have a transformative conversation with nature, "you need to trust yourselves and you need to communicate with the soil," he advises. If you keep your promise to the soil, "you [will] see the miracles."
María Esther Saut Niño: A Healthy Respect for Mexico's Coffee Farmers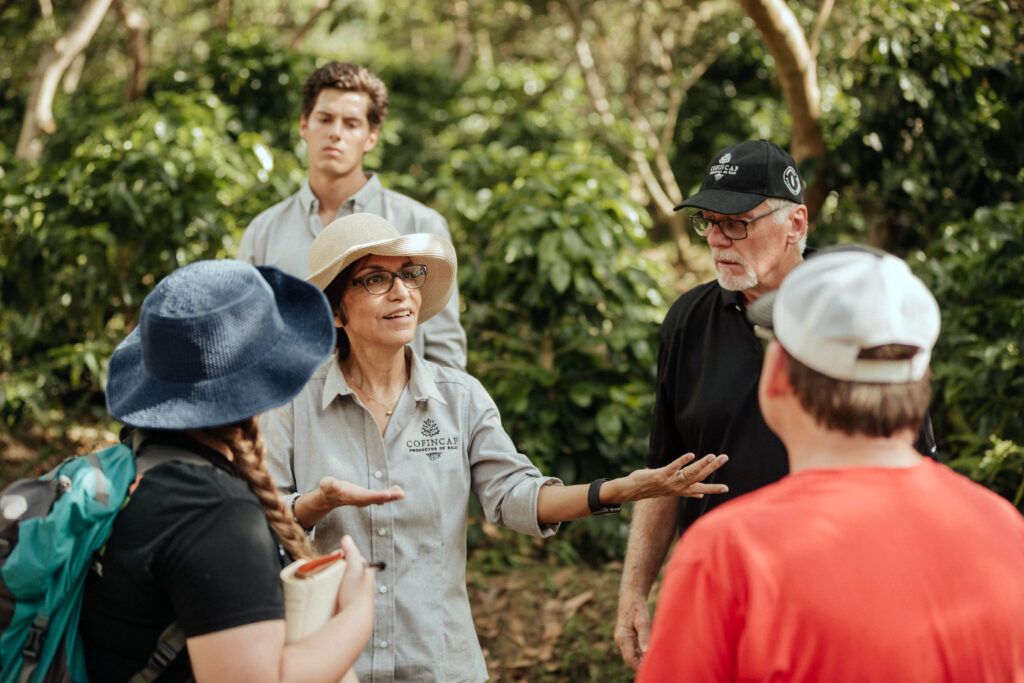 Mexican coffee farmer María Esther Saut Niño has always been passionate about helping coffee growers. Toward this end, she turned Finca La Fortaleza, her Rainforest Alliance Certified coffee farm in the Chiapas highlands, into a place where her neighbors can learn to farm more sustainably. She even hired a young woman who speaks Tzeltzal, the language of the local Indigenous community, to facilitate these efforts. Saut Niño's trading company also buys and sells beans from more than 2,000 farmers, and she helps local women cultivate model plots of specialty coffees that have the potential to earn higher prices.
"We are a community. And what you do for your neighbors….is a way of being grateful for life."

María Esther Saut Niño, coffee farmer, Mexico
But her involvement doesn't end at the farm's edge. Saut Niño also brokered a deal with local doctors to provide medical care, and she runs health campaigns through her family's roasting company and coffeehouses. Last October, Kali Coffee encouraged female farmers to get screened for cervical, uterine, and breast cancers, and at least one woman benefited from early detection. "We are a community," she says, "and what you do for your neighbors … is a way of being grateful for life."
Alfred and Anna Cheptoek Chemutai: Doubling Their Impact in Uganda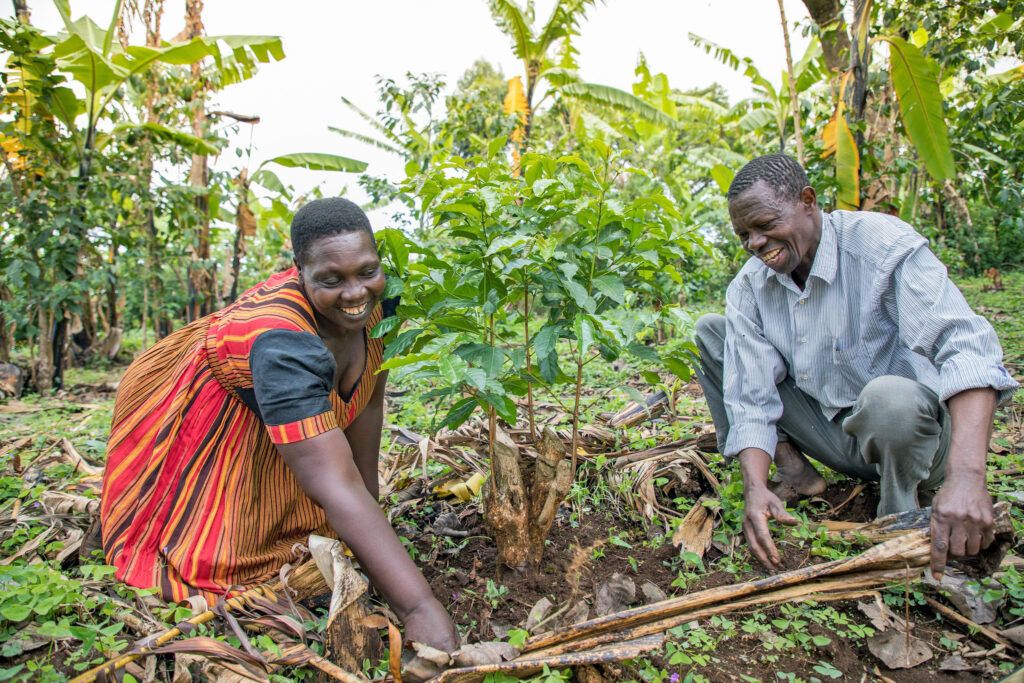 At first glance, it may seem like cheating to count Alfred and Anna Cheptoek Chemutai twice on our list of inspiring coffee farmers, but that assumption is quickly dispelled when you find out that this husband and wife contribute equally to the success of their farm.
This wasn't always the case. "Coffee growing is mainly considered a man's job," says Anna, describing their Ugandan community of Mount Elgon, "and I was not involved in decision-making for our farm." In 2020, however, the couple became early implementers of the Rainforest Alliance's strengthened certification program and participated in gender-equality training sessions led by Ugandan coffee exporter Kyagalanyi (Volcafe Ltd).
Together, Alfred and Anna created a plan for their farm, which earned certification in 2021. Now, they run it as a team, and the results speak for themselves. After implementing the soil- and crop-management practices that they learned, "we harvest two times more coffee," she says. The couple also sells bananas from their farm and acquired a loan to set up a small business making peanut paste—activities that help them boost their household income.
Invest in the next critical decade
Help us scale, deepen, and accelerate our impact to protect the planet and our entire global family.
Donate now