An estimated 87% of cocoa growing households earn below a living income in Côte d'Ivoire, a country that produces much of the world's cocoa. At the Rainforest Alliance, we believe cocoa sourcing companies should do their part in ensuring farmers are able to afford essential needs for themselves and their families. This shared responsibility approach is embodied in our 2020 Certification Program. It's also the basis of our latest innovation pilot project: The Living Income Module.
An innovative collaboration
This two-year project will test a tool that helps companies bridge the living income gap for cocoa farmers. Through the tool, businesses can send and track income-enhancing payments that go straight to the farmer. We're proud to partner with IKEA Social Entrepreneurship and international confectionary company, Cloetta, on this initiative. Additionally, it is partially financed by the Green Innovation Center in Côte d'Ivoire (a program from BMZ).
"At Cloetta we're inspired to participate in this pilot project. Firstly to support the farmers, and secondly to bring our consumers closer to the people growing their chocolate bars," says Maria Dzurik, Cloetta's Sustainability Manager. "We're honored to have this opportunity to learn and make a difference together."
Earning a living income means farmers receive a net annual household income to afford a decent standard of living for all members of their household. This includes housing, food, education, healthcare, and emergency funds. Building better livelihoods for farmers is key to our vision of a world where people and nature thrive in harmony.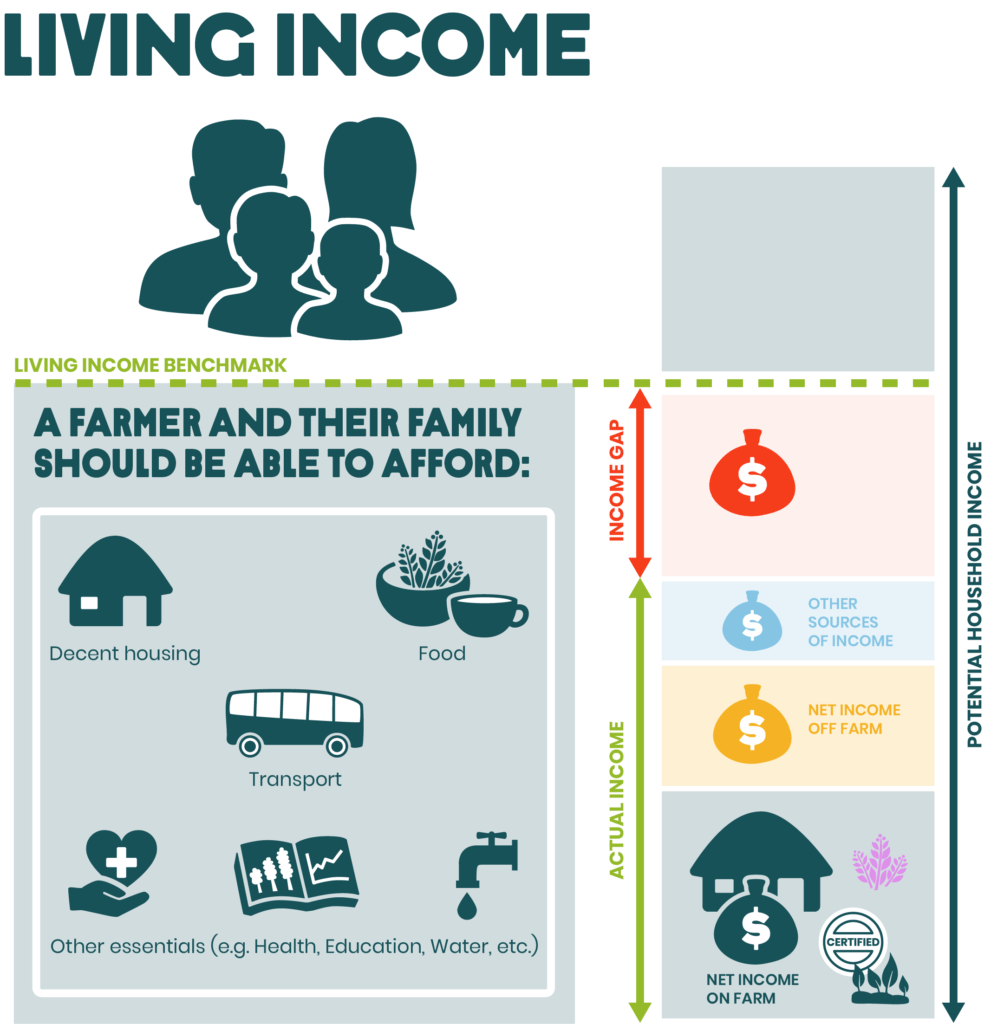 Direct payments to farmers
The pilot runs from October 2020 to April 2021 during the cocoa harvesting season. It allows us to test the use of cutting-edge blockchain technology for transparency and traceability. Using the online tool, companies will see the calculated living income gap and send the extra payment directly to the farmers. Only the farmers themselves will be able to confirm that they have received payments. This relationship strengthens the connection between different ends of the supply chain.
"Sustainability is a long-term journey, and all supply chain actors have a role to play," said Nanga Kone, the Rainforest Alliance's Director – Côte d'Ivoire. "Promoting shared responsibility within supply chains is key to ensuring sufficient benefits reach farmers to allow them to improve their income, professionalize their business (or farm), and build their resilience."
Increasing transparency and value
In developing the Living Income Module Project, we aim to address two problems: the low income of farmers and the value distribution in our supply chains. This tool tests a new solution to both concerns. First, by providing a direct transfer option to adjust the income of cocoa farmers. Second, by enabling brands to trace their progress in eradicating the living income gap.
This innovative pilot provides an opportunity to test the technical functionality of the tool itself. More importantly, it will answer key questions on the effects of such payments on farmers' livelihoods. To assess its impact, a strong Monitoring, Evaluation, and Learning component is included in the project. Then, these learnings will inform our recommendations for how to further test and scale up this service for other brands and farms that work with the Rainforest Alliance.

If your company is interested in becoming involved in the Living Income Module Project, get in touch with us. You can join us as a learning partner or participate in the next phase as we scale up this project.
Support Our Work
Create a world where people and the planet prosper together.
DONATE TODAY