In the rugged hills of the Black Sea coast of Türkiye, hazelnut production is still mostly manual and heavily reliant on seasonal hired labor. Each year, the start of the summer harvest (August to mid-September) is signaled by the arrival of migrants workers and their families. The Turkish Statistical Institute estimates that there are at least one million seasonal migrant workers in agriculture and more than 220,000 of them are children.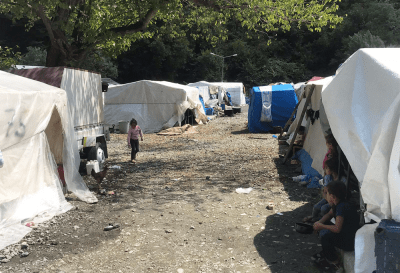 Most families are internal migrants from the poverty-stricken southeast region of Türkiye, near the border with Syria. Living in temporary tent settlements (sometimes without even clean water), parents have little choice but to bring their children to the farms. Under Turkish law, all seasonal agricultural work is classed as too hazardous for anyone under the age of 18 years. Nevertheless, children on hazelnut farms are routinely tasked with exhausting and even dangerous work, such as carrying heavy loads up and down steep hillsides in blistering hot weather. In some areas, more than 40 percent of workers are aged 15-18, and up to 10 percent are even younger.
Experts agree that getting children out of dangerous farm labor is imperative, yet the solution is far from simple. "A strictly punitive approach is often ineffective", explains Kunera Moore, the Rainforest Alliance director for livelihoods and human rights. "Outright bans that, if broken, lead to immediate decertification, may seem an obvious answer, but this tends to drive abuses underground, making them much harder to detect."
On the farm: Building our child labor liaison network
Our field teams have learned through experience that a collaborative approach better supports farmers to assess and address child labor on the ground. Together with local NGOs and our partner companies (including leading nut traders and manufacturers), we have trained more than 6,500 farmers in targeted prevention, monitoring, and remediation strategies. We help farmers keep up-to-date records for each worker—clearly identifying whether they have children traveling with them—and work closely with local authorities to ensure that appropriate living and childcare facilities are available.
"It's often said that it takes a village to raise a child. And that's exactly how we need to tackle child labor—with the involvement of the whole community."

Tülay Güleç, Rainforest Alliance Social Program Associate
Farmers are also required to appoint community-based Child Labor Liaisons (CLLs) who undergo training in how to prevent and mitigate abuses at the farm level. Liaisons are carefully chosen and are generally respected figures in our partner communities—making them ideally placed to engage effectively with fellow farmers and workers: from listening to parents' concerns to raising awareness of other critical issues, such as health and education.
Community action: Mobilizing Türkiye's "Hazelnut Villages"
Alongside our work with farmers, the Rainforest Alliance promotes community-wide approaches. "It's often said that it takes a village to raise a child" says Tülay Güleç, the Rainforest Alliance social program associate. "And that's exactly how we need to tackle child labor—with the involvement of the whole community." With this ethos in mind, our local teams have helped set up community-based working groups in selected hazelnut villages across the Black Sea's Ferizli and İkizce districts.
Our working groups bring together a wide range of community members and public figures: from mukhtars (village leaders) and kaymakams (district governors) to farmers, labor contractors, teachers, and healthcare workers. Taking a holistic approach, the goal of the working groups is not only to prevent and remediate child labor cases, but to also spearhead initiatives aimed at improving the livelihoods and overall wellbeing of seasonal workers. For example, we're organizing trainings on workers' rights and ensuring that labor contractors use written work contracts, thereby preventing legal loopholes which may encourage exploitative practices. The village working groups are also working on investment plans to fund the renovation of local farmhouses, so that seasonal workers and their families have access to safe housing throughout their stay in the region.
Summer school fun for kids
Studies show that children are more likely to be exposed to harmful work when they are out of school. Since peak picking season falls during the holidays, two of our long-term company partners, Durak Hazelnuts and Balsu, decided to get creative—both launching their own summer school programs for the children of seasonal workers. Core subjects like math and science are taught, but fun is also top of the agenda with plenty of time made for sports and creative activities, like making chocolates. "For children, a day without reading and playing games is a lost day" says one of the teachers Damlanur Pıçak.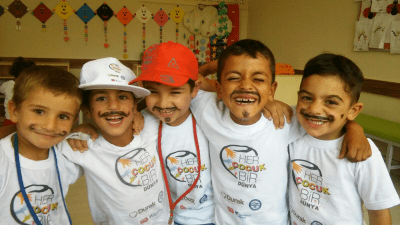 Since 2022, as part of our wider hazelnut villages initiative, the Rainforest Alliance has been helping to scale up these programs to welcome many more children in the region. And with additional support from global partners, like Intersnack, the summer schools run by both Durak and Balsu now offer an even broader range of play and learning modules prepared by the Turkish Ministry of National Education. These include photography, mindfulness-based art therapy, music, drama, and even coding and robotics! Teachers also run child-friendly sessions on empathy, bullying, and how to cope with difficult emotions through imagination and creativity.
"It's so important to support multi-stakeholder initiatives like this summer school program" says Özlem Gegez, the Rainforest Alliance social program manager. "When you see the smiles on these kid's faces, as they practice their reading, you really start to see a future that looks brighter."
Follow the frog for more inspiring stories from our global alliance
Explore