In the rugged hills of the Black Sea coast of Türkiye, hazelnut production is still mostly manual and heavily reliant on seasonal hired labor. Each year, the start of the summer harvest (August to mid-September) is signaled by the arrival of migrants workers and their families. The Turkish Statistical Institute estimates that there are at least one million seasonal migrant workers in agriculture and more than 200,000 of them are children.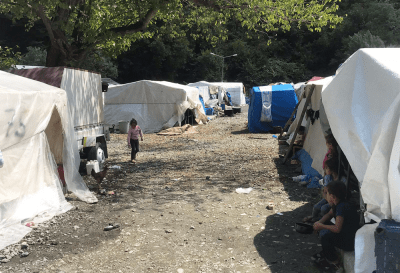 Most families are internal migrants from the poverty-stricken southeast region of Türkiye, near the border with Syria. Living in temporary tent settlements (sometimes without even clean water), parents have little choice but to bring their children to the farms. Under Turkish law, all seasonal agricultural work is classed as too hazardous for anyone under the age of 18 years. Nevertheless, children on hazelnut farms are routinely tasked with exhausting and even dangerous work, such as carrying heavy loads up and down steep hillsides in blistering hot weather. In some areas, more than 40 percent of workers are aged 15-18, and up to 10 percent are even younger.
Experts agree that getting children out of dangerous farm labor is imperative, yet the solution is far from simple. "A strictly punitive approach is often ineffective", explains Kunera Moore, the Rainforest Alliance child labor lead. "Outright bans that, if broken, lead to immediate decertification, may seem an obvious answer, but this tends to drive abuses underground, making them much harder to detect."
Building our child labor liaison network
Our field teams have learned through experience that a collaborative approach better supports farmers to assess and address child labor on the ground. Together with local NGOs and our partner companies (including leading nut traders and manufacturers), we have trained more than 7,600 farmers in targeted prevention, monitoring, and remediation strategies. We help farmers keep up-to-date records for each worker—clearly identifying whether they have children traveling with them—and work closely with local authorities to ensure that appropriate living and childcare facilities are available.
"It's often said that it takes a village to raise a child. And that's exactly how we need to tackle child labor—with the involvement of the whole community."

Idil Ander, Rainforest Alliance social policy coordinator
Farmers are also required to appoint community-based Child Labor Liaisons (CLLs) who undergo training in how to prevent and mitigate abuses at the farm level. Liaisons are carefully chosen and are generally respected figures in our partner communities—making them ideally placed to engage effectively with fellow farmers and workers: from listening to parents' concerns to raising awareness of other critical issues, such as health and education.
COVID-19: Community engagement is key
Our community liaison network has served a crucial function through the COVID-19 pandemic. With experts warning that labor shortages, movement restrictions, and economic distress triggered by the pandemic could all increase the risk of child labor, the Rainforest Alliance mobilized the network to put safeguards in place. Our field staff, who would normally run face-to-face trainings throughout the year, went virtual—holding bi-weekly webinars and e-workshops from March through the start of the summer harvest. We also engaged directly with the Turkish Ministry of Health to ensure that new COVID regulations would include protections for migrant agricultural workers and their families.
Anticipating that travel restrictions could limit farm audits, we put our community liaisons on high alert. One of our partners, BiyoSam Organik, a small, family-run hazelnut company, set up a dedicated WhatsApp group so their liaisons could post real-time updates directly from the farms. "Seeing how this group leapt into action is really inspiring" says Idil Ander, the Rainforest Alliance social policy coordinator. "It's often said that it takes a village to raise a child. And that's exactly how we need to tackle child labor—with the involvement of the whole community."
Summer school fun for kids
Studies show that children are more likely to be exposed to harmful work when they are out of school. Since peak picking season falls during the holidays, one of our long-term partners, Durak Hazelnuts, decided to get creative—teaming up with the governor of İkizce district to launch the "Each Child a World" summer school program. Math, science, and other core subjects are taught, but fun learning techniques, as well as sports and creative activities (like making chocolates) keep students coming back for more. "For children, a day without reading and playing games is a lost day" says teacher Damlanur Pıçak.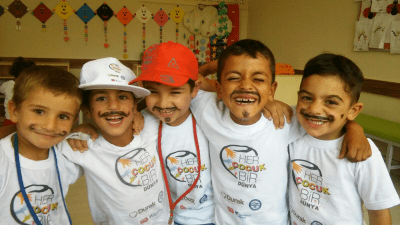 Since 2018, this inspiring summer school has opened its doors to more than 200 children, aged 5-14. And while COVID restrictions meant that the 2020 program couldn't go ahead on campus, staff instead visited camp sites across the district, offering health and safety training to up to a thousand workers and their children—many of whom had attended the summer school in previous years. Hygiene kits, with masks, gloves, and soap were distributed to every family, while children were each given their own education pack, including crayons, pencils, notepads, and books.
"COVID has made a thorny issue even more challenging. Imposing penalties without addressing the underlying social drivers will only push vulnerable families into greater hardship" says Osman Yalçın Tekinarslan, the Rainforest Alliance Türkiye lead. "That's why it's so important to support multi-stakeholder initiatives like this summer school program and the camp visits. When you see the smiles on these kid's faces, as they practice their reading, you really start to see a future that looks brighter."
Support Our Work
Create a world where people and the planet prosper together.
DONATE TODAY