At least half of the packaged items on supermarket shelves—from baby food and chocolate to shampoo and detergent—contain palm oil. This versatile oil is also used widely around the world as a biofuel and cooking ingredient. Cultivated in ecologically precious tropical landscapes, oil palm crops currently produce 70 million tons of palm oil a year, and demand continues to grow—making it critically important that the agricultural sector address the urgent challenges created by the rapid growth of palm oil production.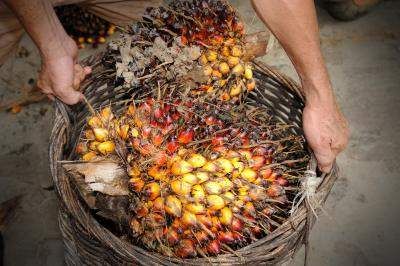 There is much that's good about palm oil: Its production requires less land, fertilizer, and pesticide than other vegetable-oil crops, and oil palms store more carbon than other oil crops. In addition, palm oil production has triggered economic growth in several regions, providing livelihoods to more than 3 million smallholder farmers.
But while this crop provides income to millions of smallholder farmers across Africa, Asia, and Latin America, the rapid expansion of oil palm plantations has also fueled deforestation, greenhouse gas emissions, and the displacement of indigenous forest communities. For these reasons, it's urgent that we transform the way palm oil is produced. The Rainforest Alliance believes that by joining forces with a host of other actors, from farmers and companies to civil society organizations, we can make important strides toward making palm oil production more sustainable.
What We Are Doing to Make Palm Oil More Sustainable
Our work in Indonesia exemplifies our holistic approach to making palm oil more sustainable: In addition to working with farmers to improve cultivation practices in high-priority landscapes, we support the efforts of the Roundtable for Sustainable Palm Oil (RSPO), undertake advocacy efforts on a regional and national level, and provide technical support to smallholders through local specialist staff. At the same time, we collaborate with the Union of Palm Oil Smallholders (Serikat Petani Kelapa Sawit) and work with national and international companies to strengthen production systems and smallholder organizations in supply chains. We have also been supporting the development of the Sustainable Districts Platform (Lingkar Temu Kabupaten Lestari), an initiative by district governments in Indonesia to develop participatory plans for sustainable forest and farmland management.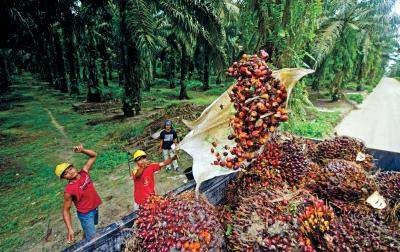 Strategic partnerships are critical to our holistic approach. This is why we participate in the RSPO, which runs the world's largest palm oil certification program, on traceability, developing and managing the RSPO PalmTrace system, and enhancing transparency in the palm oil supply chain. The Dutch sustainable agriculture organization UTZ started this work in 2007 before merging with the Rainforest Alliance; the pre-merger Rainforest Alliance actively participated in developing the principles and criteria of the 2018 RSPO standard, as well as the new RSPO smallholder standard, which is currently under public consultation.
Because India is the world's largest market for palm oil, we recently helped launch the India Sustainable Palm Oil Coalition with the Centre for Responsible Business (CRB), WWF-India, and RSPO. The coalition aims to promote the use of more sustainable palm oil and advocate for leading trading and manufacturing companies to build sustainability principles into their business operations. Until 2018, there was very little engagement in palm oil sustainability among companies in India. Since the launch of our collaborative initiative in October 2018, nine large companies have joined the coalition and eight more are now in talks to sign on.
No effective approach would be complete without engaging the private sector. That's why the Rainforest Alliance works with companies to trace their palm oil supply chains back to mills, as an essential step in implementing a deforestation-free policy. We also help companies establish and implement sustainability policies in their palm oil supply chains.
Next Steps Toward a More Sustainable Palm Oil Sector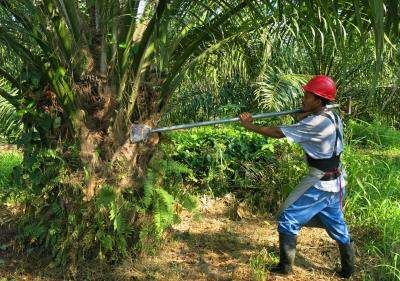 The merger of the Rainforest Alliance and UTZ in early 2018 presented a terrific opportunity to scale up our impact on urgent sustainability challenges in sectors like palm oil. Currently only four percent of palm oil smallholders are certified; our hope is that millions more will soon embark on a path to sustainability. We are prioritizing local partnerships to engage smallholders, as well as landscape- and community-centered approaches. We are also continuing to work with RSPO to scale up effective interventions.
Furthermore, we plan to accelerate our work with companies, consumers, governments, and civil society organizations to build a positive global dialogue on the importance of responsibly sourced palm oil. We are working to raise awareness and increase consumer demand for more sustainably produced palm oil in key emerging markets such as India. We will continue to share news of our multi-faceted new approach to transforming the palm oil sector as it develops.
Support Our Work
Create a world where people and the planet prosper together.
DONATE TODAY