First: the bad news. "Humanity stands at a crossroads" warns the United Nations in a crushing scientific report on the state of nature. The Global Biodiversity Outlook 5 (GBO-5), published in September by the UN Convention of Biological Diversity confirms that the current rate of biodiversity loss is "unprecedented in human history." With pressure mounting on Earth's living systems, experts have issued an immediate call to action—outlining eight major transitions needed to halt nature's spiraling decline.
Back in 2010, leaders from 196 countries kicked off the United Nations Decade of Biodiversity by committing to meet 20 ambitious targets by 2020. Ten years on, we have reached this critical deadline—and have failed to fully accomplish a single goal.
We continue to use the Earth's resources faster than the planet can regenerate them. The climate crisis is not slowing but accelerating—threatening to undermine all other efforts to conserve biodiversity. And while we know that nature itself offers powerful natural climate solutions (such as forests and coastal wetlands), only two percent of the world's estimated land restoration potential is being realized.
Living in harmony with nature by 2050
Though the report paints a stark picture, its authors' key message is clear: There is still hope.
"We know what needs to be done, what works and how we can achieve good results" affirms Inger Andersen, the UN Environment Program's executive director. Encouraging progress is being made: wildlife saved from the brink of extinction, healthy fish populations on the rise, and protected status designations for more and more of the world's key biodiversity areas. And the COVID-19 pandemic—itself a symptom of the biodiversity crisis—has also proved that rapid societal transformation is achievable in ways many previously thought impossible.
Eight transformative changes needed to save the planet
Humanity is indeed at a crossroads, but the way forward is clear. The UN report identifies eight transitions across a range of human activities "that are urgently needed to ensure human wellbeing and save the planet." And it just so happens that the Rainforest Alliance's work on the ground contributes to each of the eight areas.
Transition 1: Sustainable Climate Action
Natural climate solutions can help us achieve 37 percent of our target emissions reductions, according to the UN Intergovernmental Panel on Climate Change (IPCC). That's why we designed our new and enhanced 2020 Certification Program to not only help farmers build up their own resilience to changing weather patterns (through climate-smart agriculture), but also promote forest conservation, restoration, and on-farm tree cover.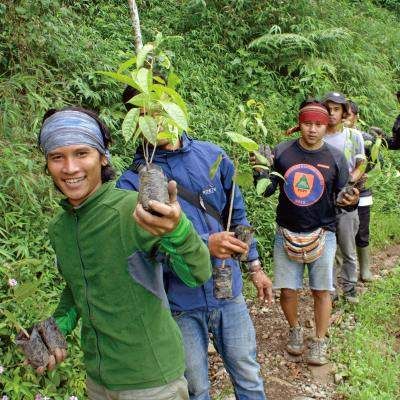 Coffee, for example, grows beautifully in agroforestry systems. The shade of taller trees helps the coffee cherries ripen slowly—creating those complex flavors we know and love—while also providing additional carbon storage. In West Java, the Klasik Beans coffee cooperative, Rainforest Alliance Certfied since 2018, plants sixteen different varieties of shade tree over 548 hectares. As one farmer, Rony Syahroni, explains "We don't plant coffee in the forest—we design our farms to become forests."
Transition 2: Sustainable Agriculture
Helping farmers meet the needs of the present, without sacrificing those of tomorrow, is the very core of what we do. Conventional farming methods not only degrade land—which reduces crop productivity over time—but also devastates surrounding ecosystems and drives tropical deforestation. That's why we train millions of farmers around the world in sustainable growing techniques, such as agroforestry and crop diversification. These practices can help maximize soil health, boost on-farm tree cover, and protect local forests and waterways—while also building better livelihoods for smallholder farmers.
Transition 3: Land and Forests
Conserving forests could cut as much as much carbon dioxide each year as getting rid of every car on the planet. Yet tropical forests (which trap larger amounts of carbon), are being razed to the ground and converted to farmland.
The most widely-proven strategy to keep our forests standing is the cultivation of sustainable forest economies. Our partner communities in Guatemala's Maya Biosphere Reserve have shown that forestry can be done responsibly. Their timber businesses extract only one tree per hectare every forty years—and new native seedlings are carefully grown from seeds collected from the forest floor. The result? Near-zero deforestation.
Transition 4: One Health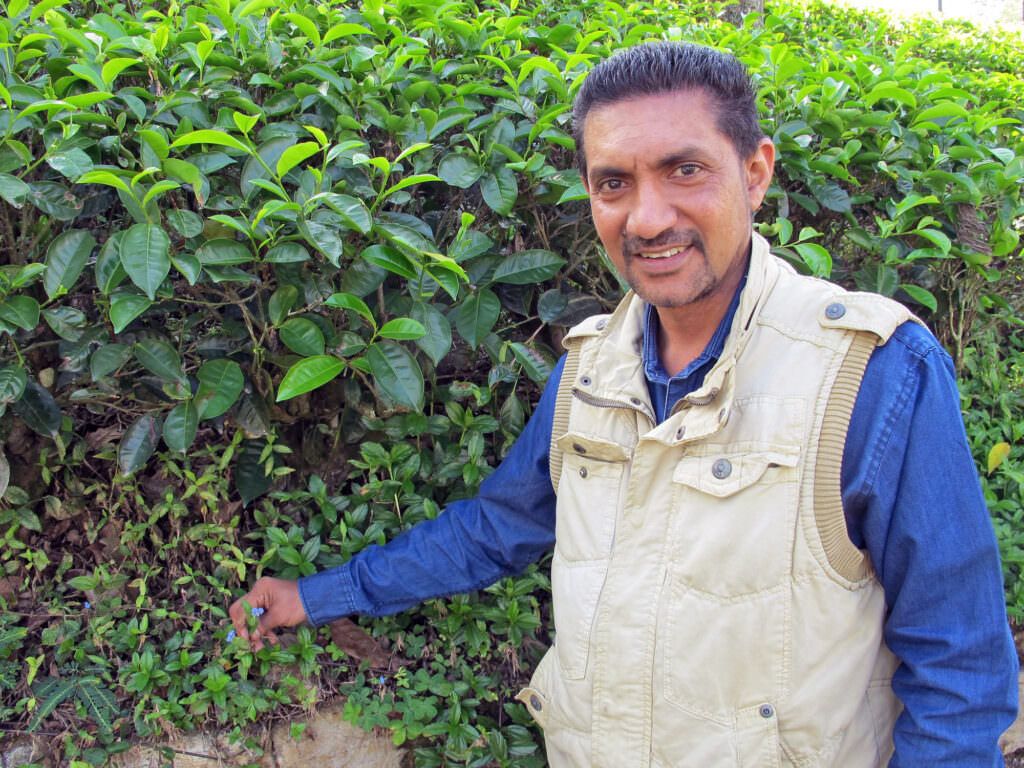 Planetary health is a vibrant dance between people and nature, one that requires an integrated approach. Just ask Mahendra Peiris, manager of the Rainforest Alliance Certified Hapugastenne Tea Estate in Sri Lanka—and a passionate champion of integrated weed management.
Using this method, farmers allow "good" weeds to grow and nourish the soil, while "bad" weeds are pulled out and turned into organic compost. The beauty of this approach—a key part of our Sustainable Agriculture Standard—is that it not only results in richer soil and thriving tea bushes, but also eliminates the need for hazardous chemical fertilizers and herbicides that pollute local waterways and seriously harm the health of farmworkers, nearby communities, and local wildlife. The result embodies the concept of "one health": healthy ecosystems and healthy people living in harmony.
Transition 5: Sustainable Freshwater
Our 2020 Certification Program includes rigorous environmental requirements to help farmers protect freshwater systems on or around Rainforest Alliance Certified farms. For example, farmers must maintain or establish zones of natural vegetation—known as riparian buffers—along the edges of rivers and streams. These zones help prevent pollutants from entering the waterways, with the added bonus of providing habitat for local wildlife.
Many of the farmers we work with go even further. In Indonesia, farmers from the Karya Bersama cocoa cooperative are leading the charge to clean up Lake Poso—a nature lover's paradise that has sadly become a dumping ground for garbage and farm waste. The cooperative has helped raise awareness about watershed conservation and waste management among other local farmers.
Transition 6: Sustainable fisheries and oceans
While the Rainforest Alliance primarily focuses on forests and farming, our new 2020 Certification Program also prohibits the destruction of all natural ecosystems on or around certified farms. This includes coastal wetlands—such as salt marshes and mangrove forests—which sequester huge amounts of blue carbon. And it also promotes responsible practices to protect waterways, which affect downstream ecosystems, and eventually, the ocean.
On Costa Rica's Caribbean coast, the Platanera Río Sixaolo banana farm—Rainforest Alliance certified since 1992—has long embraced farming techniques that protect water, such as reforesting the banks of the tributaries that run directly into the ocean.
Transition 7: Sustainable Food Systems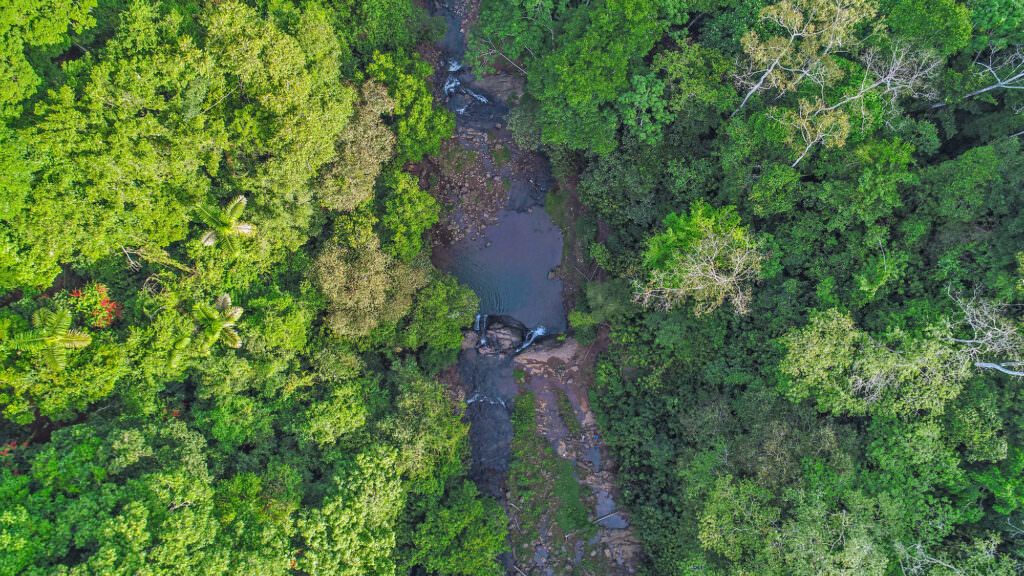 Moving toward sustainable food systems requires us to not only grow the food we eat in ways that are better for people and nature, but also to think hard about what food we choose to eat. The UN recommends that we all shift our lifestyles towards healthier, mostly plant-based diets—with less food waste and more food diversity.
The Rainforest Alliance supports this transition all the way from farm to fork. Our little green frog seal helps millions of people in more than 174 countries around the world to make food choices that are better for them, for nature, and for the farmers who steward the land and forests we all depend on. At the same time, our agricultural trainers promote crop diversification for smallholder farmers around the world––not just for soil health and extra income, but also to provide alternative sources of food for farming communities.
Transition 8: Cities and Infrastructure
The UN's call for more "green infrastructure" is all about making space for nature in urban areas in ways that reduce the environmental footprint of built landscapes and improve quality of life for city dwellers.
Though our work—and our hearts—are focused on tropical forests and rural landscapes, we can't help imagining a more sustainable future for urban jungles as well. As a founding member of the Forest Stewardship Council (FSC), we understand how responsible timber sourcing for construction supports sustainable forest management around the world. And sustainable forestry can inspire architects and art lovers too—just look at the incredible design that recently won New York City Council's Reimagining Brooklyn Bridge content by enhancing its famous walkway with timber sustainably harvested by our partner communities in the Maya Biosphere Reserve.
Forests Are Falling At An Alarming Rate.
Each minute, 85 acres are destroyed.
Donate