Indigenous peoples and local communities have an unsurpassed connection to the Earth's forests. They manage at least one quarter of the world's lands—a figure that would likely be doubled if we factored in territories for which they currently lack legal tenure. This means that the land they steward is home to approximately 80 percent of our planet's biodiversity and contains a significant share of the forest carbon that reduces the impacts of climate change.
Even with their often-limited access to financial resources or legal support, Indigenous peoples have proven themselves to be the best guardians of the world's forests and the valuable ecosystem services that these landscapes provide, such as clean water. Over time, these communities have repeatedly produced conservation results that are on par with—or even exceed—those of government-managed protected zones. For example, a 2000-2012 study of the Amazon found that annual deforestation rates on tenured Indigenous forestlands were two to three times lower than outside these areas.
Sign up for useful tips to green your life and protect our planet.
The Rainforest Alliance has always made it a priority to partner with—and learn from—Indigenous peoples and local communities. Here are a few examples of how we are supporting their efforts to build thriving local economies that conserve forests.
Harnessing ancestral knowledge and modern technology to boost incomes in Peru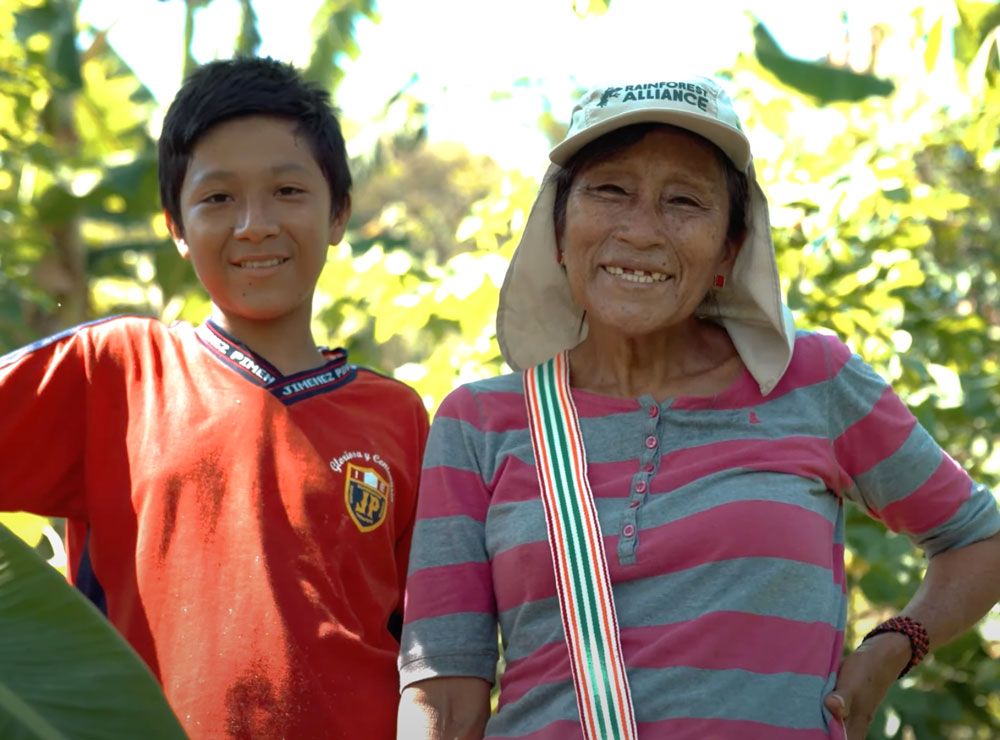 In Peru, our work with Indigenous communities has a strong emphasis on women's entrepreneurship. The goal: harnessing ancestral knowledge to build thriving women-led businesses, rooted in sustainability. A prime example is Warmi Awadora, a brand of textiles developed by a collective of Kichwa women in San Martín, a biodiversity-rich region between the Cordillera Escalera protected area and the Amazon Basin.
Using traditional techniques, these women weave colorful fabrics from cotton that has been grown in harmony with the region's forests. From these textiles, they create items like bags, belts, and necklaces, the sale of which supplements the income their husbands earn from farming and other work. The enterprise is also a form of cultural preservation. "If [our children] don't continue with the textiles," says President Lisida Ishuiza Tapullima, "the tradition will be lost, and the Kichwa communities and culture will be lost, too."
To support their success, the Rainforest Alliance has provided training in business management and digital skills, including how to use social media and ship their products around the world. This knowledge has been particularly crucial during the pandemic, which has limited their ability to sell directly to tourists during visits to their communities.
Putting power in the hands of Mexico's forest communities
Although nearly 75 percent of Mexico's forests are managed by 12 million Indigenous and local peoples, these numbers don't automatically add up to secure livelihoods. More than half of these communities face extreme poverty, immediate climate change threats, and high levels of youth out-migration.
To combat these challenges, the World Bank established an innovative financing program that's being piloted in 14 countries. The initiative provides funding to locally established sustainable farm and forestry enterprises, as well as those run by women, young people, and those who lack land tenure, but what's most unique is that it places the decision-making power in the hands of community members. They set the priorities, design and implement the program, and decide how the money will be disbursed. As the organization charged with overseeing the initiative in Mexico, the Rainforest Alliance provides guidance and training to communities in five states, who have distributed more than US$3 million in small grants.
One enterprise that has benefitted is Mujeres Ixtlecas, a cooperative of nine Zapotec women from Oaxaca's Ixtlan community. The Rainforest Alliance helped them create a business proposal centered on their knowledge of local plants—which they use to make soaps, balms, and other products. In addition to the grant, the women participated in a start-up bootcamp to learn business and marketing skills, such as managing Internet sales for Yuu Vany (the brand's name means "living earth" in the Zapotec language). Their balance sheet speaks for itself: a thriving business that supports vulnerable community members while also protecting the environment.
Creating economically viable alternatives to child labor in Vietnam
In Vietnam's forest-rich Central Highlands, exponential growth in the coffee sector and high poverty rates in farming communities have resulted in child labor, particularly among minority Indigenous communities. Young people are expected to drop out of school to help their families and save money that might otherwise be spent on their education.
That's why we've offered training to 1,500 local farmers, helping them earn higher incomes by adopting more sustainable farming practices, developing business-management skills, and achieving financial literacy. We have also collaborated with facilitators to help farmers create a "family vision plan," which focuses on tackling gender inequality and improving young people's access to education, vocational training, and career guidance.
Through the establishment of child-protection committees, we bring together teachers, farmers, village leaders, and others, to improve policies on child labor and Indigenous communities. We also work with coffee processors and sourcing companies, both locally and internationally, to help them spot and respond to child labor, and (most importantly) prevent it from happening in the first place.
Invest in the next critical decade
Help us scale, deepen, and accelerate our impact to protect the planet and our entire global family.
Donate now