Advocacy is a crucial piece of the sustainability puzzle. If we hope to move from an exploitative food system to a regenerative one, we need to call for strong government policies that protect forests in the world's most threatened landscapes. We need all countries to enact legislation that obliges companies to address human rights abuses in their supply chains. And we need global companies to implement policies that support the well-being of the farming and forest communities they source from.
Advocacy—or the act of influencing decision-makers within political, economic, and social institutions—plays a vital role toward ensuring that these practices become reality. For 35 years, the Rainforest Alliance has partnered with our broad alliance of farmers, forest communities, companies, and consumers around the world to drive positive change across global supply chains and in many of our most critically important natural landscapes. Advocacy complements the other main areas of our work—certification, landscape- and community-level programs, and tailored supply chain services—by shaping policies and practices that will affect agriculture, forests, and business for years and decades to come.
Sign up for useful tips to green your life and protect our planet.
So, what does this look like in practice?
How our advocacy team works
To start, we monitor ongoing political processes at the local, national, and international level. We then engage with key decision-makers through consultations, public hearings, or meetings to ensure that proposed laws support meaningful sustainability transformation in the regions and sectors where we work. We also participate in sector-wide or multi-stakeholder initiatives. And where these initiatives are missing, we help establish them.
An example of one such initiative that the Rainforest Alliance helped establish is the Kenya Coffee Platform (KCP), a forum for public and private stakeholders in the coffee sector. We aided the KCP in developing a strategic country plan that included gender and climate issues. The platform's members then successfully advocated to prioritize the distribution of more natural lime fertilizer to farmers, instead of the chemical-heavy alternatives. Members also recognized the need for clearer alignment on best practices, resulting in the Kenya Coffee Sustainability Manual—a resource that we ensured was both gender-sensitive and climate-smart. The manual unified training materials used by companies, certification programs, and governments to train farmers on how to improve their productivity and quality.
Here are some other examples of our advocacy work at the local, national, and international levels.
Local-level advocacy: influencing cocoa policy in Ghana
This partnership prepared the farmers for lobbying at district and national levels so they could raise their voices on issues that most affect their lives.

Sandra Kwabea Sarkwah
Local civil society organizations (CSOs) are well positioned to represent the interests of the communities they serve. They can be an important strategic partner in addressing sensitive issues, like deforestation and child labor. The Rainforest Alliance collaborates with CSOs to advance our advocacy efforts.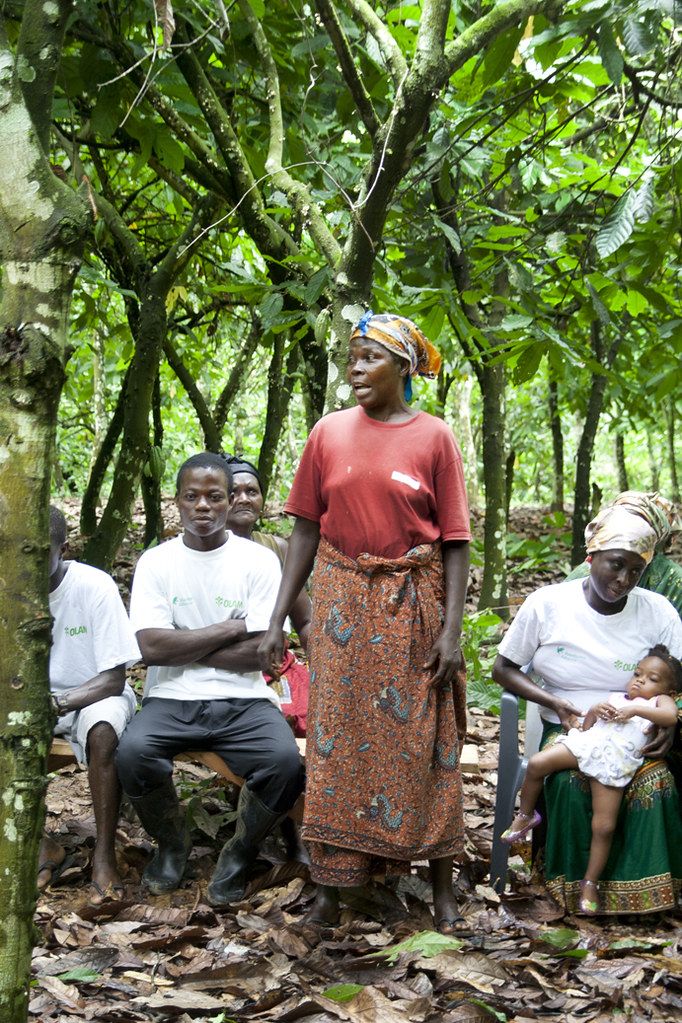 In Ghana, cocoa farmers have long struggled with issues like low income, deforestation, and child labor. Even so, CSOs in the region have rarely taken an advocacy angle to influence cocoa policies. That's why we teamed up with SEND Ghana, a local organization with long-standing advocacy experience on a variety of topics, including food crops. We introduced them to the cocoa sector and helped them understand the issues at hand, connecting them with farmers and other relevant actors.
"Through this partnership, SEND was able to help cocoa farmers, especially women, develop and strengthen their leadership and advocacy skills," said Sandra Kwabea Sarkwah, SEND Ghana's project officer. "This prepared the farmers for lobbying at district and national levels so they could raise their voices on issues that most affect their lives."
Opening dialogue with the Ghana Civil-Society Cocoa Platform
SEND also established a shared platform for civil society actors to connect with the government on cocoa sector issues. The Ghana Civil-Society Cocoa Platform (GCCP) unites actors like smallholder cooperatives, NGOs, and journalists. Its creation was highly strategic: When SEND published a research report about persistent challenges affecting cocoa farmers—including low income and unreliable access to inputs—members of a journalist association called GARDJA used it to write new articles on the cocoa industry. This generate media attention and public debate. SEND's report showed that purchasing clerks who buy cocoa on behalf of licensed buying companies were incorrectly adjusting the analog scales used for weighing, causing farmers to lose up to 11 percent of their incomes. As a result of SEND's advocacy, COCOBOD (the cocoa sector's government regulatory body) introduced digital weighing scales to eliminate fraud at the point of sale.
These engagements with both COCOBOD and the parliament helped the industry understand the benefits of increasing farm-gate prices for farmers. As of 2020, COCOBOD and a cocoa regulator in Côte d'Ivoire announced a price for cocoa that includes a living income differential—an amount paid in addition to the market price that helps support farmers' incomes.
National-level advocacy: community forestry in Guatemala
In Guatemala's Maya Biosphere Reserve (MBR), the Rainforest Alliance has long supported community-managed forestry. Spanning 2.1 million hectares and covering nearly 19 percent of the country, the MBR anchors the largest remaining natural tropical forest in Mesoamerica. Within this magnificent reserve, nine community concessions have worked for more than 25 years to manage and protect the biodiversity of the area. These concessions—described as "a shining beacon of conservation"—have achieved remarkable economic, conservation, and security successes. Perhaps two of the best indicators of the concessions' success are the near-zero deforestation rate and the low migration rate out of the region. In other words, families in the MBR can make a sustainable living without leaving home.
The Rainforest Alliance works with the forest communities managing the concessions, and organizations like the Association of Forest Communities of Petén (ACOFOP), to provide technical advice, build capacity, and enhance market access for the communities' forest and non-forest products.
Through collective power, we're able to protect and defend the forest and livelihoods of the people who call it home.

Belén Portillo
A national campaign to save the forest
When the 25-year concessions contracts were up, the Rainforest Alliance successfully advocated with policymakers for their extension. We also grew public support with the Salvemos Petén campaign. In recent years, the government not only granted 25-year land-contract extensions to five concessions that were up for renewal, but also created two new ones. This added 71,255 hectares to the land currently under community management.
"The MBR forest communities are a successful example of a sustainable development model that works in harmony with nature, protecting the territory and operating under community governance," said Belén Portillo, the Rainforest Alliance's advocacy manager in Guatemala. "Through collective power, we're able to protect and defend the forest and the livelihoods of the people who call it home."
International-level advocacy: corporate due diligence in Europe
Lastly, we advocate on the international stage for legislation, initiatives, and investments that promote more sustainable agriculture and forestry. Our recent efforts have focused on mandatory due diligence across the European Union—home to some of the world's biggest importers of cocoa and other popular tropical commodities. These due diligence measures would hold companies responsible for any potential human rights and environmental risks and impacts in their supply chains.
Several countries have developed, or are developing, legislation to make human rights and environmental due diligence (HREDD) mandatory for certain topics or business categories. In other words, companies that meet specific criteria—like size or type of operations—must have HREDD processes in place and be transparent about them.
The Rainforest Alliance is certain that purposeful HREDD legislation helps protect many people and landscapes affected by multinational business operations. Moreover, it helps create a more level playing field for companies already investing in due diligence. Where HREDD laws are in place, we work with our company partners to adhere to the regulations.
Follow the frog for more inspiring stories from our global alliance
Explore