Pak Abdul Kadir has farmed cocoa on the island of Sulawesi, Indonesia, for more than 30 years. As leader of his local farm group, Lawekara Bersatu, he knows that his colleagues worry about their trees' declining productivity and increasing climate-related diseases.
After attending Rainforest Alliance trainings, Kadir began to apply sustainable agriculture methods to his farm. He rejuvenated aging trees by grafting new scion onto old rootstocks, planted shade trees, and started a cocoa tree seedling nursery that cultivates strains resistant to both hotter temperatures and disease.
Farmers like Kadir are visionaries among the world's five million smallholder cocoa farmers—most of whom struggle not only with economic hardship but with increased heat, unpredictable rainfall, and a shift in growing seasons. Rigorous training in efficient and sustainable farm management is essential to stabilizing their microclimate and stopping the destructive cycle of poverty and deforestation.
Supporting Farmers and Communities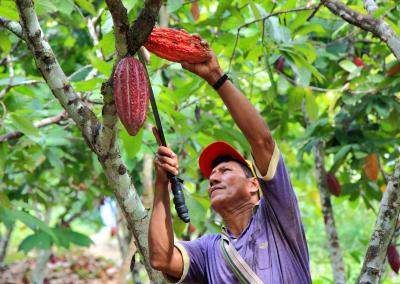 The Rainforest Alliance has been working to strengthen the position of smallholder cocoa farmers since 2006—both on the land and in the marketplace—by training them to conserve natural resources, increase productivity and secure decent living and working conditions. Rainforest Alliance Certified farms are audited annually against rigorous environmental, social, and economic criteria that protect biodiversity and foster a culture of respect for workers and local communities.
Protecting Land and Waterways
Like coffee, cocoa can be cultivated under the shade of native canopy trees within landscapes similar to natural forest. However, an increasing number of farmers are cutting down forest in order to grow cocoa more intensively, and many are planting cocoa hybrids that require full-sun exposure and regular pesticide application. This practice destroys crucial wildlife habitat, threatens the health of farm communities and produces chemical run-off that contaminates local soil, streams and waterways.
The Rainforest Alliance Sustainable Agriculture Standard requires farms to protect shade trees, plant native species, maintain wildlife corridors and conserve natural resources. It also prohibits the use of banned pesticides in favor of biological and natural alternatives. Through Rainforest Alliance training, farmers also learn how to adapt to the effects of climate change.
Improving Incomes
The Rainforest Alliance is providing cocoa farmers across Africa, Latin America and Southeast Asia with the tools and incentives to farm more sustainably. In recent years, we have greatly expanded our work in West Africa, where nearly 70 percent of the world's cocoa is produced. Through our training programs, cocoa farmers learn methods that increase efficiency, as well as the productivity and resilience of the land; the certification process also encourages cooperation between farmers to market certified products more effectively. While we don't guarantee farmers a price premium, Rainforest Alliance Certified farms generally do sell at higher prices because of the growing demand for certified crops. Independent studies show that Rainforest Alliance training leads to increased yields and income, as well as many other long-term benefits for farmers, families and communities that depend on cocoa.
Support Our Work
Create a world where people and the planet prosper together.
DONATE TODAY