Deforestation was an important topic at the 31st Specialty Coffee Expo hosted by the Specialty Coffee Association in Boston, USA in April. During the expo, the Rainforest Alliance had the opportunity to lead a few key discussions, including a Sustainability Coffee Breakfast with 290 attendees from many countries and a panel discussion on the topic Can (and should) the Coffee Sector Make a Zero Deforestation Commitment? Read on to find out what was discussed and the key takeaways.
Deforestation in the coffee sector — the problem
Deforestation is a significant issue facing our world as the population increases, and with it, the demand for more farmland to feed billions of people. This presents a serious problem since agriculture is one of the largest drivers of deforestation, responsible for over 80 percent of tropical deforestation alone, yet forests are one of our key defences against climate change. Forests clean the air, absorbing nearly 40 percent of the fossil-fuel emissions we produce, while also providing habitat for 80 percent of the world's terrestrial biodiversity and livelihoods for 1.6 billion people.
One of the agricultural sectors impacting forests is coffee. Coffee production has increased over the past decade, potentially also expanding into forest areas. In addition, it is expected to become a bigger driver of deforestation over the coming decades due to increasing demand and climate change impacts that will likely shift suitable regions to higher altitudes that are now comprised of valuable forests.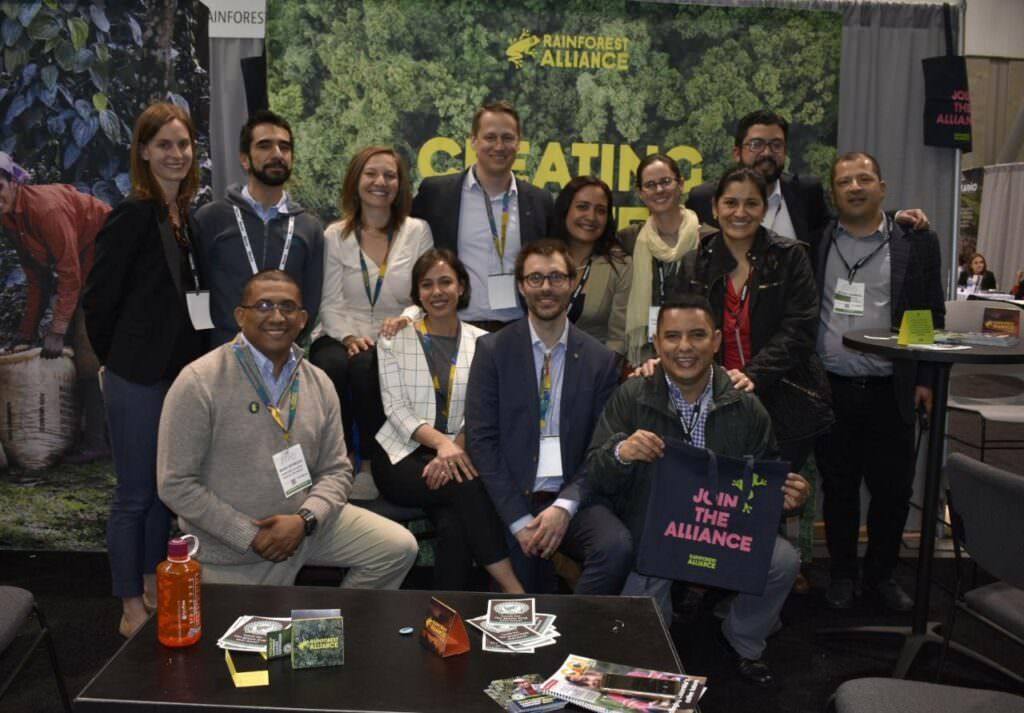 The work of the Rainforest Alliance is focused on tackling these issues, including coffee that carries the Rainforest Alliance Certified™ or UTZ Certified seal, demonstrating that the coffee was sourced from farms required to meet environmental, social and economic standards. During the SCA panel discussion, Mauricio Galindo, our country representative from Colombia and coffee sector lead, explained that most certified coffees come from Brazil, Colombia, Vietnam and Honduras, while our initial analysis showed the highest deforestation risks due to coffee production are in Nicaragua, Honduras, Peru and Indonesia.
The gaps in addressing these issues in the coffee sector
Currently there are some major gaps when looking at what's being done industry-wide to prevent deforestation. The main ones include:
55% of all global coffee production is certified, but only 20% of this is sold as such;
There are variations in how different certification programs address the issue;
There are data gaps in defining where coffee production areas are actually located;
There is little engagement from companies and governments on enforcing forest governance on forest-coffee frontiers, and insufficient understanding of how coffee can have a positive impact and be a part of restoration initiatives;
It is challenging to develop sustainable business models that prove all these requirements can be part of a profitable farmer equation.
Certification is part of the solution
These gaps point to the overarching need for all stakeholders to be engaged, so that the burden does not fall on the producers alone. The 2018 Rainforest Alliance impact report shows that certified producers perform highly with respect to protecting natural ecosystems.
Farmers certified under the Rainforest Alliance certification programs, including UTZ certification, are trained to implement good agricultural practices that help prevent deforestation, such as increasing the productivity of existing farm and forest lands, restoring degraded lands, banning production in protected areas, planting shade trees and more. Certification also requires the GPS monitoring of production areas to ensure land is being protected and used properly, as well as to evaluate the producers' impact.
Sector-wide participation is needed
Currently, there is no big debate about deforestation or "no-deforestation" commitments in the coffee sector, but this is needed moving forward. Forecasts show that coffee consumption is expected to rise to a record level, and it's likely that this will drive deforestation if nothing is done, which will further intensify climate change as well as impact the coffee industry. That's why we welcome a sector-wide commitment to zero-deforestation.
Despite the valuable progress being made through certification, deforestation cannot be addressed by voluntary standards alone.
"A robust and effective forest governance is needed to ensure that producers don't simply switch to producing other commodities that encroach on our forests," Mauricio Galindo emphasized during the panel.
He also noted the importance of increasing productivity on existing farm and forest lands and restoring degraded lands. Last, but certainly not least, production and sourcing strategies will also need to address critical issues such as community land rights, worker wellbeing, water scarcity, pesticide toxicity and destruction of non-forest ecosystems to ensure that these changes are taking care of the local workers and environment, and therefore, are sustainable solutions.
The way forward takes an alliance
With our work cut out for us, the only way forward is for all actors to join. Rainforest Alliance partner companies are already part of the solution by sourcing Rainforest Alliance or UTZ certified products which contribute to deforestation-free supply chains. As we move ahead, we look forward to discovering and getting involved with more collaborative initiatives in the sector. We will keep looking for answers to the question: how can coffee can be profitable for all while making responsible business the new normal?
If you're not yet a member of our Alliance, join us in this mission and start sourcing certified products and ingredients today.
Forests Are Falling At An Alarming Rate.
Each minute, 85 acres are destroyed.
Donate