As the human population climbs toward a projected 9.8 billion by 2050, so too does the strain on our planet's finite natural resources. In this context, some might believe that one person's gain means another person's loss, but when it comes to gender equity, the opposite is true. There is a broad consensus among development experts that the empowerment of women is a rising tide that lifts all boats. At the Rainforest Alliance, we've seen it over and over again: the advancement of women promotes the greater good in striking ways.
The advancement of women's rights is especially critical to transforming the agricultural sector. In developing countries, 43 percent of the farm labor force is female, and women represent two-thirds of the world's hundreds of millions of poor livestock keepers. While women handle the vast majority of unpaid work—including caring for children and the elderly, cooking, and other household chores—they are often denied access to education, training programs, and technology, forbidden from owning property or controlling their natural resources, and excluded from decision-making processes that directly affect their lives. On average, women in most countries earn only 60 – 75 percent of men's wages and are often paid less for the same labor.
Yet studies show that when women gain more economic strength, their families and communities benefit. When women control household income, they are more likely than men to spend money on their families (food, clothing, and health-related items). Research shows a 20 percent increase in childhood survival rates when women manage their household budget. And when women farmers are given equal access to resources, education, financing, and land rights, they can increase farm yields by 20 to 30 percent.
Our ambitious efforts to empower rural women are driven by global, as well as local, imperatives. Climate change threatens to cut crop yields by as much as 25 percent in some scenarios; such losses would drive additional deforestation (as people clear trees to expand existing farms and establish new ones), and fuel the destructive cycle of global warming. But when existing farmland can be made more productive, the economic pressure to expand the agricultural frontier disappears.
Because the Rainforest Alliance is a field-based organization, we have seen firsthand how boosting women's access to training and technical assistance leads to increased production, higher family incomes, and improved family well-being. Not only are women powerful allies in keeping forests intact, building climate resilience, and protecting biodiversity—they are critical to the sustainable, healthy development of rural communities around the world.
Feeding Change: Women Farmers Transform Their Communities
Because women make up nearly half of the world's farmers, our commitment to advancing gender equity is woven throughout our agricultural certification program. To earn Rainforest Alliance certification, farms must meet critical social criteria in addition to rigorous environmental requirements—including one that forbids all forms of discrimination against women in pay, hiring, training, task assignment, benefits, promotion policies. As part of the process of "continuous improvement" that is built into our system, Rainforest Alliance Certified farms must "support equality and empowerment of women, including participation in training and education and equal access to products and services."
Of course, anyone who has spent time in the real world knows that combating entrenched sexism requires more than just the publication of rules and requirements. It takes pro-active planning, education, and mentoring to end discrimination and create new pathways for women. For example, our cocoa training program in Nigeria focused on developing leadership among women in the sector, training not only more women farmers, but women agricultural technicians and co-op administrators too.
In Ghana, where women are responsible for 25 percent of the country's cocoa production, women comprise two-thirds of the Rainforest Alliance Certified Asuontaa Cocoa Farmers' Cooperative. "Many women in this area think that cocoa farming is a man's job," says like Madam Paulina Sarfo, one of Asuontaa Cocoa's leading producers. "But I am an example to women young and old. I challenge them to venture into cocoa farming. If it's done in a sustainable way, cocoa farming is lucrative."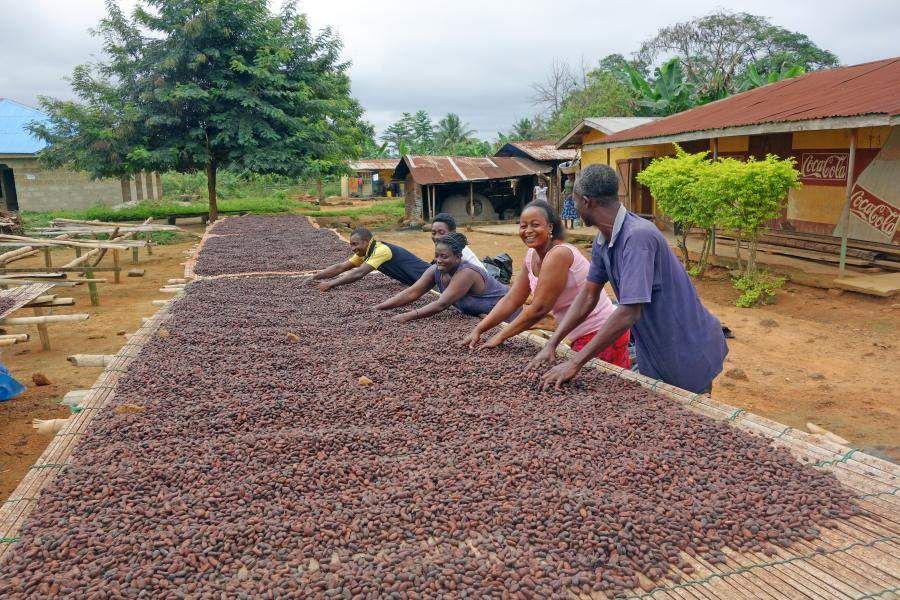 In addition to increasing their output of cocoa, Sarfo and her peers have established buffer zones, planted trees, and implemented fire-prevention plans. And to help provide a hedge against the many variables that can hinder a farm's yield, we have encouraged women smallholders to cultivate crops, such as plantains and cocoyams, and trained them in activities—such as beekeeping and soapmaking—that can generate additional income.
These accomplishments should perhaps come as no surprise in a country where the founding director our main agricultural partner organization, Melanie Bayo is both a woman and a leader in the cocoa sector.
Gender Equity in Landscape Conservation
Concrete initiatives to foster gender equity are also critical components of our landscape conservation work. In Guatemala's Maya Biosphere Reserve, where we have worked with forest communities since the late 1990s, we have integrated women-focused initiatives into our community enterprise development programs, formalizing our efforts by establishing a gender task force in 2014.
One of our signature accomplishments in the MBR is the completion of trainings across seven communities in the Maya Biosphere Reserve to foster economic opportunities for women through the harvest and processing of ramón nuts, a highly nutritious non-timber forest product. In the trainings, conducted in collaboration with the Association of Forest Communities of Petén (ACOFOP) beginning in 2012, the women from these communities learned to organize themselves in order to negotiate better prices.
We've also worked with our indigenous partners in the Peruvian Amazon to strengthen women's leadership opportunities and decision-making capacity in community enterprises, including the development of a brand of Brazil-nut products, agroforestry initiatives, and ecotourism. Women have been instrumental to the impressive success of the Brazil nut enterprise, which exported more than 4,000 metric tons of shelled nuts worth nearly $31 million in just one year.
Tourism is another area of our landscape conservation work where women have excelled in leadership roles. Alma López López, head of a community-based tourism NGO called Mujeres Generando Cambio y Bienestar A.C. (Women Generating Change and Well-Being), travels throughout the Mexican state of Oaxaca to help women in indigenous communities establish and manage tourism-related businesses. Using the Rainforest Alliance's training tools, López guides women in creating and implementing business plans for enterprises that involve traditional weaving, embroidery, pottery, and the culinary arts. Although the best practices she imparts are focused on conserving forests, protecting wildlife, and safeguarding cultural traditions, López emphasizes that the additional income these women can earn is likely to be reinvested in their families. "Tourism is a tool for combating poverty in our native communities," says López.
Finding Their Voices
Whether it's training in sustainable agriculture, sustainable forest enterprises, financial literacy, or other business skills, our gender equity work usually starts with the practical and tangible steps and reverberates outward. Something as straightforward as attending an agricultural training session or a financial literacy class can impart to women farmers not only new knowledge, but a new support network and a sense of confidence. "I used to feel intimidated among my fellow farmers," says Ghanaian cocoa farmer Vida Tsatso Boaful, "But after some time in this program, that inferiority complex has vanished to the extent that I can even speak boldly in the presence of the men."
Felisa Navas Pérez was a member of her community's forest enterprise in Guatemala's Maya Biosphere Reserve when the concession's president was murdered (in all likelihood, by drug traffickers seeking to control local land). Suddenly, Pérez found herself thrust into the top post. Even as neighboring concessions have struggled to stay in business, her community has flourished, and this widow and mother of five has fearlessly guided her concession toward solvency and FSC certification, protecting forests and local livelihoods in the process.
Even as women learn new skills and assume a greater role in their communities, there is still room for everyone to prosper. Perhaps Hermelinda Delfín puts it most simply. Part of a six-woman agroforestry team in Mexico, Delfín and her colleagues have participated in Rainforest Alliance training to prevent deforestation, mitigate climate change, and earn their livelihoods from a combination of activities that protect the forest they call home, including cocoa cultivation and palm-leaf harvesting. "I'm very proud to be involved in this project," she says. "In the past it was always the kitchen, the kitchen, the kitchen. Now we have a place alongside the men."
Support Our Work
Create a world where people and the planet prosper together.
DONATE TODAY