What is the role of the CTT unit?
Claims, Traceability and Trademarks is the team that works with companies to protect the integrity of the Rainforest Alliance Certifiedᵀᴹ seal in agriculture, including verification of the requirements to use the seal, such as licensing, traceability and compliance with the Chain of Custody Standard and Policy. In addition, in partnership with the Rainforest Alliance Marketing and Communications team, CTT helps ensure accuracy of messages and materials created by companies to communicate their commitments and achievements working with the Rainforest Alliance.
What is the latest trend in Rainforest Alliance Certified™ seal use?
Short answer – more of it! We have seen some great indicators recently that show more businesses promoting crops from Rainforest Alliance Certified™ farms across many markets. For example, from 2014 – 2016 there was a 26% increase globally in the number of companies using our seal in marketing and communications initiatives, for agricultural products. This growth has been mirrored in the quantity of marketing materials incorporating the seal from 2015 – 2016. During this period, the Rainforest Alliance saw a 14% global increase in the number of requests for marketing materials bearing the seal to be approved – making 2016 our busiest year ever.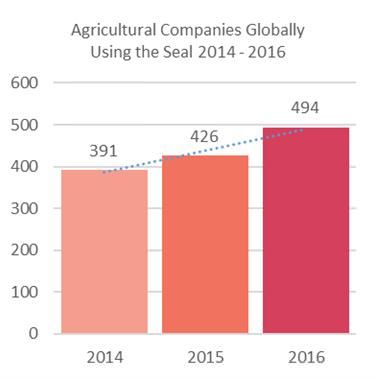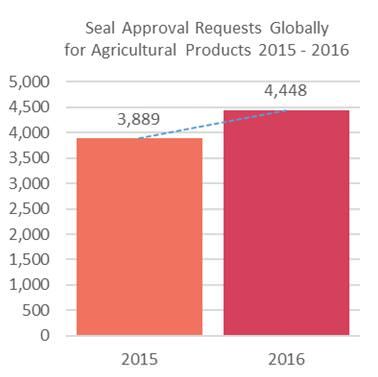 Where is the seal popular?
Over the past three years the greatest number of seal use requests for agricultural products have come from the United Kingdom and the United States. In 2016, we worked with businesses from 56 countries, representing a 10% increase from the previous year. On the whole, the biggest market for Rainforest Alliance Certified™ seal promotion is Europe followed by North America and Asia, notably Japan. In many cases, we also work directly with certified farms, such as coffee farms in Latin America – especially Brazil, Colombia and Peru – who wish to communicate their Rainforest Alliance Certified™ status to supply chains.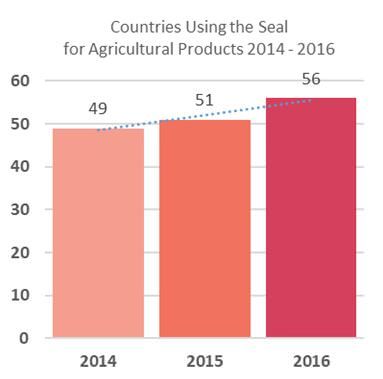 Why are more companies using the "green frog" seal?
We are seeing a global rise in Rainforest Alliance Certified™ seal use because sustainable practices are becoming more widely adopted by businesses, often driven by a variety of factors such as consumer demand, market competition and industry best practice. The brand and business value of demonstrating sustainability commitments, such as by the use and promotion of the Rainforest Alliance Certified seal, is shown in a recent study conducted by Nielsen1 found that 52% of consumers surveyed globally check product packaging for sustainability claims before making a purchase. The survey also found that sales of consumer brands demonstrating a commitment to sustainability grew more than 4% globally, while those without grew less than 1%. This may be because now approximately 60% of consumers globally value sustainability and encourage others 'to buy from socially and environmentally responsible companies,' according to a 2016 study from BBMG and Globescan2. An earlier Globescan3 study also found that consumers 'look to certification seals or labels on product packaging (40%) as the most trusted source of information about whether a product is environmentally and socially responsible.
Companies choose to use the Rainforest Alliance Certified™ seal because it is a trusted way of communicating sustainable sourcing practices to their consumers. By placing the green frog seal on product packaging, businesses proclaim that their product – or an ingredient in their product – comes from Rainforest Alliance Certified™ farms, which meet comprehensive environmental, social and economic standards for sustainability. The wide range of factors these standards help ensure include that soils, waterways and wildlife habitat are protected, and that farm workers are paid just wages, work in safe conditions and have improved access to decent housing, medical care and schools for their children.
What kind of products can carry the seal?
Among the thousands of products that carry the Rainforest Alliance Certified™ seal, the most popular worldwide is coffee, followed by tea, chocolate and bananas. Major brands that we work with in these areas include McDonald's McCafé, Lavazza, Tetley, Lipton, Magnum, Cornetto and Tesco, to name but a few! We have also worked with companies and farms to promote some rather interesting products such as mixed greens, beef burgers, nuts, smoothies, flowers, soap and even vegetable shortening. There are dozens of crops grown on Rainforest Alliance Certified™ farms that could be used in products carrying the seal. We are always happy to work with companies committed to sourcing from these farms as this helps the Rainforest Alliance achieve its mission of conserving biodiversity and ensuring sustainable livelihoods.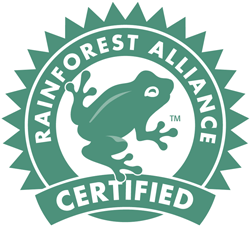 How does a business get started?
A company not yet working with the Rainforest Alliance can check our our ""Get Started" section on our website. To learn specifics about use of the seal itself, a good starting point would be to take a look at the Requirements and Guidelines for Use of the Rainforest Alliance Trademarks, which can be found here. We also have a team of dedicated staff across multiple time zones that can help companies meet these requirements. These include demonstrating traceability of the ingredient (or crop in the case of coffee or fresh produce) back to Rainforest Alliance Certified™ farms where they originated, ensuring that certified ingredients are segregated from non-certified materials during manufacturing and finally, receiving approval via our online platform Marketplace for packaging and marketing materials carrying the seal prior to launch/publication. Businesses looking for assistance with any of these areas can reach our team at RAC@ra.org
We live in challenging times, and each individual and each company can help take positive steps for people and the planet. The Rainforest Alliance is here to help on that journey.
---
[1] Source: The Sustainability Imperative, Nielsen Report 2015
[2] Source: Five Human Aspirations & The Future of Brands, BBMG and Globescan 2016
[3] Source: Rethinking Consumption: Consumers and the Future of Sustainability, Globescan 2012
Support Our Work
Create a world where people and the planet prosper together.
DONATE TODAY